by Dami Ajayi
I
Awe, jaw-slackening awe, was what Iyinolu experienced when he walked into his first Lagos banquet in an old batik shirt, faded denim jeans and a borrowed brown fedora. His immediate impulse was to leave the hall bustling with beautiful women in flowing dinner gowns, cradling flutes of sparkling Champagne and sporting genial smiles, but the journalist in him took charge. As he went about the journalistic duty of careful observation, he made a mental note to dress appropriately next time, a promise he was sure he had made before.
E.T Mensah's Day by Day blared from hidden speakers. The music, like wine, was soothing lubricant for the nerves of tired party animals that had left work to attend the banquet; it was also a conversation starter, something to occupy idlers. But idlers were probably better occupied by the large canvasses, about fifteen of them, paintings shortlisted for The Otunba Prize for New Nigerian Painting, the real reason why the banquet had been organised.
The guests gathered, like tourists, around the paintings, oohhing and ahhing, seeking epiphanies and tidying their thoughts to make robust commentaries about the paintings.
Iyinolu became one with the crowd, strolling past some of the paintings. One depicted a market scene and a broken-down Volkswagen Beetle being hurled from its hind by three rough men; another was of a pubescent girl with tears in her eyes holding her rather swollen belly.
He ambled past the paintings till his eyes rested on one: a large painting of a woman caught by the intensity of an artist's brushstrokes in the middle of a dance. Her hips were flexed and her hands were caught in the air. Her face was the colour of ebony, lips red, neat cornrows on her head. Her neck was encrusted with beads as was her slimmed waist. Her buttocks strained against the strip of cloth that hid them and her eyes looked into the distance, perhaps seeking a face beyond the scope of the canvass. Her smile seemed to betray this confounding insight.
Nice painting, a voice knifed through Iyinolu's awe.
He looked in the voice's direction. There was a tall man sporting a plaid jacket. He looked like he was on his way from work, his presence at the banquet being a necessary stopover.
The most interesting thing about this painting is that those of us familiar with the painter know who the lady in the painting is smiling at, the man continued.
He must be a lucky fellow, Iyinolu replied.
You can say that again. You know I can go on and on about mimesis and Somto's paintings. Please, forgive my manners, I am Ben Nwogu.
I see, Iyinolu replied.  Are you an Art critic?
Ben threw his head up and guffawed.
Art critic? Do people make a living from that in this country? No, I am a Banker. And Somto's good friend. I was about to tell you how this painting came about.
Yes please. My name is Iyinolu. But, please, call me Iyin.
Iyinolu, Wow! That name reminds me of a song.
Iyin smiled . I see you are a fan of Victor Olaiya.
I am a fan of Highlife music, but I'm not as passionate as Somto. When you meet him, please do not get him started on Highlife. The lady in this painting was dancing to Victor Olaiya's Trumpet Highlife. I was there when it all happened. There is this Highlife bar on the Mainland you must visit. Do you like Highlife?
I do.
A short buxom lady in a black gown pulled Ben's arm. Iyin caught the gleam of a rock on her left ring finger.
Ben smiled at her. This is my wife, Mr Iyin. Sandra, meet Mr Iyin, a …
Journalist.
She shook Iyin's hand. Her palm, soft and supple, left a light fragrance on Iyin's hand. She retrieved her hand and gripped her husband's arm.
Excuse us, Ben said and they melded with the league of graceful tumbler-carrying guests, a blend of successful-looking corporate executives and Art patrons. Iyin regretted again that he hadn't dressed for the occasion. He was the journalist invited to write a seven hundred word piece about the banquet for his Magazine and he had dressed himself as such, nonchalantly. He would write an elegant two thousand word piece of reportage that will be hacked by his Editor, but this was the least of his concerns.
Iyinolu.
His name thundered through the room in the unmistakable voice of Otunba, the foremost Arts patron in the country. In spite of the draconian times, the austerity meted on everyone by the perpetual military regimes and the new falsehood christened democracy, here was a man who spoke into the right ear of each Government and got obese contracts which were often meagerly executed, if executed at all.
His proceeds were stowed away in Swiss banks and in an enormous repository of paintings and sculptures. Otunba was a different kind of opportunist; it appeared he gave back to the artist's community, but in the end, he was often at the tipping point. He bought struggling artists out of their hunger and kept their artworks in his cellar to mature. His hands were positioned like those of the ecumenical giver, always above those of the receiver.
Iyinolu, come to the terrace; there is someone you must meet.
***
The terrace, a delightful stretch of manicured foliage and the right amount of lightning, was decorated with elegant chairs and tables occupied by dapper men and exquisite women carrying their handy purses with an air of importance.
A Highlife band was on a dais, set to start making music. The microphones had been checked, musical instruments properly tuned, the band members awaited the word of the band leader, a large man with tribal marks.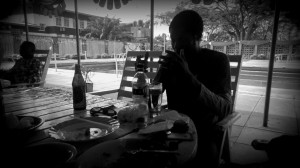 The fragrance in the air was a composite admixture that wrestled with the natural air and impaled it. Iyin looked around and wished again that he was better dressed.
Otunba motioned to Iyinolu. Iyinolu approached a table of guests. There was a man dressed like him, his lips hugged a beer bottle.
Yes, Iyin, Meet Mr Somto Andrews, he painted Situation Highlife, my favourite painting in the collection, I sincerely hope he wins the prize.
The man offered his hand in a firm but fleeting handshake. Iyin shook the lady beside Somto;  she seemed bored and perhaps terrorized by all the grandeur around her, then another slightly plump lady dressed in a sleek red gown, then a middle-aged man about Otunba's age in sparking white agbada. Otunba introduced him as the former Nigerian ambassador to some East African country.
Iyin sat with them, close to Somto, whilst Otunba sauntered toward his other guests, playing the role of an amiable host.
So, Mr Somto, what inspired Situation Highlife?
Somto took another swig from his beer. Already, Iyin felt some camaraderie toward him. He also did not have a stomach for the rich champagne hoisted in silver trays by waiters wearing bow-ties; he really needed a beer, but he deferred.
Do you like Highlife? Somto asked.
Yes, I do.
Any favourites?
Victor Olaiya. Roy Chicago. Crosdale Juba.
Good. Good. This man knows Crosdale Juba? You must really be a buff.
Who isn't, the shaky voice of the former ambassador interjected. He continued, but you know I haven't been able to find a replacement for that Kalabari man. Rex Lawson.
Cardinal Rex Lawson, Somto lisped emphatically then chuckled. He is my favourite, it's just unfortunate he died. Can you imagine Chief Commander sampling his Jolly Papa? You should come to Kwame's bar on the Mainland, my friend.
The Highlife band seemed to have eavesdropped on their conversation for they launched into the pulsating percussion introducing the riffs that began Rex Lawson's Sawale.
Somto sprang up from his seat and pulled his uncomfortable partner towards the dance floor. The gracefully overweight lady also stood up with them and they danced sinuously, elegantly, to the song of the Highlife maestro who died in a car crash on the Old Bendel Road in the early Seventies.
II
Onye became breathless in the wee hours of the morning after. She was lying next to Iyin's naked body in his shabby bed. They had made love and were both naked and spent. The air was weighty and the chorus of squealing neighborhood generators interfered with their otherwise blissful post-coital sleep.
Iyin could hardly believe the turn of events last night. The Highlife band had begun to jam tunes. Somto and his lady began to dance. The overweight lady in red joined them. The former ambassador snapped his fingers to the music, raised his right leg a few times, adjusted his stubborn agbada sleeves, muttered something incoherent and walked back into the hall, as though he needed to visit the toilet.
The dance floor swirled with sweaty bodies; Iyin observed the motion of the dancers which was almost tidal, as though they had unified into one body, doing one big Highlife dance. The band was urged by the dancers for an encore, but they had other plans.
They began the opening riffs of Victor Olaiya's Trumphet Highlife. The horn pierced the night with a finesse that would have made Olaiya proud. It was indeed an excellent rendition.
The plump lady hunched, her stance supported by her gleaming red pumps. Her buttocks shimmered to the music with a unison that was both confounding and exciting. Her eyes focused on Iyin. Iyin caught her eyes.
Iyin stood slowly from his chair and ambled to the dance floor where she was. All he could think about was the lady in Somto's "Situation Highlife".
They danced to "Invitation Highlife", Fela's "Onidodo Onimoinmoin". But it was Crosdale Juba's "Anomokore" that brought them close, entwined; her hands nestled on Iyin's shoulders, his hands rested on her waist. He could feel through the sheer satin of her gown, a metallic twine which could be a waist chain. Her fragrance filled his nose like pheromones and stirred an erection.
Uneasy, Iyin attempted to break their firm embrace; she did not bulge. That was when he found words.
What's your name?
Onye.
Onye? What tribe is that?
It is complicated. My dad is Itskeri and my mum is Yoruba, but my name is Itskeri.
Their eyes lingered on each other. The uneasiness between them intensified and Iyin knew he was caught in the flytrap of urgent human affection.
The drive down Third Mainland Bridge did not diffuse the sexual tension between them. Soon they were in his small apartment peeling off clothes with a feverishness that could only be broken by the creaking of bed.
Moments later, orgasms attained, they lay naked on his ruffled bedspread. Onye wore a contented smile and a gold waist chain which Iyin toyed with till he found sleep.
Her laboured breathing woke him. She sat up, her side of the mattress drenched with sweat.
What's the matter?
ATT-TTT-ACK.
An attack? Iyin had not been cured of his sleepiness.
An. Asthma. Attack. My Inhaler. The Car. Her voice quivered out as though words were made with difficulty.
Okay.
Where are my car keys?
Iyin scrambled about in the dark room till he stepped on something metallic. He picked it up and went into the night. He returned with a Ventolin inhaler a few moments later.
She slid it into her mouth and took three puffs. A minute passed. She took another two puffs and her breathing gradually became less laboured.
Iyin was already sweating; his heart beating mercilessly in his rib cage, his mind dashing to several unpleasant possibilities. This was a lady whom he knew very little about. She appeared to come from a rich home. This was also unsettling as he could not understand while she was in the company of the former ambassador old enough to be her father.  But why had she come in her own car?
He had met her at a party and had taken her to his home in her car. What if something happened to her, how was he to defend himself? What would he tell the police? Who would bail him from police custody? What if he was arraigned in court? His mind charted out unpleasant scenarios until Onye's calm voice pierced his thoughts.
What are thinking about? You are scared right? You want to know what will happen to you if something happens to me? Don't worry it is just an asthma attack. I have it all the time, since I was a child. My father was also asthmatic. He died of an attack.
I see, Iyin replied. The mention of death startled him even more. He was eager for the day to break, for the one night stand to be over. He also needed to start writing his piece on the banquet for his magazine before his Editor began breathing down his neck. He needed to visit Kwame's, the Highlife bar that had inspired "Situation Highlife". He needed to find out which painting had won the prize. He needed to apologise to Otunba. His other needs careened into his now lucid mind.
III
Kwame's Bar was an aging bar. The plastic chairs were graying, the structure was old though firm, not giving easily to the weather elements. Suffice to say it was a well-kept bar, preserved from closing shop by a high-handed administration and the courtship of loyal customers.
Iyin chose the next evening to visit Kwame's bar after he heard "Situation Highlife" clinched the Otunba Prize. It was a rather large expanse of open space roofed in to an adjoining structure stocked with giant transparent chillers displaying neatly arranged beer brands over which subzero air spewed over.
The staff was modest; a few teenagers, probably young school leavers.  A dais where musical equipment were arranged, as if waiting for a resident band, was at one end. A cloud of tobacco smoke greeted Iyin and E.T Mensah's Onipa blared from hidden speakers. Iyin scanned the crowd. He saw two raised hands and he recognized their owners. He ambled towards them.
Mr Iyin, I hope you know you are wanted? You made away with the Diplomat's girl.
Somto was chatty unlike their first encounter. The reason was not farfetched: his side of the table was cluttered with empty Heineken bottles, his hand held a half-spent smoldering cigarette. Ben removed his coat from the only empty chair on their table and folded it on his thighs.
Mr Iyin, our journalist. I read through all the dailies today looking for your piece on Situation Highlife.
I am yet to complete it. Plus I needed to visit this bar for a biographical perspective. "Situation Highlife" is a true phenomenon. It actually happened to me.
I see, Ben said. You eloped with the Ambassador's girl and left him furious. He just sat in his chair fuming.
It serves him right, Somto said. What is he doing with a girl he can father, eh? Those old men! Can't they leave the fucking of young girls to young men? But Mr Iyin, that girl is a looker, you know. I like juicy women. He closed his eyes and made indecorous squeezing movements with his hands then licked his lips salaciously.
Please call me Iyin.
Ok, Mr Iyin. Somto said. He looked at Ben and they both laughed. Sorry, my manners. What is your poison?
Heineken is fine.
Somto beckoned to a waitress and she brought a bottle of Heineken.
Iyin quickly rushed the Heineken into a glass tumbler and then took a long throaty gulp which left suds at the corners of his lips.
Drank like a true drunk. Somto laughed.
So beyond Journalism, Highlife, beer, and a penchant for making away with people's women, what tickles your fancy, Ben asked.
Women, Somto interjected.
Iyin smiled. I seem to have begun on a wrong note with you gentlemen. First, I am not a lover of women per se. I admire great beauty. I suppose the true beauty is a rotund woman who is graciously self-aware of her convexities but beyond that I will say I am more committed to the politics of loving one woman at a time.
Politics indeed, Ben said as he lit a cigarette with Somto's dying stub.
You men who try to love one woman hopelessly just amaze me, Somto said. Look at Ben now. Happily married to his university sweetheart with kids. Still he always steals out of the house just to catch on with the city, its women, and the good old booze. Why start what you cannot sustain?
Ben replied, Somto you fail to realize that when night comes, and it always does, when I leave here to go home, there will be a woman waiting for me in my bed; there will be kids sleeping in pajamas the adjacent room. You will return to your shabby mattress thrown on your hollow room's floor where your heart beats in misery.
Ben's words resonated in Iyin's mind after he left the bar. It reminded him of an aphorism he had read in Ayi Kwei Armah's Fragments:
A human being alone
Is a thing more sad than any lost animal
And nothing destroys the soul
Like its aloneness.
It drew his attention to a detail: an epiphany of sort, that he was not only alone, he was also lonely. He returned to his apartment which had not experienced electricity in about four months ago. NEPA officials had decided that the bribes they took from the neigbourhood will not undo their boss's instructions to retrieve the street's electric cables.
He approached his house then he saw a car parked in the front. He walked cautiously with a doubt that eased when he met the unmistakable face of the lady in the car.
Onye.
Iyin. She came out of the car and hugged him. I am sorry to barge in on you like this. Is it a bad time? Should I go and come back some other time?
No. It is not a bad time. It is a pleasant surprise. Let's go in.
She rushed back into her car and brought out an overnight bag and another bag with two food packs. She raised it for Iyin to acknowledge. Dinner, she said.
Iyin helped her with the heavier bag. How is your asthma?
Better. I guess there is something in your room I am reacting to.
Like what?
I don't know.
They walked into his little apartment. Iyin raised the curtains and opened the louvres. Onye set down the food packs and opened them. They ate quietly. Onye pulled out her phone and began playing Nico Mbarga's Sweet Mother.
But, really what is a girl like you doing with Highlife?
My late dad was a fan. My mother kept his gramophone records even closer than her memories of him. She is absolutely crazy about horns.
Nice. I never knew that young people can enjoy Highlife music this much. I need to get on with my piece.
Onye slowly moved towards him and kissed him. He was reluctant to kiss her back.
Where exactly are we going with this kind of intimacy? He asked.
Onye's eyes gleamed, globes teeming with sensual energy, her voice husky. I don't know, she replied.
They made love thrice before daybreak.
IV
Iyin did not complete his reportage on Otunba's banquet and the Painter's Prize. He was distracted by more pressing things like warm loins and an asthmatic girlfriend. Onye frequented his apartment, showing up at free will with an overnight bag, snuffling, getting naked quicker than he could bid her welcome.
His Editor asked after his piece, he said four words only. It's not worth it. He once thought about his behavior at the banquet had damaged his relationship with Otunba while receiving fellatio from Onye. He lost this flint of a thought to an orgasm.
His relationship with Onye, primarily a sexual one, began to have the weird undertones of a lofty affection. Lately she woke him up in the morning for her devotion. They would both kneel on their sides of his bed and join hands on their tabernacle of sin, as though a few hours prior, they were not muttering hot beckoning words and shedding sweat, as if their body secretions had been absolved by a few hours of sleep. She would speak sophisticated tongues.
Iyin could not understand why she did this. She was not an exacting born-again Christian but she went to church without fail attending even the Wednesday mid-week service.
On this fateful day she had come to meet him and his new friends, Ben and Somto, at Kwame's bar wearing a chiffon scarf that shrouded her elaborate braids.
Our sister Onye of God, where is our Holy Bible? Somto said chuckling and almost choked on hus cigarette smoke.
Onye peeled off her scarf. Somto don't even start. I don't want your trouble.
Somto burst into a song. I don't want your trouble. Oh yes. I don't want your trouble. But Onye, church sister wey carry bible come bar, she miss road. Oh yes. She miss road.
Must everything about you Somto be about music? Do you ever have a life outside your arts?
I am my art. My art is me. Do I sound drunk? Well, I am a slave of my expressions, Onye, they lead and I follow. By compulsion.
But what happened to living a normal life like Ben here. Drinking moderately, having kids. What happened to a day job? I can see you have been here for a long time, look at your table, for God's sake. Only God knows what your liver and lungs look like?
What is wrong with dying young, Somto asked. If you ask me, I think dying young as an artist is the best bet. Your genius stays preserved.  Your decline will never be known. You won't even be called to answer plagiaristic claims like Okigbo. And come off it, do you really think Ben is as decent as he looks? Because he is wearing a T.M shirt and gold cufflinks? He is cheating marriage and family life if you don't know.
Somto, Ben said, please don't address me like I am not here. My family and I are proud of my decisions.
Oh yea, Somto said, Fucking hypocrite. He lit another cigarette and hastily exhaled a wreath that enveloped Onye.
She coughed.
Onye should I? Somto gestured with his right hand making a horizontal glide across his neck.
Don't die abeg o. All the Calabar women in Lagos will mourn you forever. Kill the cigarette instead.
They laughed.
The speakers of the resident band blared suddenly and drew their attention. The band seemed ready to perform. Iyin recognized the large man with a hard face from Otunba's banquet.
So this band plays here? He asked.
The answer came as a rhythm introducing Roy Chicago's "Esin O Wewu", a mellow song worked on drums, guitars and horns. Onye rose from her chair and began to move to the tune.
This one na Situation Highlife, Ben said. Someone is going to lose his sleep tonight.
Somto quipped, Halleluyah somebody.
Thereafter the band played the Rex Lawson's "Yellow Sisi". Onye continued her solo dance as if Ben, Somto and Iyin were judges of a dance audition. Her eyes were shut but her skin shone with raw sensuality.
She pulled Somto up for a dance. At about this time, the band was playing Victor Olaiya's "Omolanke". Soon after, she began to cough.
Somto said, it must be the cigarettes.
She sat down, gulped a glass of water which did not help.
Where is your inhaler, Iyin asked? Is it in the car? Without waiting for a response, he took her car keys and rushed out of the bar. He returned a few minutes later, perplexed, without an inhaler. Onye's breathlessness had worsened.
We left the damn thing at my place. He helped her up with Somto's assistance and they were soon outside the bar, opening Onye's car.
Iyin got the engine running and skidded off, reluctant tires screeched. He did not hear Somto say drive carefully. His mind raced faster than the car, he thought of the quickest route home, his thoughts were ventilated by Onye's breathlessness.
Sorry darling, I'm sorry, Iyin said as he cleared out of a side road into the main road without lifting his eyes off Onye  slouched on the seat, her chest heaving rapidly. If he had looked at the main road, he would have seen the heavy-duty trailer.
Iyin died instantly. Onye survived the accident but lost the pregnancy she was not aware she was carrying. It seeped down her legs while she was been resuscitated at a nearby private hospital.
Iyin's burial was a solemn one. His corpse was retrieved from the morgue the next day by a select group of friends wearing black clothes, wailing. His remains was dumped in white wooden coffin and taken to the grave side where it was interred after a short prayer. While Iyin's corpse was being commited to earth, Onye was coming out of coma.
That evening Somto and Ben drank and smoked cigarettes in silence at Kwame's Bar. The resident band played Rex Lawson's Jolly Papa.
_________
Dami Ajayi lives in Nigeria.