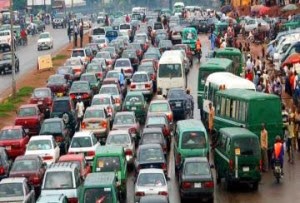 If one of the justifications for moving Nigeria's capital from Lagos to Abuja was the intractable traffic jams in the former, then recent events in both cities have clearly proved that point wrong. With less than half of Lagos's population and a much fewer number of vehicles, Abuja has become the old Lagos. If anything, because drivers in Lagos now make conscious effort to obey rules unlike Abuja where everything goes, a sort of role reversal has taken place.
Whenever I look at some cities around the world, one thing that stands out is how considerate motorists are, and how relatively smoothly traffic flows despite high numbers of vehicles. Nearly everyone obeys laws and a level of order is predictable. Agreed, places like Dhaka and Manila are notable exceptions, but generally, there things drivers would never do regardless of the circumstances.
I once shuttled out of Nigeria's traffic chaos straight into the Washington, DC neighborhood of Georgetown – and into a road culture shock. On the streets, every driver obeyed traffic rules and regulations; every road user knew what to do and the pedestrian was king. Having just arrived from Nigeria (where walking on foot could be a matter of life and death) just hours earlier, I was constantly looking over my shoulders and stopping for motorists to pass, only for them to insist that I had right of way – with polite nods.
Another thing was the absence of honking. There were no screeching of brakes, loud insults and offensive gestures from drivers. It felt unreal. And though much busier, even the streets of New York have a sense of order and predictability. Elsewhere, Rome may be a driver's nightmare, but after a day or two, one realizes that even the impatient drivers of Italy have a method to their madness; Cairo's suicidal motorists know just where and when to become perfectly sane drivers.
Needless to say that on Nigeria roads, the 'Nigerian factor' – if that includes total disrespect for laws and unrivalled selfishness – rules. Here, apart from the accelerator that creates movement, it seems the second most important 'weapon' of motorists is the horn. Once the car moves and the horn works, the Nigerian motorist is ready to go. It is perfectly alright to drive on pedestrian walkways and chase walkers off by blaring horns. It is almost natural to harass and insult those who do not jump out of walkways on time.
If, as happens regularly, impatient or simply bad drivers cause a bottleneck and traffic stalls, they simply create another lane to further jam traffic. If that doesn't work, they climb on to the pedestrian walkway and honk their ways right into the heart of the disorder to further worsen the situation. If and when the madness becomes unbearable and a bit of sense prevails – perhaps another driver or a street hawker assumes the responsibility of directing traffic – the ones driving on walkways will be the first to be flagged on. This works perfectly, every time.
If they approach zebra crossings and see people waiting to cross, they depress both the accelerator and horn – the unmistakable message is clear: Don't dare! Drivers that slow down or stop at zebra crossings risk getting slammed into from behind and any foolhardy pedestrian that walks into a zebra crossing without out for cars and listening to the blare of horns will probably never live to cross another street. This is ingrained into every child from school age.
Similarly, for roadside traders, an illegal vocation to start with, the closer their wares are to the road, the better. If the road is a major way with several lanes, one lane becomes part of the market; another is claimed by roadside traders; a third is claimed by taxis and buses who pick and drop passengers in the middle of the road with total impunity, while other cars, trucks, tankers and everything else battles for the last lane – using gas pedals and horns to secure every inch of advantage.
It does not occur to the Nigerian driver to find out beforehand, the exact directions to where they going. They simply jump into the vehicle, leisurely slowing down without regard to the dangers, ignoring the rights of other road users and insulting everyone. If they suddenly decide to buy something from roadside traders, they simply stop whenever and wherever they want to, and shut their ears to the protests of other road users.
With such casual indifference to the rights of other people, and the impunity, even pride, with which some Nigerian drivers drive on pavements, stop in the middle of roads and create traffic chaos even on freeways, it is apparent that inculcating the right attitude in motorists, and severe sanctions for violations are needed to end what, for lack of better expression, has become the 'Nigerian factor' on our roads.