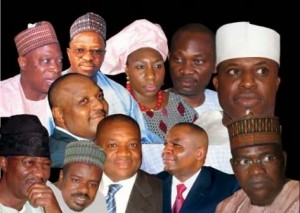 Last week's piece on the attitude of Nigerian motorists elicited a number of responses. A few felt I hadn't treated the topic in sufficient depth. Others shared their experiences about how ignorance or carelessness on the part of drivers led to fatal accidents. Another reader pointed out that drivers' licenses were bought and sold like goods in a flea market.
Yet another recalled the case in 2011, when a 22 year young truck driver from Anambra who, on his first trip to Abuja, ended up crushing over 20 people to death after running into eight vehicles close to the furniture market in Kugbo. The last that was heard of him was from his hospital bed. He has probably since recovered and is driving another truck. He was neither prosecuted, nor was the accident investigated.
The point being made was that if we could not respect the sanctity of lives by punishing those who carelessly endangered other people, how could we hope to punish the supposedly lesser crime of bad behavior on the part of politicians and public officials?
Perhaps, nothing exemplifies the issue better than a review of life, culture and politics in Nigeria in the last 15 years – as well the tragedy of our distorted political, social and economic landscape. What stands out clearly is that we have become a land where doing the right thing may actually be risky, but where wrongdoing and impunity are well rewarded.
There are thousands of instances, but just three examples will illustrate this point.
Diepreye Alamieyeseigha needs no introduction. As governor of oil rich Bayelsa state between 1999 and 2006, he was convicted of having stolen a mindboggling N126 billion from the state. I cannot stop thinking about how drastically that amount would have changed Bayelsa, with its 2 million people and nine local government areas. If he had any vision, Alamieyeseigha might have changed Bayelsa state and his people beyond recognition.
The key thing, however, is that Alamieyeseigha didn't end up in jail for stealing; his troubles began because he was seen by former president Olusegun Obasanjo as an Atiku Abubakar loyalist.
To cut a long story short, Alamieyeseigha has not only obtained a presidential pardon, but is a regular presence at the Presidential Villa, where he is a key part of President Goodluck Jonathan's reelection bid. In return, he may win a senate seat. If Jonathan manages to hang on to office, it would not be inconceivable to see Alamieyeseigha appointed as minister of foreign affairs, since he enjoys travelling, but hasn't managed to in quite a while!
At any rate, since Alamieyeseigha's departure as governor, others, including then Governor Goodluck Jonathan simply continued the tradition of mismanagement. By Nigerian standards, all of that is normal enough. What is difficult to get over is the popularity that each of these thieving governors, past and present, still enjoy among the people of Bayelsa.
Another case is Rev. Jolly Nyame. Like Alamieyeseigha, Nyame also governed one of Nigeria's smaller states of Taraba – in his case, for a cumulative 10 years. Given its relatively small population and vast resources, Nyame had every opportunity to transform the fate and fortunes of his people by laying a strong foundation for social and economic development. But he was so busy importing local entertainers and praise-singers to Jalingo that he only left behind a legacy of waste and unmatched profligacy. Yet, because of our value system, Nyame still draws large crowds of followers – the same people whose future he frittered away.
Finally, Saminu Turaki, the North's weeping governor (apologies to late Sam Mbakwe). Turaki entered office as one of Nigeria's youngest governors in 1999 but seems he did all he could to frustrate the development of Jigawa state. In retrospect, some argue that a simple psychological evaluation might have disqualified him from running for public office. However, he not only won election twice, but went on to plunder the state. The Economic and Financial Crimes Commission (EFCC) is supposed to be investigating him over an alleged N36 billion theft.
As a major sponsor of Obasanjo's third term bid, Turaki, allegedly transferred about N10 billion of state funds to the third term project treasurer, Nnamdi (Andy) Ubah. Incidentally, his weeping in public was not in sympathy or apology for the poverty of his people, but for himself for facing corruption charges. Today, not only is he popular among some of the people he so badly mismanaged, but is rumored to be a top ministerial contender from Jigawa.
The crux of the matter is, from presidents, state governors, ministers and other public officials, as long as Nigerians to accept impunity and theft, while rewarding bad behavior, there will be no incentive to do the right things, just as we cannot hold people to account for wrongdoing.