by Elnathan John
My mother never liked her. Or her mother. She would always hesitate a few seconds before saying "Mhmm" when Thandiwe knelt down on one knee to greet her just like Nupes do.
"All this eye service, in ba iskanci ba what do they know?" Mother said once not knowing Thandiwe was just behind the curtain in the living room. Thandiwe didn't quite get it, even though she was sure Mother was talking about her. Later that evening when I was seeing her off, she asked me, 'What did your mother say earlier?'
She saw the discomfort on my face and added, "Dzukogi, its fine, I am not stupid. The whole of Minna knows your mother doesn't like my mother. I know it's not something good. I just need to know that's it."
"Why do you need to know Thandi? What's the point?"
"Ok I want to. Dzukogi, you know I will not stop coming or anything like that. We rarely ever meet anyway. In fact if not that it was raining I would've left before she came back. Please, you are making me beg and you know I would tell if it was me."
Then I thought of how to translate the word 'iskanci'. I needed a synonym of promiscuous that wasn't so offensive. That was what Mother meant, the only thing they know is how to be promiscuous.
"Ok Thandi. She said 'in ba iskanci ba, what do they know'. It means if not iskanci what do they know?"
"What is iskanci? Don't be getting smart with me."
"Iskanci now, it means like, iskanci…"
"Dzukogi!!!"
"Ok, Ok, iskanci is from the word iska, which means wind. So literally iskanci would be like…"
"Windiness?"
"Well not quite. It means like you are a free spirit, like the wind. Like you know, free, liberal, not like us, but liberal"
"You mean loose?"
I was silent.
"I understand. I get that. I mean I get that everywhere. Because two of my sisters got pregnant at home, everyone thinks I am going to come and get pregnant for their son. It's fine really, if my sisters didn't have those bastards…"
"Thandiwe! Please, you don't have to say that."
She burst into laughter and held my hand.
"I love it when you call my name in full. Then I know you are really uncomfortable."
I liked this mixed race, Zimbabwean girl who had been my friend since they moved to Minna. Her father was a white farmer who was beaten, robbed and chased away by Mugabe's Zanu PF thugs. They moved first to Kwara State whose governor had invited the stranded white farmers and gave them large tracts of land. Her father discovered yam farming in Minna and they have been here ever since.
I stopped over at Barna's house on my way back from seeing Thandiwe off. I always did.
"Maman Barna has the most amazing voice wallahi," my mother always said about his mother after choir practice. Barnabas she loved. Perhaps this was the only thing we had in common.
Barna was the son my mother wished she had.
"Ban san wani dan samari mai son coci kaman Barna ba." Mother was impressed that he was always at church. And he did love church. He loved the Zumuntan Mata choir. He loved the way Fada John-Paul sang his sermons in Hausa and dragged Yesu Almasihu. He loved Hausa.
So when later that night mother came to drop off Mama Barna and saw me come out of Barna's room she was glad. Glad that I was in the home of a Bible believing Christian and not endangering my life and spirituality with Thandiwe. Glad that perhaps I was learning good Christian things.
I saw the look in her eyes and knew it was safe to stop using Thandi as a cover. I was glad, that while she tried to protect me from Thandiwe, I was free to love the soft spoken, dimpled, Barna, the only way I knew how.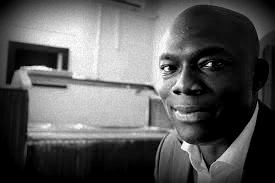 __________________
Elnathan, a trained lawyer and teacher, was shortlisted for the Caine Prize in 2014. His writing has been published in Per Contra, ZAM Magazine, Evergreen Review, Sentinel Nigeria, The Caine Prize for African Writing Anthology 2013 and Chimureng