for David Kato (1964-2011)
At a bar with a few friends one evening in downtown Edwardsville Illinois, a couple of years ago, I hit up a conversation with a young man. He had done just a few years in college and didn't know what the future offered. His interest was in global health, and he expressed aloud the lack of viable opportunities for him in the country at the time. In any case, he desperately wanted to go abroad. Because, at the time, my fiance was in Uganda on a fellowship of the Global Health Corps (founded by one of the twin daughters of former President Bush) – an organization whose work in global health involves bringing professionals from America into poor African villages, and African professionals into poor American towns and cities in order to achieve positive health outcomes, I suggested that he apply for the same fellowship. He would be able to go abroad for a year, work with health professional across the world, and get some time off to think of his career directions.
"Uganda? I can't go there. I will be killed." He said.
This took me aback. I had no idea where he was going with the response, so I asked him why.
"I am gay. They kill gay people in that country."
Until then, I had no idea about his sexual orientation, and there was no way I could have known until he said it himself. We had interacted in a number of instances, many times with other female friends, that it took two seconds for a reality to sink in that I'd already suspected before: you can't tell a gay person merely by looking at them. By his comment on Uganda, he was, I later realized, referring to the extrajudicial murder of David Kato, a vocal gay rights activist that was outed by a local tabloid, and murdered in his house.
My recovery was instant, but I had been touched by his honesty and vulnerability. "You know," I started, "You're a foreigner in Uganda. No one will kill you."
He looked incredulous. He must have known that I didn't totally believe that either.
"In any case," I continued, "you don't have to tell anyone you're gay. You can just lay low, get by, and get on with your life."
This got him slightly animated, but he hid it with the same mellowed tone of response.
"No, I can't do that." He said. "I am who I am, and will not hide myself just to get by."
The conversation remained with me for a long time afterwards. When a petition surfaced asking for signatures of writers across the continent willing to condemn the growing trend of extrajudicial violence to people of a different sexual orientation, I joined the initial sixty to append my signature.
At that time, the biggest threat to the lives of gay and lesbian Africans was the absence of a law protecting them from especial harm by a raging mob. Today, the threat has doubled, now also including a state-sanctioned means of denying them a chance to happiness, their freedom, and in the case of the new law in Nigeria, a chance to even freely and openly associate. One of the things I also remember telling that young man in the bar was something along the lines of "Don't worry about Uganda then. Apply to go to Nigeria. There are bigots there, like everywhere else, but at least they won't jail or kill you for who you are." From the conversations around social media since the law was passed two weeks ago, and for the news developments in the more conservative parts of the country, it is obvious that I'll now have to revise that thought.
The irony, of course, is in the fact that Uganda hasn't ever passed any anti-gay legislation. Nigeria has.
_______________
Two weeks ago, after the news broke of the presidential assent to the anti-gay legislation, we conceived of a LitMag issue that looks at the law, and the attendant culture war on the continent as a result of the gay rights movement, through a creative prism. We made a call to writers across the continent to tell us, through literature, what is going on, and how to respond to it. The response was overwhelming, in a good way. One of the first writers we contacted was Kenyan-born writer Binyavanga Wainaina. However, unknown to us, he was – at around that same time – preparing to make news. On January 19, 2014, he published his "coming out", an addendum to his acclaimed autobiography One Day I Will Write About This Place, titled "I am a Homosexual, Mum". In this edition, the article is reprinted in full, with permission of the author.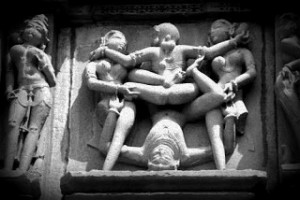 As you will find in this issue, homosexuality exists (and as you would find in sculptures and literature around the world, it has been in existence for as long as man has existed). What might interest an observant reader, however, is that the views and perspectives in this edition are diverse – as they should be. As fully convinced of the rights of people to exist as different in a society as most of the contributors are, there also exists the flipside of skepticism rooted in religion and a "moral" outrage. Such is the nature of a call for entries as this left open to all incoming perspectives. What will be obvious however is an overwhelming discernment and empathy, and sarcasm, and vulnerability. I note that the absence – in this issue – of a convincing and overwhelming response of those who believe in the duty of society to punish (rather than protect) those queer minority who are different from us is not proof of the nonexistence of enough people to defined such views, but the absence of such a view that can pass the test of a humane emotional truth which fiction provides. In other words, with bigotry excluded, all that's left are hollow words. If only laws fought bigotry instead.
And so, I present this issue, aptly titled. For all its intentions, if the anti-gay legislation around the continent does achieve something, I hope it is a chance to now talk more openly about those among us that – being different only in sexual orientation – live and love just like us, and do us no harm whatsoever. And if you, the reader, are ready to put to test the charge that reading and interacting with a gay person is unlikely to turn you gay, let's proceed. A number of our contributors are gay too, and a few say so openly. The next battle, appropriately, would be to have more stories like these, and many more that explore the nuances, the pain and the challenges, even those to non-gay spouses of closeted gay poeple. Less radically perceived, one hopes, and not in a specially-categorized "gay" issue.
In This Issue: 
Enjoy!
Kola Tubosun
Sangotedo, Nigeria
__________
Photo: History-Of-Hinduism