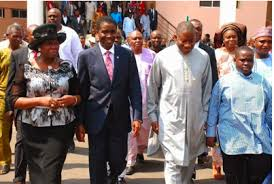 That politicking for the 2015 presidential elections has started in earnest, despite the protestations of the Independent National Electoral Commission (INEC) is not news. That President Goodluck Jonathan and his campaign team have been traversing the length and breadth of Nigeria under the guise of political rallies – which amounts to little more than naked campaigning – is an open secret. What is less open is Jonathan's abuse religion for his campaign.
Religion and ethnicity have always been part of Nigeria's politics: As soon as elections approach, our politicians are suddenly struck by the fire of conviction, and begin to approach the clergy – who are usually primed and waiting – for support. The politicians demand spiritual support through prayers and practical support through votes in return for very handsome (and usually unannounced) donations to these 'men of God' – whether they mouth Arabic or Latin to their congregations.
In fact, to ensure 'comprehensive insurance' for their political ambitions, Muslim politicians have been known to approach Christian clergy for prayers and support, while Christian politicians routinely seek Muslim spiritualists for prayer and support as well. The practitioners of both religions sometimes engage in pagan rituals, just in case. From Sani Abacha to Olusegun Obasanjo and Goodluck Jonathan, the demand and supply of 'prayer warriors' – whether Muslim, Christian or Pagan – has become a multibillion naira industry.
Nigerians are getting used to hearing state policy proclaimed from one church or another by President Jonathan. Those who thought it was an isolated incident were surprised when Jonathan himself announced that he would, henceforth, worship outside Aso Rock Villa Chapel every last Sunday of the month. He made the announcement at the headquarters of Dunamis Gospel Church in Abuja, where he attended a Sunday service recently.
There is nothing wrong with the president attending the church of his choice for worship. Indeed, if the level of gross incompetence he has shown in tackling the problems of insecurity, poverty, unemployment, corruption and lawlessness is anything to go by, then the president and by extension, Nigeria requires all the prayers we can get. What is troubling is the president's explanation.
According to President Jonathan, "This year, we have decided that from now onward, until I leave the State House, every last Sunday of the month I will go to different churches. The reasons are very obvious, not because if I worship in the State House I am not worshiping God…I feel that it is good for me to go round and continue to appreciate what our brothers and sisters have been doing". Is this the president of a complex nation like Nigeria speaking, or the head of a local parish?
President Jonathan's allusion to 'our brothers and sisters', in clear reference to Christians, to the exclusion of other Nigerians are reminiscent of his utterances after the October 1st 2010 bomb explosions in Abuja when the president said, "What happened yesterday was a terrorist act and MEND was just used as a straw; MEND is not a terrorist group…it is erroneous to think that my people who have been agitating for good living will deliberately blow up the opportunity they have now".
For a president who claims to be representative of the whole country to make such statements – whether in public or private – is not only insensitive but indicative of the provincial mindset that has characterized the Jonathan administration from inception. This attitude was on show recently when the president 'wasted' the careers of several Nigerian Army generals simply to ensure that his kinsman becomes the Chief of Army Staff. Similarly, when he replaced his erstwhile Chief of Staff, he made a point of fishing out a fellow Ijaw man, even if from Ondo state.
Still, provincialism and pulpit politics aside, the tragedy of President Jonathan's exploitation of religion for political ends is the fact that not one of the clergymen – certainly not of recent – has had the genuine fear of God to tell the president a few home truths. And this applies to preachers from both religions.
For instance, when former Zamfara state governor Ahmed Sani Yerima led a group of Muslim clerics to the presidential villa in June last year to 'pray for peace' in Nigeria, none of them remembered to tell the president that there was hunger and injustice in the land. Do they then have the moral authority to harangue their congregation, when they could not speak the truth to power?
In the same vein, which church leader visited by the president in his church-to-church political campaign has had the courage to tell him that most of the promises he made about security, power supply, jobs and development have failed or that Nigeria has only been transformed for the worse? Which one of them has publicly or even privately, broached the small matter of corruption?