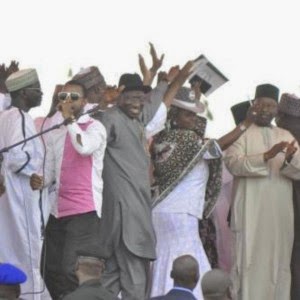 A tsunami is very high, large wave in the ocean that is usually caused by an earthquake under the sea. It can cause great destruction when it reaches land because the waves create a powerful wall of water, often moving at hundreds of miles an hour. It is capable of, and usually flattens most things in its path, leaving scenes of utter devastation in its wake.
Tsunamis kill many people every year and wrecks havoc wherever it strikes. The aftermath of most tsunamis leaves landscapes and peoples in utter desolation. Even with modern science and technology, tsunamis are difficult to predict, so cannot be monitored as soon as they are formed, their speeds calculated, their trajectories plotted and their impacts measured. It gives people no time to plan.
President Goodluck Jonathan's ambition is like a tsunami approaching land and gathering speed. The most open political secret in Nigeria today is the fact that Jonathan will seek re-election for president in 2015. The man himself may not have uttered a word, but his body language speaks volumes; the comings and goings of his wife amounts to confirmation and active engagement in the political process, while the activities of his party and associates amounts to little more than a full-fledged political campaign.
Even before reaching land, the devastation has begun. And like most tsunamis, it began relatively innocuously, though the political underpinnings were clear enough: To consolidate power game at the national level, politicians must control their home states. Realizing the need to control Bayelsa State, Jonathan masterminded the emergence of Seriake Dickson as the governor, deposing Timipre Silva whose loyalty he felt wasn't certain.
The coup de grace was the presidential pardon he granted Diepreye Alamieyeseigha, a former Bayelsa governor convicted of looting over N126 billion. Indications are that Alamieyeseigha will work to ensure that the South-South is delivered to the president, while muscling a senate seat for himself in the process. Though pockets of opposition remain in Bayelsa, the president has that state in his pocket.
The high waves of tsunamis weaken obstacles in their path in sea and on land. Evidently, Jonathan is borrowing from this leaf. It began with attempts to weaken Rivers State Governor, Rotimi Amaechi, who, by insisting that Jonathan honour his pledge to serve only one term became an instant enemy and a major obstacle for the Jonathan tsunami to flatten. But for his political astuteness, Amaechi would not only have been removed from office, but would probably be facing trumped-up criminal charges by now, or in exile – if he's lucky.
And because tsunamis move wherever they wish, Jonathan's tsunami soon turned and faced another obstacle in Governor Adams Oshiomole of Edo State. Suddenly, members of the state house of assembly witnessed a spate of defections and re-defections amidst tunes of impeachment. Not in the unlucky eight years of Lucky Igbinedion did the assembly utter the word 'impeachment, but a performing governor is facing that threat for daring to fix Mr. Fix It and looking the president in the eye.
While the Edo saga was going on, Jonathan's tsunami landed in Nasarawa. A deputy governor who had no known public disagreement or even private quarrel with his boss suddenly felt the waves of tsunami Jonathan and promptly decamped to the president's party. Members of the opposition also decamped to the ruling party and the state house of assembly swiftly began to sing the impeachment tune, with the melodies written by a loudmouthed minister in Abuja.
Tsunamis often come with fires. And while fires were burning in Port Harcourt, Benin and Lafia, a huge wave abruptly made a detour to Yola. Jonathan's tsunami had landed Adamawa.
Unfortunately for the former sailor in charge of the state, the sea of politics is deeper than the Mariana Trench, so he found himself totally out of his depths and barely hanging on to his vessel. Whether he survives the tsunami or not is out of his hands, but even if he manages to find a safe habour, the damage to his reputation is such that few would be willing to set sail with him soon.
Tsunamis lift very heavy objects and smash them against whatever crosses their paths. Jonathan's tsunami soon touched down in Kano, where it lifted over N400 billion, only to smash N32 billion on the faces of Nigerians as a favour.
Similarly, tsunamis sometimes inexplicably leave some things untouched no matter how directly positioned they are on the path of the waves. This may explain why Jonathan's tsunami has left Diezani Alison-Madueke on Mountain NNPC untouched, while ignoring the small matter of a missing $20 billion.
The danger, as with all natural disasters is, after laying waste to a land and its people for political gains, the damage done may take much longer to repair, if at all, than the four extra years Jonathan's tsunami seeks to obtain at such high cost.