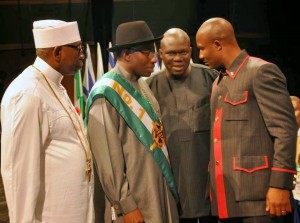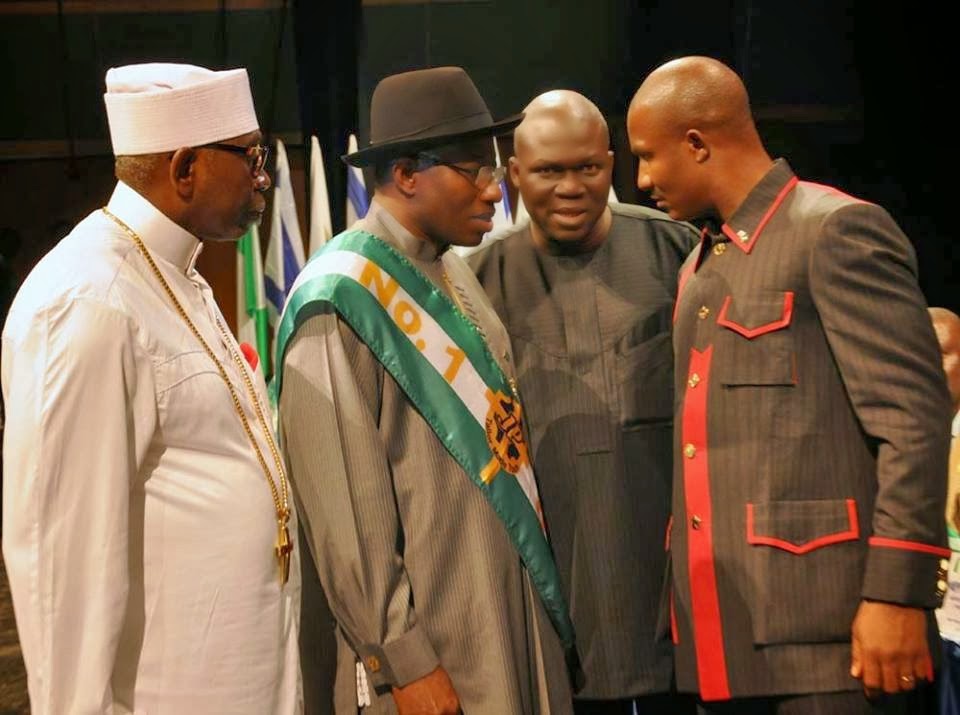 Until Olusegun Obasanjo's failed wish to remain in office for life, by first fooling Nigerians into giving him a third term in office, collapsed, a number of figures in the administration pulled very powerful strings. Dubbed the Economic Team, it was headed by the current Minister of Finance, Ngozi Okonjo-Iweala, with Nasir El-Rufai, Oby Ezekwesili and Nuhu Ribadu, playing key roles.
Not everyone agreed with their policies and methods, but the team laid the groundwork for the relative successes of the Obasanjo administration. It managed to trim the size of the bloated civil service (though now revised), introduced the also now abandoned monetization policy to cut waste in government, sold off residential houses across Nigeria on which government was wasting inordinate amounts of money, introduced pensions, public service, energy, telecoms and other reforms, but most importantly, negotiated a way out of Nigeria's huge foreign debts (though Jonathan has returned us to the debtors club).
If Obasanjo had picked his successor from the team, perhaps, the existentialist threats we currently face might have been averted. But so spiteful was Obasanjo with what he perceived as the team's less than 100 percent support for third term that, at the risk of destroying what was left of his badly damaged legacy, headhunted and imposed Yar'adua. The team was so influential when Okonjo-Iweala was appointed Foreign Minister – meaning she couldn't its head, she quit the cabinet altogether.
Whether it was real or imagined, a number of very influential individuals also emerged under late President Umaru Musa Yar'adua. Named the 'Yar'adua Cabal', they were said to control the reins of the administration – including taking some decisions in the name of a dying president. Till date, no one knows who really signed the 2010 Appropriation Act, and whose voice we heard on the BBC, purporting to be that of the late president and claiming to be improving.
The suggested names include Yar'adua's overbearing wife, Turai, his close friends Tanimu Yakubu Kurfi and Abba Sayyadi Ruma, Chief Security Officer, Yusuf Tilde, then FCT Minister, Adamu Aliero, ADC to the president, Colonel Mustapha Onoyvieta and son in-law, Isa Yuguda. For what it may be worth, their near total disappearance from political relevance should be a lesson for those in power today.
Listening to the likes of Asari Dokubo, Edwin Clark, Labaran Maku, Reuben Abati and his fellow travelers on the road to Destination Jonathan, it is clear that they are failing to learn the lessons of recent history – or even contemporary history – remember Ahmed Gulak? That the once rambunctious and no-holds barred Gulak could be so unceremoniously thrown into a gulag should calm those bothered by the excesses, utterances and exuberance of the basket mouths in power today. They will vanish from the radar of political relevance once their principal leaves office – as he must one day.
To return to today's focus, who are those in power today, and who are the brains behind President Jonathan? Who are the people that think, talk and act on behalf of the president, and whose words and advice do we hear and see when Jonathan speaks and acts?
One of the first names that come to mind is President Jonathan's Senior Special Assistant on Research and Documentation, Oronto Douglas. He is credited with advising the president on strategic political issues and has been an integral part of the president's inner caucus for a number of years. He is smart enough to operate in the background, but the shape and character of the present administration would be different without his input.
Diezani Alison-Madueke needs no introduction. Her sway over Nigeria's oil industry is reminiscent of Sheik Zaki Yamani, who was the Saudi Arabian Minister of Petroleum from 1962 to 1986, and a minister in OPEC for 25 years. Any subordinate imprudent enough to lock horns with Alison-Madueke will find their heads bashed in – and jobless — in no time. Her influence is unmatched.
Anyone who saw Osita Chidoka fraternizing with Turai Yar'adua and issuing her a driver's license when she was the first lady might not believe how he managed to penetrate Dame Patience. But that, exactly, is what Chidoka did. Today, as the Minister of Aviation, he is an indispensable member of Jonathan's kitchen cabinet, or more lyrically, the Otuoke Oligarchy.
Others with varying degrees of influence, roles and visibility include Ngozi Okonjo-Iweala, Edwin Clark, Hassan Tukur, Anyim, Pius Anyin, Seriake Dickson, Labaran Maku, Sam Amadi, John Kennedy Opara, Godswill Akpabio, Ayo Oritsejafor, Stella Oduah, Reuben Abati and others. Not unlike the Abacha era, there's competition to be part if the Otuoke Oligarchy.
Now, how is it possible to be brilliant but unintelligent? Most of the names above are erudite, but are so ensconced in power, patronage and privilege that they are failing to notice the gathering clouds: that insecurity, corruption, poverty and religious/ethnic politics is a dangerous mix that will erode the very basis of their power. That is how to be brilliant, but not intelligent.