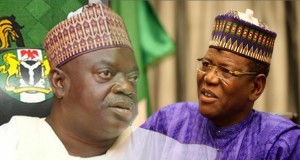 Jigawa state governor, Sule Lamido is a towering figure. Standing at over six feet, with his long cap and flowing babbariga, he can be intimidating. But beyond his physical size, his overbearing attitude (some say haughtiness) has been known to reduce some people to nervous wrecks. And Sule Lamido is always ready for a good fight. Or so it seemed.
While not as physically intimidating as his Jigawa state counterpart, Niger state governor Muazu Babangida Aliyu, makes up for the difference with his voice. He is always in the news – positively or negatively. He is usually heard before he is seen. If there is an award for the most outspoken governor, he would have won it many times. Like Lamido, Aliyu is always ready to give as good as he gets – even if only with his mouth. Again, so it seemed.
That the towering Lamido and the garrulous Aliyu can be reduced to such a short appendage in the story of the 2015 presidential ticket of the Peoples Democratic Party, PDP, is not only embarrassing, but disappointing to those that expected them to at least, challenge President Goodluck Jonathan for the PDP ticket in a fiercely contested primary.
The fight that never was, actually started some two years ago when the Niger state governor, revealed to the public that Jonathan had agreed to serve only one term as president. This was in return for the support of PDP governors in 2011. When it was becoming clear that Jonathan had the reins of power under control and was becoming too comfortable on the saddle, Aliyu felt it was time to ring the alarm bell.
However, it didn't take long for Aliyu to reverse himself. A few weeks later, he invited Jonathan to Niger state to inaugurate some projects and couldn't stop praising the president and assuring him of the support of his state. Perhaps some subterranean pressure was exerted, or the governor was simply catching up with his mouth.
The case of Lamido was less subtle. From nowhere, the EFCC suddenly discovered that the governor's sons had an irresistible appetite for US dollars, and swopped on them. It took a bit of gruff tactics to wrestle the governor to the ground, at least temporarily; Lamido sheathed his sword for another day.
Then came the distraction of the New PDP and the G7 governors, when in 2013, key members of the PDP, realizing that they were losing the fight to control the party structures, threatened to walk away. While the drama lasted, it provided comic relief for Nigerians, struggling to find something to smile about or merely to take their minds off the grind of daily survival.
At the conclusion of the stage show, Jonathan clearly had his way because Governors Rabiu Musa Kwankwaso of Kano, Aliyu Magatakarda Wammako of Sokoto, Rotimi Amaechi of Rivers, Murtala Nyako of Adamawa and Abdulfatah Ahmed of Kwara suddenly discovered that they were in the wrong party. They quickly moved to the All Progressives Congress, APC, while Lamido and Aliyu remained behind, hoping again, to fight another day.
In retrospect, it is apparent that if Lamido and Aliyu had moved to the APC along with senators and members of the House of Representatives from their states as the G5 governors did, the APC would have become larger than the PDP and therefore able to flex muscles where and when necessary.
Indeed, if the G7 governors had held together and used their assured majority in the National Assembly to dangle the dagger of impeachment over Jonathan – who has committed many impeachable offenses like the $15 billion fuel subsidy scam and the 'missing' $20 billion, they might have subtly pressed the president to 'gracefully' decline his newfound 'right of first refusal' 'in the interest of national unity and spirit of rotation'.
Clearly, both Lamido and Muazu had an eye on the president's seat and felt they had better chances of actualizing their ambitions from within the PDP. If their plan was to scare Jonathan from contesting, it has clearly backfired. Instead, it is the two governors that now have the most to fear, going by the antecedents of the president.
What both Lamido and Aliyu fail to realize is, Jonathan can forgive and forget any offense, except one that opposes his political ambition. Recall what happened to James Ibori, Timipre Silva and more recently, Murtala Nyako?
Lamido and Aliyu may have been in politics for a combined period of about 50 years, yet made the grave mistake of opposing Jonathan without any real game plan. To put it in a medieval context, why stab the king when you can't kill him?
It doesn't matter that Lamido and Aliyu are now trying desperately to be PDP 'good boys', or scurrying frantically to make amends for their indiscretions; if Jonathan wins in 2015, at the right time and with the correct amount of disdain, he will throw them to the dogs. Wait and see.