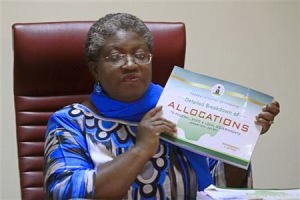 The setting was Baghdad in 2003. America had just launched Operation Shock and Awe, unleashing death and destruction as its war machine rolled across Iraq.
However, Mohammed Said al-Sahhaf, the Iraqi Information Minister told the world, "The American command is under siege. We are hitting it from the north, east, south and west…at the end we are the people who are laying siege to them. And it is not them who are besieging us."
A few days later, the Americans took control of the Baghdad International Airport, but Al-Sahhaf responded: "They're coming to surrender or be burned in their tanks…no I am not scared, and neither should you be!"
He added: "Be assured, we have them surrounded in their tanks". A short while later: "We have retaken the airport. There are no Americans there. I will take you there and show you. In one hour!"
Any apparent American gains, he said, were a cunning ploy by the Iraqis to lure the enemy into a trap. "Our armed forces, according to their tactics, are leaving the way open". "Whenever we attack, they retreat. When we pound them with missiles and heavy artillery, they retreat even deeper. But when we stopped pounding, they pushed to the airport for propaganda purposes."
Even as US forces were approaching Baghdad, al-Sahhaf insisted, "They're not even (within) 100 miles (of Baghdad). They are not in any place. They hold no place in Iraq. This is an illusion … today I visited whole Baghdad city, no invaders found. You go and see how we have ousted them from this city…they are outside and waiting to receive bullets. They will be killed shortly…the situation is excellent, they are going to try to approach Baghdad…and I believe their grave will be there."
And when the Americans had taken control of the city, al-Sahhaf claimed that there were no American troops in Baghdad, and that the Americans were committing suicide by the hundreds at the city's gates.
At that time, American tanks were patrolling the streets not far away from where the press conference was being held. "Be assured, Baghdad is safe, protected. "After we finish defeating all of those animals, we will disclose that with facts and figures…there are only two American tanks in the city…we are winning!"
The minister was dubbed "Comical Ali" for his deadpan insistence that Iraqi forces were crushing the invading Americans. He refused to retract his wartime claims, saying only that his reports came from "authentic sources".
Comical Ali has since become a symbol for corporate and other communications that obdurately refuse to acknowledge facts. Much of the information given by al-Sahhaf during the war was clearly inaccurate.
Al-Sahhaf's obstinate denial of any Iraqi setbacks, even in the face of indisputable proof caused him to be named Comical Ali (an allusion to Chemical Ali, the nickname of Saddam's former Defence Minister, Ali Hassan al-Majid).
So pokerfaced serious was Comical Ali with his claims that even the Iraqi military was itself fooled. After the information minister claimed that Iraqi forces had retaken the Baghdad airport from U.S. troops, a commander was dispatched to check out a rumour that four or five American tanks had survived the Iraqi counterattack. He returned to his headquarters in a panic. "Four or five tanks!" he told his fellow generals."Are you out of your minds? The whole damn American Army is at the airport!"
After the reality of the occupation sunk in, Comical Ali was proved to be a master of deception. In an interview after the war, he said, "the information was correct, but the interpretations were not. I did my duty up to the last minute".
Fast-forward to Nigeria in 2008 – 09.
When the stock market was beginning to slow down and spiral out of control, Chukwuma Soludo, then Central Bank governor, assured Nigerians that there was no cause for alarm.
When the global economic crisis was gathering space, Soludo again assured us that Nigeria had enough foreign reserves to withstand the shock. When observers questioned the health of Nigerian banks, Soludo said his consolidation of the banks was working miracles and the banks were in good shape.
However, when, despite all of Soludo's assurances, the Nigerian stock market eventually crashed, Nigeria's foreign exchange earnings plummeted, the naira was devalued and several banks collapsed, it became clear that Soludo had borrowed more than a few misinformation strategies from Comical Ali.
Fast-forward to Nigeria in 2014.
Global oil prices have plummeted by 25%, the Excess Crude Account is severely depleted, poverty has worsened, unemployment remains high, our debt profile is rising, our foreign reserves drained and allocations to all tiers of government dwindling.
Yet, Minister of Finance, Ngozi Okonjo-Iweala insists, "Despite the dwindling revenue of the nation due to falling crude oil prices and decrease in output, the nation is not broke, as feared in some quarters".
That information may be correct, but what is the interpretation? Or is she, like Comical Ali, doing her duty to the last minute?