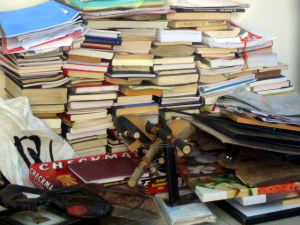 When we asked writers and authors to tell us what books they read in 2014, we were not exactly expecting only books published in 2014. We however wanted to hear about the range of books that passed through the hands of our readers this year. So expectedly, the result of this call is a potpourri of work from different authors, different times, and with different tastes. The range of readers who submitted is diverse too, from award-winning writers to prize coordinators, critics, coordinators of literary festivals, bloggers, and most importantly, readers. This is just how we wanted it.
Unfortunately, because the call for submission didn't limit the number of books to be submitted, we got more than we bargained for. For the purpose of this selection, we have had to do a little cutting. The entries have also been edited for space. No slight is intended, and the list below provides the most diverse collection received from some of our most faithful readers. It is our hope that this list not only gives you the opinion of our writers/readers on these works, but also expand and enrich your reading experience in the coming year.
Cheers.
Kola Tubosun
Ibadan, Nigeria
________________________________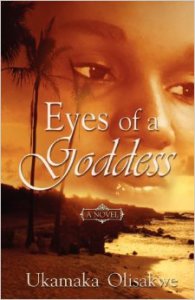 "Olisakwe Ukamaka's Eyes of a Goddess is one novel I read and then I laugh. You know why? It is well-written. When you read Jhumpa Lahiri's fiction, you can then feel there is a similarity, but the truth is that Ukamaka's fiction is more appealing and well-tuned. This story about a fifteen year old girl, Njideka, who is caught in the deep political turmoil of Nigeria is an amazing story. You will not stop thinking about the characters.
On a recent trip to Brussels, I walked into an Italian coffee-shop where I bought Leonard Sciascia's Sicilian Uncles. I am fascinated by the stories of the Italian Mafioso. I even visited some of them in Rome last year and the experience has been enriching. Translated from the Italian by N.S Thompson, Sicilian Uncles is extremely entertaining."
Onyeka Nwelue is author of The Abyssinian Boy (DADA Books, 2009), Burnt (Hattus, 2014) and the forthcoming, Hip-Hop is Only for Children (Hattus, 2015). He lives between Paris and Puebla. 
"My first is Dust by Yvonne Adhiambo Owuor published by Kwani, Nairobi, Kenya 2013 & Granta Books, London, UK, 2014.Yvonne Owuor won the 2003 Caine Prize with her short story "The Weight of Whispers", long considered one of the best short stories to have been shortlisted for the Caine Prize and published by Binyavanga Wainaina and the Kwani collective in the first edition of Kwani?  The story was also re-published in the Caine Prize anthology A is for Ancestors (Jacana, 2004) alongside the other four shortlisted stories and 14 workshop stories written in South Africa in 2004.  Her first novel, published ten years later, is not only long awaited, but also highly expected to be one of the best books published in the last ten years.  And it is.  Owuor's skill, in Dust, at excavating a carefully hidden and painful period of Kenyan history and portr aying the 'slithering civil war' is enormously brave and powerful.  Her accomplished novel is dense and long, but it luxuriates in the space, just as the landscape in which it is set, northern Kenya, is eulogised, and ululated in prose that sings with a love for a nation that has lots its way, first after independence, and then again after the disputed elections of 2007.  The novel is a masterpiece of interlocking narratives that gradually unravel and hint at the truth, while leaving an endearing, magical mystery at the centre of the novel.  I cannot recommend it highly enough, it is a great work of sustained, complex imagination that sings like the 'seed of song hidden in the single eye of an old star' p.354.  As the Zimbabwean journalist Georgina Godwin said at the celebratory launch of Dust in London in November 'Welcome to the cult of Dust.'"
Lizzy Attree is the Director of the Caine Prize
"One is No School for Eze by Ifeoma Okoye This book shows the wisdom of mothers and how we have to be spontaneous and creative while raising children. It also alleviates aspects of gender equality with subtle hints. Brilliant!
Another is The Cartographer Tries to Map A Way to Zion, a poetry collection by Kei Miller.  It is, for me, a partial entry into the spiritual and entertaining life of a Zion enthusiast. It could be a Rastafari or a traveller from Jamaica. It has hilarious moments in the midst of a serious and personal journey.
Finally, I choose Kintu, an award-winning epic novel by Jennifer Nansubuga Makumbi. This novel is the most well-researched mixture of history, fiction and melodrama that I have read this year. Nansubuga illuminates the grime and the beauty of Buganda and Uganda in the most entertaining way."
Beverley Nambozo Nsengiyunva (Poet, Author, Social Entrepreneur and Excellent Swimmer, Founder of the BN Poetry Foundation that coordinates the annual BN Poetry Award)
"Favourite book? We Are Completely Beside Ourselves by Karen Joy Fowler, without a doubt. Why? Because Fowler's writing is tender and beautiful. I gasped after reading some of her sentences because they literally took my breath away."
Lola Shoneyin is a poet, Director of the Ake Arts and Book Festival, and author of The Secret Lives of Baba Segi's Wives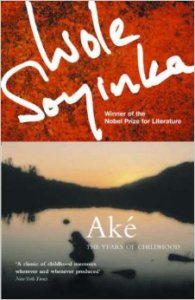 "One of mine is Ake: Years of Childhood by Wole Soyinka. This is probably the funniest memoir I have ever read. An account of Soyinka's first eleven years on earth, the book transported me back to 1940s Nigeria and gave me a fascinating glimpse of what life was like for the 'elite' of that era.  I couldn't stop laughing when I came across this:  'All he does is sneak off into corners by himself- reading, always reading. He pretends to be busy with books because he cannot tackle anything else' (pg 102) That is Wole Soyinka's mother, Wild Christian, describing the pre-teen WS.
Another is Unless by Carol Shield; her last novel, published in 2002. It is her first and only novel I've read. Unless is a first person account by the 44 year old writer and translator, Reta Winters, chronicling in some beautiful prose her coming to terms with the decision of her 19 year old daughter to drop out of school and become a beggar. I enjoyed every sentence of the book, but most especially Winters' witty letters to various people she thinks are putting women down in one way or the other.
The Prophet by Khalil Gibran. I discovered Gibran this year and I still wonder why it took me so long. The Prophet is a brilliant piece of philosophy written in verse form. There are just too many quotable lines in the poems, and I wonder how someone can pack so much wisdom in a single book. For a book written almost a century ago, I found the book acutely refreshing.
Finally, Obafemi Awolowo and the Making of Remo: The Local Politics of a Nigerian Nationalist by Insa Nolte. As an admirer of Chief Obafemi Awolowo, it was an enriching experience reading an in-depth historical analysis of the town that produced the sage. The author proves to be a competent researcher and an excellent writer and I find his detailed analysis of the local politics of Remo the most authoritative I've read of any Nigerian town of that era."
Sodiq Alabi, poet and farmer, lives in Abuja.
"Elena Ferrante's My Brilliant Friend is a profound meditation on the nature of friendship. Elena and Lila are best friends, although they are not always so. The novel follows the trials and joys of this friendship,from childhood into adolescence and then womanhood. Ferrante's writing is subtle and powerful. There is not a single superfluous word. I came out of this completely satisfied, knowing that I had read the "perfect" book."
Chika Unigwe is a novelist and author of On Black Sister's Street, winner of the Nigerian Prize for Literature, 2012
"I think the only book I read to the last page was Toni Morrison's Paradise. The novel is mad and poetic, enraging and bitter. Even with spiralling and sweet rhythmic sentences; it is patriarchal vengeance that hurts and kills. Flawless delivery, of course. In a town called Ruby men are raised by religious righteousness to condemn women desiring something different. The end? Tragic. The second is Gabriel Garcia Marquez's Love in the Time of Cholera. It is breath-taking, miraculous, filled with brilliant and dazzling sentences that leap out of pages and become shapes, beguiling silhouettes. I am smitten by the story and the style of delivery; bitten by its affection."
Joy Isi Bewaji is the author of Eko Dialogue and What Pain May Bring
 "I read Immanuel James' Under Bridge in manuscript. Just a week ago, it won the ANA National Prize for Prose. I had written this as a blurb: "Under Bridge is a searing novel of magnificent beauty. It chronicles the tale of a man born into a world of punches and pranks, beauty and ugliness, sickness and health, wealth and poverty, rebadged to become the 21st Century tale of Saleem Sinai in Salman Rushdie's Midnight's Children, but written in a less convoluted way and less dramatic. However, the novel itself is a tangling tale of thoughts racing through a psychotic character, miserably torn apart by the dogmas around him. The author, while sounding very outlandish, has been able to write a formidable story about culture, language, life and love. Immanuel James Ibe-Anyanwu is a haunting master storyteller! I read this book with my heart in my hand, waiting for more. Unputdownable!"
Dami Ajayi's Clinical Blues is a delicious collection of beautifully patterned words. I have never read any poetry collection like this one. I don't know, but as I read it, I imagined it myself having drinks with the author and trying to figure out how those words come to him. He's articulate; he writes very well. He knows what words to use and when to use them. I can't describe the feeling I got reading this wonderful book. It spirals into something melancholic, something tough, beguiling and at once, charming. He could be a great jazz musician, because the notes in the book dangle up and down, just like jazz notes. They are powerfully gathered together to create some kind of sensation that is riveting. I loved this book and I find myself making sure it's in my rucksack each time I have to travel."
"McEwan's Booker Prize winning classic, Amsterdam, stands as my only completely read book in 2014. The author crafts one of the finest pieces of fiction I have read. He knits together diverse strands of perspective – from an evaluative narrative take on the dynamics of friendship and loyalty to the ethics of euthanasia and political witch-hunting from the stables of the media to the cringe-inducing weirdness of transvestitism – in a subtly confrontational way, compelling the reader to question what decisions (s)he might take under similar circumstances."
MacDonald Ukah is currently undertaking a Master's degree pursuit in Business Economics at the University of Reading, England.
"A better question perhaps would be: Who are your writers of 2014 and why? This year, I read and reviewed three books; Igoni Barrett's Love is Power, or Something Like That, Moses Ochonu's, Africa in Fragments: Essays on Nigeria, Africa, and Global Africanity, and Okey Ndibe's Foreign Gods, Inc. We are talking about books but I also read and reviewed the shortlisted offerings for the 2014 Caine Prize. As I shared in my reviews, I enjoyed readimg the books, they were engaging and thought provoking. Even with any reservations I would recommend them to the reader. I don't read a lot of books anymore; I find them a distraction from the two books that I read nonstop – Twitter and Facebook."
Ikhide Ikheloa (schools administrator, critic, and writer), blogs at xokigbo.com
One Day I Will Write About This Place by Binyavanga Wainaina was one of the most brilliantly, heart achingly, honest books of poetry I've ever read. Granted, it was not listed as a book of poetry but as a memoir but every single word, line and phrase was poetically loved and placed. I found myself aching and loving and rejoicing and breaking with the stories he told. His life, though an ordinary tale of boy finds himself through words, was told with such honesty and humor and the no-holds-barred and no attempts to make this prettier than it was style that is Binyavanga. He told his truth as much as he knew how to.  There were glaring holes in the book that made me love it a little less and the last quarter was a lot to be desired as it left his personal story and began telling one of politics and social strife in his native Kenya. However, in 2014, after the heinous and inhumane anti-gay laws were being launched all across Africa, Binj gathered his bravery and truth and announced in a searing "lost chapter" of his book that he was homosexual. Suddenly, the holes and the diversions in his book made sense. What I saw was a hiding was really a protection and the freedom he allowed himself with this 'lost chapter' allowed me to appreciate the vulnerability of One Day I Will Write About This Place even more. The book was haunting and so excruciatingly beautifully written that I found myself pausing often to share lines and whole passages with friends and strangers alike. When you read the book, and you should, read of his description of the first time he saw Michael Jackson dance and then tell me that Binyavanga Wainaina is not the an alien who sees the world through untested yet all knowing eyes. And if you ever have the pleasure of being in a room with him and all his flailing limbs and highway stretched stories that rope around into a brilliance you never expected, then you will know that he is in fact, an alien who sees the world through untested yet all knowing eyes.
"Honorable Mention: Chimanada Adichie's Purple Hibiscus. I've read all of her books and have felt connections so personal. I was certain she was reading either my journal or that of my family history. Purple Hibiscus was the first book that was completely new in its story telling. I was horrified by some of the characters and protective and defensive of others. I didn't know these people but as Ms. Adichie is wont to do, she makes you believe in the world she creates. That said, the ending made my jaw drop and the book fall to the floor. I think both remained there for months."
Bassey Ikpi is a spoken word poet and artist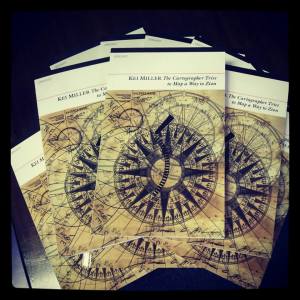 "My books would be The Cartographer Tries To Maps His Way to Zion by Kei Miller and The Cartographer of Water by Clifton Gachagua. It has been a busy year and I have been travelling a lot so my reading list is predominantly made up of poetry collections. These two books stood out for me this year and they share a commonality that goes beyond the first two words of their titles. Kei Miller is a Jamaican writer while Clifton Gachagua is Kenyan; the distance between their heritages is approximated by the similarity of their concerns. In these two different books, both award-winning poets explore the idea of place, space and destination. Whilst Clifton's poetry has the uncanny ability to surprise and alarm, Kei Miller's Forward Prize winning book is a well-paced journey through the mind of one of the most original writers of our time."
Dami Ajayi is the author of Clinical Blues, a collection of poems
"For some years now whenever my seasonal afflictions return, I console myself by turning to Virginia Woolf's Mrs Dalloway—to be precise, to that paragraph of lyric sublime where Clarissa mentally hums the song of Guiderius and Arviragus from Shakespeare's Cymbeline. 'Fear no more'—the refrain reappears like the proverbial tortoise at crucial signposts in the course of that June day. Need I reveal here that my own afflictions commence in June? But it is not the invincibility of mortality that sends me to Mrs Dalloway. It is something else, and it is there in the coda of that lyric strain: 'as a plant on the river-bed feels the shock of a passing oar and shivers: so she rocked: so she shivered'. A phenomenologist, Thomas J. Csordas et al. demonstrate this in Embodiment and Experience, would say that through affliction my body projects my existence into the world and the world enters vitally into me through the afflictions of my body. And so I quiver and quake and sneeze. And that is why I return to Mrs Dalloway.
But if the body is an affliction, might the mind also be an addict? Most likely. At least, I speak for myself, for the books I have enjoyed reading this year are books I have reread countless times. Rabelais is never far from me, nor Chaucer. Take the latter's The Miller's Tale, an anthropologically edifying story in view of the fact that rump-eating, which causes in Absolon such a sense of grievous affront, is now part of the sexual etiquette among Chaucer's people. Of course, none of that squeamishness is Chaucer's, going by the tone in which he tells the story, and we can safely assume that his audience, which included courtiers and members of the royal family, participated in his temperament.  The Canterbury Tales, framed as a marathon of stories told by pilgrims, should be required reading for all pious people who wish to be sponsored by the FGN on their religious tourism.
And now to Azar Nafisi's Reading Lolita in Tehran. Literature itself, from Lolita to Lolly, is not innocent. This lack of innocence furnishes the very reason for engaging it both privately and publicly. Beyond fastening on points of aesthetic merit, immanent guilt is the reason we ask ourselves questions about the mental habit and social praxis that this poem, this passage from scripture, this novel embodies and seeks to promote. The world is going through a heightened recrudescence of that practice whereby the incorrigible call the corrigible to order with legislations that limit our humanity and with bombs that are at this moment blowing bodies and societies to smithereens in many places. When merely to read Lolita becomes an act of revolution, salutation of the spirit of the revolutionaries cannot be enough. The girls of Chibok are revolutionaries for merely learning to do arithmetic."
Benson Eluma is a poet and scholar.
"In The Paying Guests by Sarah Waters, the reader is introduced to a widow (Mrs. Wray) and her daughter (Frances) who have been left impoverished after the death of the husband and father. The two women are forced as a result of their circumstances to take lodgers into their home in a bid to raise vital income for their needs. In this book, Waters immerses us in the London of the early 1920s, complete with its Dickensian undertones and careful depiction of the flapper era. In my opinion, the book represents a return to top form by Ms. Waters, showcasing her skills in a most impressive light and holding the reader enthralled in almost six hundred pages. Waters delivers with this book and this book gets my vote as one of the best books of 2014."
Ayodele Morocco-Clarke represents different things to different people and describes herself quite simply as a bon vivant. She tweets as @BonVivantUK.
"Another is Kintu by Jennifer Mukumbi published by Kwani, Nairobi, Kenya, 2014. I read Kintu when it was in manuscript form, and it was titled The Kintu Saga, so as that early title suggests, the novel encompasses a huge family lineage and a curse that follows many generations.  A kind of Ugandan 100 Years of Solitude, if a little less confusing, the story is assured, well written and constructed.  It follows a circular pattern moving between characters and families and back in time with ease crossing political eras and historical events with a deftness that makes such big plot devices slip in to the narrative background. It is slow in places and the various threads take a while to link up but each section of the dynasty and each character in the saga is so well drawn, and original, that each story contains enough interest in its own right to keep the reader going.  There is an element of magic realism, but not so much as to make the story completely unbelievable, in fact it further grounds the narrative in concurrent realities of Ugandan life. I was extremely pleased when Jennifer Nansubuga Makumbi won the Kwani Manuscript Prize with this novel as well as the Commonwealth Short Story Prize for her hilarious story "Let's Tell This Story Properly", particularly as she was very nearly shortlisted for the Caine Prize by the judges in 2013 for her story "The Accidental Sea Man" in Moss Side Stories, published in 2012 and received a letter of encouragement from Gus Casely-Hayford, Chairman of the 2013 judges, which Jennifer has apparently laminated!"
____________
Photos from AnniePaul.net and Amazon.com