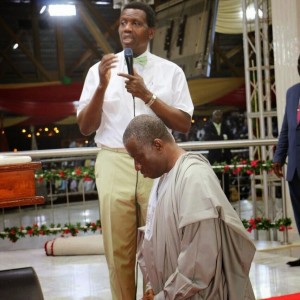 Imagine that you've had a long, difficult day of meetings, visits and sorting out personal issues, and finally retire to bed at about midnight. However, the moment you fall asleep, you're woken up and told that not only did you have another visitor, but that he was already waiting in your living room. It turns out that the midnight visitor is no other than Goodluck Jonathan, President and Commander-in-Chief of the Armed Forces of the Federal Republic of Nigeria who had come to beg for help to win re-election.
That was what happened to former vice president, Atiku Abubakar, when Jonathan sneaked into his house to plead with him to return to the PDP and also help him win Saturday's presidential election. Clearly, for a man who didn't "give a damn" about assets declaration, Jonathan certainly gives a damn about how we vote. And facing potential electoral rout, he has spent the last one month practically begging anyone who cares to listen to help him.
It didn't have to be this way, and no one put it better than Sabella Abidde who said, "If President Jonathan had done what he was supposed to do, he wouldn't be in the shape and corner he is right now – gasping for oxygen and for electoral survival. But look at him now, he is everywhere begging, begging and begging and in the process has become the nation's laughing stock.
"He was in Jerusalem. He was in Oyedepo's Winners' Chapel. He was in Adeboye's Redeemed Church. He was in Lazarus' Charismatic Church. He has also consorted with TB Joshua.  He has been in so many Churches and other places of religious and spiritual significance many of us have lost count"
She adds, "In his desperation, he is bowing and kneeling before everybody and everything! And then he shows up at the Ooni palace (in Ile Ife) looking subdued and as if in a trance. What is he looking for? Power? Power at all cost; power no matter what it takes? Some voices in the social media have begun linking him with the Ogboni society. This is sad, so very sad and pitiful!"
It is indeed pathetic. If Jonathan had done just a fraction of what he promised in 2011, and not allowed corruption to overtake his government, he wouldn't have to beg anyone to be reelected. If he had given a damn about insecurity, corruption, power supply, roads, unemployment and poverty, he would have been a much-loved president, not the nation's beggar-in-chief as he has become.
Alas, if the signals are anything to go by, Nigerians too, might not give a damn about his begging!
NTA and AIT's Dangerous Gamble
The media environment is a very difficult and unpredictable one to do business. It requires huge capital layouts to set up and sustain, and years of patient nurturing before the bold entrepreneur who invests in the sector can hope to reap profits.
Raymond Aleogho Dokpesi is one such brave entrepreneur who pioneered private broadcasting in Nigeria with Raypower FM and African Independent Television (AIT) which were nurtured under tough circumstances to become the industry giants they both are today.
However, the fact still remains that few – if any – media organisation can survive in Nigeria's volatile economy without government patronage. The media landscape is littered with the costly remnants of those that tried to challenge the government of the day. It is therefore normal for any media house to solicit government benefaction, as AIT does. No doubt, it has reaped bountifully from its romance with this administration.
However, it is a very risky strategy to become as biased, unthinking and openly partisan as AIT has become. Dokpesi has a right to belong to any political party of his choice, and aspire to any position of his dream – including the governorship of Edo state – as many think he does. But he ought to have left AIT to function as a 'neutral' organisation.
As it is, the credibility of the channel has taken a huge plunge. The danger is, what happens when the political basket where AIT has put all its eggs loses? AIT needs whichever party that is in government to survive.
As for the Nigerian Television Authority (NTA), no one is really surprised. Being openly partisan is a tradition. After all, he who pays the piper dictates the tune. The current climate is reminiscent of the Abacha era, when the airwaves were flooded with messages of 'He Whom the Cap Fits', in reference to General Sani Abacha's barely concealed plan to transmute from a military leader to a civilian president.
As a public agency funded by taxpayers, NTA should be more circumspect. By throwing caution to the winds and practically becoming an appendage of the ruling PDP, an opposition victory, might, rightly, spell the end of the careers its top management staff. Such prejudice should have no place in a publicly funded institution.