Hurricane Buhari might have come and gone, but it has left the political landscape of Nigeria, particularly the north, unrecognizable. Within the blink of an eye, old political structures and power-brokers had been blown out of power and into political irrelevance. While the new power-brokers and centres of influence are yet to completely coagulate, it is worthwhile to look at how some northern politicians, mostly pushed by ego, greed or poor vision, ended up committing the equivalent of political suicide.
Modu Ali Sheriff
The former governor and senator from Borno state was once hailed as incapable of losing any election in his state, especially after he knocked off then sitting governor, the late Mala Kachalla in 2003. After 8 years as governor, his attempt to return to the senate failed and his political career has been in reverse since. He wasted his chance of possible revival when he picked a quarrel with the current state governor, Kashim Shettima and left the newly formed All Progressives Congress (APC) when his preferred candidates failed to clinch the positions he wanted.
His association with the Peoples Democratic Party (PDP) gave him power and influence for a few months – including a platoon of soldiers to provide security for him whenever he visited Maiduguri. Now, with the outcome of the presidential and state governorship elections, SAS, as he is popularly known, has totally destroyed his famous political structures in Borno state and beyond. Even with his huge wealth, Sheriff has been politically emasculated.
Attahiru Bafarawa
The political career of former Sokoto state governor, Attahiru Bafarawa is a study in political itinerancy. From a popular two-term governor, his political fortunes started declining when he forced his then deputy governor, Aliyu Magatarda Wammako to resign. In a twist of fate, Wammako emerged governor under another party and has since become his greatest traducer. Their political paths crossed again when Wammako joined the APC which Bafarawa helped to form. However, he refused to accept the leadership of his former protégée and stormed off to the PDP.
Again, like his co-traveler Sheriff, Bafarawa found temporary respite in PDP – until he insisted on becoming the leader of the party he had just joined. He resumed his old fight with Mukhtari Shagari and others, and not surprisingly, was thoroughly trashed in the just concluded elections. Whether he will be able to recover and re-launch his politics is debatable, but for now, he has been folded and put in a very tight box by Wammako. He may not admit it in public, but Bafarawa must surely be gnashing his teeth at the impulse that pushed him to leave APC.
Ibrahim Shekarau
The minister of education and former two-term governor of Kano state must be wondering what to do next after the expiration of his current political assignment.  His story and that of the governor of Kano, Rabiu Musa Kwankwaso is not unlike the political dog-fight between Bafarawa and Wammako. The two of them have wrestled to control Kano state for the last 16 years, both gaining and losing the ascendancy over time. As a leader of the ANPP under which he contested the 2011 presidential election, Shekarau played a key part in the mergers that resulted in the formation of the APC.
However, he fell for his ego, when upon the defection of Kwankwano to APC; the latter became leader of the new party in Kano. Despite overtures, Shekarau found it more political expedient to decamp to PDP, where he was promptly rewarded with the education ministry. Despite the huge amounts of money reportedly released by the presidency to capture Kano, Kwankwaso masterminded a total sweep of every elective position in the state. Today, PDP has no senator, House of Reps member, local government chairman, state assembly member or even a single councilor out of over 400 in Kano. For Shekarau, it has been a bitter lesson in political deconstruction.
Nuhu Ribadu
To start with, it is inappropriate to place the former EFCC Chairman in the same list as Sheriff, Bafarawa and Shekarau because he may want to deceive himself, but Ribdu is not a politician and has absolutely no political base beyond his admirers on Facebook. He rode on the work he did as anti-corruption czar, but his inordinate ambition without political structures has led him from one political farce to another.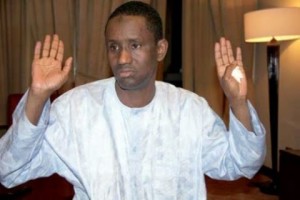 Until he was lured by the prospect of an automatic ticket and presidential backing under PDP to become the governor of Adamawa state, Ribadu virtually had the APC ticket to himself. It was his to reject. And reject it, he did. I cannot imagine how foolish Ribadu must feel now, but the dazed look in his eyes of recent, speaks a lot. The most significant thing to come out of Ribadu's romance with the PDP is his exposure as a fake progressive. Does he still feel the ground when he walks? I wonder.