Last week, we examined how 'Hurricane Buhari' made orphans of some key political actors in the N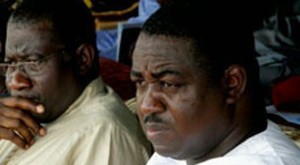 orth, including Modu Sheriff, Attahiru Bafarawa, Ibrahim Shekarau and Nuhu Ribadu. There were others who saw change coming, but either misread its velocity and ferocity and were thus swept away.
Sule Lamido
This former minister of foreign affairs and outgoing governor of Jigawa state wanted to become president. That was why in 2011, he fought tooth and nail to ensure victory for Goodluck Jonathan. His plan was to succeed Jonathan as president in 2015. That was until he discovered, much too late, that Jonathan had no plans to leave. He was the leader of the G7 group of rebel governors and even mapped out their political strategy.
As fate would have it, when it came to time to defect, he thought he had pulled a fast one on the others as he and Muazu Aliyu stayed back in PDP. True, his support for Jonathan was less than lackluster, but he fought hard for his party and preferred candidates to win the governorship, senate and other elective positions in Jigawa.
The near total obliteration of PDP in Jigawa state dealt this small-time dictator a severe blow. He may yet recover some respect, but in the meantime, the opposition that he once derided has the last laugh. Perhaps his disappointment at not getting a shot at the presidency blurred his political vision. What next, 'Comrade' Sule?
Muazu Babangida Aliyu
I once described the governor of Niger state as someone who is more likely to be heard before he is seen. These days, Aliyu is the laughing stock of Nigerlites who gave him a very bloody nose (and tearful eyes) in the last elections. Even with his legendary loquacity, Aliyu was so badly mauled that it took almost a week before he could utter a word. I am not sure that the people of Niger have stopped smiling at what they did to their Chief Servant, but the lesson must be that there is a limit to political deception.
Aliyu was the voice of the G7 and claimed to speak on behalf of Northern interests – whatever that meant. If he had cared to monitor the level of discontent with his administration and personal style, Aliyu would have joined APC in 2013 along with the five governors that did. He pulled back at the last moment in the belief that the PDP rigging machine would pull one more trick to send him to happy retirement in the senate. The way he was rendered naked on the political stage reflects the beauty of democracy. Where will this overbearing, soon to be ex-governor retire to now?
Isa Yuguda
President-elect Muhammadu Buhari personally campaigned in 19 out of Bauchi state's 20 local government areas in 2007 to ensure Isa Yuguda's emergence as governor. Shortly afterwards, the General wrote Yuguda a letter to congratulate him on his victory. A reply never came. Instead, within months, Yuguda not only returned to the PDP but married the daughter of Buhari's opponent in a society wedding.
For Yuguda, who had been denied the PDP ticket, betrayal seems to be second nature. His record of performance in Bauchi is a betrayal of the people of the state. Yuguda, his party, PDP and all his preferred candidates lost in a wholesale manner in the last elections. He may have ridden rough-shod over the people of Bauchi, but I doubt he will be able to remain in the state after his tenure without the constant humiliation. Bauchi avenged Yuguda's duplicity by truncating his plan to retire to the senate. Treachery can only take one so far.
Gabriel Suswam
When the youthful Suswam was imposed on Benue state by George Akume in 2007, he quickly warmed his way into people's hearts with the kind of development strides he embarked on. He seemed so active that he was actually named the 'Infrastructure Governor' by some. Alas, the entire thing was a charade that faded almost as soon as Suswam became comfortable on the seat. The youthful energy paled into languid lethargy amidst reports of massive looting of the Food Basket.
By 2011, Suswam had quarreled with most of his allies and chased Akume out of the PDP to ACN. He managed to retain his seat only after months of legal and political shenanigans because he clearly lost at the polls. Last year, Suswam forced Senator – Barnabas Gemade out of the PDP in an attempt to take over Gemade's seat, but got a harsh lesson in politics.
Having lost in every area, Suswam is now trying to make amends by supporting Akume's bid for senate president, and 'contributing' 8 jeeps to the governor-elect's team. It is difficult to imagine how these last minutes overtures will save Suswam from jail, as seems to be the preferred destination for him by the people he deceived for 8 years.