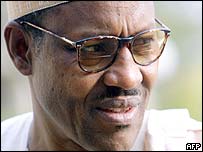 'All politics Is local' – Tip O'Neill
Before the presidential elections on the 16th of April, Muhammadu Buhari had said that he would not challenge the result in the courts if he lost. He however said that his party, the CPC is free to go to court, and that is what it seems they have decided to do. It is the right of any political party that feels aggrieved to seek redress, but this time I think it will be a mistake simply because it ignores the reasons they lost in the first place.
The Congress for Progressive Change (CPC) was formed about 10 months ago as a result of Buhari's fall out with the ANPP. Based on this, their performance in the first two elections has been impressive, with 30 seats in the House of Reps, 5 Senate seats and 12 states won in the presidential elections. However, there are still the governorship elections to focus on and they must transfer their dominance in the North in the presidential elections into the governorship races. The reason is simple: Governors have access to state resources that have been a key part of the PDP's dominance since 1999. It will also enable the CPC consolidate its base by giving them a chance to provide good governance and restore the trust between the average Northerner and their leaders.
Standing alone, the CPC will struggle to have a national reach that is why it needs to merge with the ACN in the South West and APGA in the South East to provide a formidable opposition to the PDP over the next four years. It needs to be done relatively soon, so that initial teething problems can be ironed out before the next election cycle. The idea of waiting till when elections are approaching to start merger talks is a recipe for failure. A second truly national party will have the best chance to compete with the ruling party at every level and in every state, not 2 or 3 that are only strong in a single zone.
If it ever happens, this new party must position itself as a viable alternative, with an identifiable, solutions based stance on all national and local issues that will win votes in a general election. As the party that came second in the national polls, the CPC will have a big part to play in any future merger, but before they can assume that role, Buhari must move on from April 16th, learn the lessons and position his party for bigger things. A long, costly court battle might be a distraction from what should be the ultimate goal: to be part of a Pan-Nigerian party that can wrest power from the PDP in 2015.