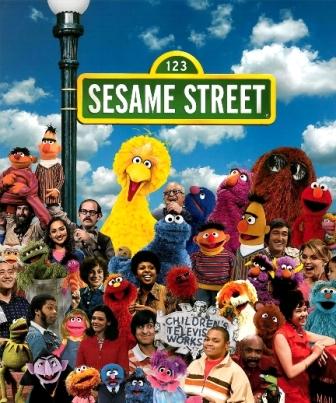 In those days my siblings and I used to live for 4 pm. By 3:45 we'd already taken our places in front of the TV screen, avidly watching the test colour bars that told us that NTA 2 Channel 5 was about to begin transmitting. Even when there was no electricity, we still gathered in the living room, our bodies taut with concentration, willing NEPA* to 'bring the light' so we could watch cartoons on the approximately 90 minute long Children's belt. I can still see it vividly, all of us hunched down in front of the TV, but in our hearts and minds we were flying through the air with Superman, leaping over the rooftops of Chicago with Spiderman, chasing villains through the back alleys of Gotham City with Batman. It wasn't all about adventure though, there were also fun educational shows like Bright Sparks, Magic School Bus, Cro and many more. But I think the show that had the most profound effect on me must have been Sesame Street. Chalk it up to a hyperactive imagination, but it was almost as though I lived there with Oscar the grouch, Elmo, Big Bird, Forgetful Jones, Count Von Count, The Cookie Monster…in fact if you look hard enough at the post's picture you might just see my small head poking out from somewhere…kidding!
Looking back, I can attribute a lot of what I am now to simple lessons I learnt from back when I lived on Sesame Street. To underscore this, check out these videos from the series.
Counting To Four
I was too old for this video at the time, but that didn't stop me from totally loving it. It's amazing, the talent and devotion that the producers of these programmes bring to teaching the simplest things.
---
Raise Your Hand
Though mostly a lesson in classroom decorum, this song taught me to be inquisitive and never be afraid of asking questions in class or anywhere at all. This usually earned me odd looks from classmates who dubbed me oversabi or 'ITK' (I Too Know), but I was always the better for it. Okay, maybe I extended the lesson a bit 🙂
---
Jack Black Defines Octagon
Who would believe how easy it is to explain what an octogan is to a kid? See how in this short but powerful video.
---
Rectangle
Watch the funny two headed monster go beyond shape recognition into abstract logic by fooling around with what they think is a rectangle…

---
Will.I.Am – What I Am
Obviously recent this one, it's starring Black Eyed Peas' Will.I.Am. Reaching children via popular pop culture icons is genius strategy, again showing the lengths the programme producers are willing to go to inspire children.
---
Naija To Banks…[Static]…Come In Banks…
In the real world however, I thoroughly hated going to school where we had to chant the times tables in an annoying monotone, and where the teacher decided to score me 9 over 10 in verbal reasoning because I had decided to spell 'colour' as 'color'. Tell me, being in primary two or so at the time, how was I supposed to know the difference between American and British english?
It's a good thing I had Sesame Street and similar children's programming to learn from, watching those shows made up for my relatively unremarkable formal education. If the methods employed by schools in Nigeria are even half as intuitive as the ones in these videos, we wouldn't be recording these dismal SSCE results. I remember the last (public) secondary school I attended (I attended four in all), I was killing their science students at biology, and without reading too. Between a few years worth of Magic School Bus episodes and a backward curriculum, I was able to give them a proper trouncing. Terrible. I'll leave the rant about how unscientific our approach to education in Nigeria is for another post. But let me state the obvious. As far as educating the younger generation is concerned, we have a long way to go.
Not everyone gets the chance to live on Sesame Street. Recently I came across two boys who saw Superman on my laptop for the first time in their lives. This in my opinion is a breach of a fundamental human right. The right to know Superman. And sadly this is the case for a disproportionately large number of children who have no access to quality TV programming. I was lucky to have been influenced by these mediums. I hope that sometime very soon, in concert with other interested actors, I can afford others the same opportunity.
*NEPA – National Electric Power Authority