by Ayodele Olofintuade
Tonight I deleted Ify Omalicha's phone number from my contacts.
The number has not been on my phone for long, just barely 3weeks old. It's strange actually because I've known Ify for longer than that. She was one of my missed opportunities. I still beat myself up over that, because on several occasions I'd been given the opportunity of getting to know her better but I never seized it, I thought there would always be time, the world was supposed to be our oyster.
A beautiful and talented woman, Ify had always impressed me with the air of quiet self-assurance that surrounds her. She makes me want to talk in quiet, even, tones. She has a sneaky sense of humour which hits you the harder because of the dry way she delivers her punch lines.
Her last performance that I saw was the one she did during the International Women's Day celebrated by PEN Nigeria.
She was absolutely stunning.
I watched poetry in motion as she recited Ego tripping. No she didn't recite the poem, neither did she perform it. She became one with the words.
"…I designed a pyramid so tough that a star
that only glows every one hundred years falls
into the center giving divine perfect light
I am bad …
My oldest daughter is Nefertiti
the tears from my birth pains
created the Nile
I am a beautiful woman…"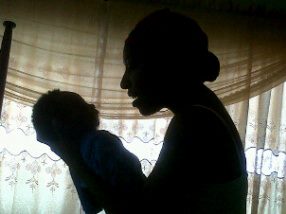 Those words must have imprinted themselves in the mind of everybody in that room, on that day because everybody jumped to their feet, shouting 'encore' begging her to dance for them.
I sat there and marvelled, once more, at how talented she was. How was I to know I will never see her perform on this side of the divide again?

"… I am so perfect so divine so ethereal so surreal
I cannot be comprehended except by my permission
I mean…I…can fly
like a bird in the sky."
Although she is a poet of renown with three poetry collections under her belt, as far as I am concerned this poem is her Swan Song.
The image of Ify breastfeeding her baby haunts me. The look of adoration on her face, the tender way she held him. She looked at him with her heart in her eyes like she can't believe he was hers. The loving way she cuddled him to her. He was her world.
As young as he is, he has become yet another victim of the years of neglect the leaders of this country have perpetuated over and again. A bad road and lack of emergency medical services has robbed him of his right to know his mother. It has robbed him of a source of unconditional love. Ify was not the victim of this accident, it is her 9 months old son who will grow up not knowing what the love of a mother is, that is the victim of this car accident that took the life of Ify Omalicha.
Je ki n p'olongo
Je ki n p'ariwo
Words don't fail me now
Eleduwa loosen my tongue
Let me mourn
This loss this love
Je ki n polongo
Je ki n pariwo
Words fail me …
 _______________
Ayodele Olofintuade is the author of Eno's Story, nominated for the NLNG Prize for Literature.