by Ikhide Ikheloa
Brother – teeth flashing in the cant of compliments
Brother – gold-rimmed glasses
Across eyes that go blue at a word from the Master
Poor brother in your silk-lined tuxedo
Chatter and whisper and swagger through condescending drawing roomes
We pity you
The sun of your land is no more than a shadow
Across the calm brow of a civilized man
And your grandmother's hut
Reddens a face whited by the bowing and
Scraping of years
But when you are sick of the words as sounding and empty
As the cash-box perched on your shoulders
You will tread the African earth bitter and red
And your restless steps will be to the rhythm of this tormented refrain
Alone here alone how all alone I feel!
– "Sell-Out" by David Diop
Today I am negotiating my freedom with the clutter in my house – we may be poor in America but we have too much. Every day I struggle to be reborn from the shackles of our prosperity.
And my mother Izuma-ot-the-gentle-hammer said to me, "America is tough, you have everything but you have nothing. You never laugh; you walk around walking like a coffin, like a shepherd without his dog. Your face is starved into a desert of despair. And worry ridges are carved into a face that once built a sea of joy into a mother's face. What happened to you,my son?" she asked me?
Life goes on. Big fat balls of joy chase me all over the sidewalk, drunken masquerades, smirking, slapping me around, and heckling my dignity.  How many years has it been? My demons are not drunk – starved of the milk of lunatic genius they lie deep, deep in me, waiting for my weaknesses to feed their neuroses. Here come my frailties guys, drink long and hard.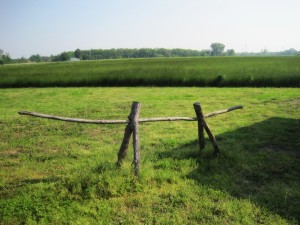 And out there in the hollow spaces ofAmerica's dwindling fortunes, in a crowded hall of a thousand gossips, there is a cell phone howling in a handbag wailing for her owner. The owner, shamed, slinks off, shifts from the crime scene in a glee of shame. Back in my Africa, in the women's compound, women are weaving secrets that house my secrets and I have a secret – the knowing of their secrets. There are beautiful people floating in and out of my space – ethereal spirits ignorant in the knowledge of their taunting all my wretched starving senses.
I return now to the stories before us, the songs we hear, and the dances of the new masquerades. What are they trying to tell us? Where is the oracle? They say our ancestors did not go to the moon – because they did not need to. There was no clutter in their lives – because they knew the benefits of clarity in everything physical and spiritual. Their meals were simple and in the seeming simplicity of their lives, life triumphed in joy and song over the tribulations of the day. And then the walls came tumbling down, brought down by white masquerades. And things fell apart, crushed under foot even as the sacred totems of our gods spat on the virility of their old masters. And wise men became idiots and our poets and poetesses became bloody illiterates – because they shunned alien hieroglyphics.
As advances in technology spawn the movement of people and ideas across newly porous worlds, new stresses and anxieties hang over the new world like a big bad cloud. It is a new world that they say does not belong to us. In their words and in their jokes, they see us as an invasive species. And they chase us from pillar to post because our mere sight irritates them. They will tolerate us as long as we are seen, not heard. And our self-loathing aids the new conquest. One of us steals a penny and the rest of us berate ourselves for the sins of our sibling. We are too anxious to please those that would have nothing to do with us. Our words, our stories drip with the self-loathing that confirms the worst hiding in their dark hearts. We say to the man we are building your world in your own image and we are helping you by bringing down our own world, hurtful brick by hurtful brick.
My people, things disappear in the horizon, things reappear blasted in from the horizon. And we sit around talking to ourselves, listening only for when the other stops talking so we can start talking again. In Babylon, we have become masquerades in blue suits, we look across the seas, and we ask, "Are we children of a lesser god?" Why, we are brave people, we just survived an incredible journey trudging through a mean, mean, world. We shiver in our blue suits – alien regalia offspring of our ancestors apologizing in alien regalia. Masquerade, we control your demons with our fear. You jump, you jump because your demons are afraid of our anxieties We cannot let go of you because our anxieties are afraid of your demons.  And the creature says, if you let me go, I'll let you go!
The white man says the seasons they never change. The earth moves around to the seasons and the seasons change. Who cares? Listen America, I want to roast my corn in my backyard. I need to dash my coconut into tiny bits on my patio. Don't call the cops, I am today's American. Live with me.
________________________
Ikhide can be found on twitter and on his famous blog.