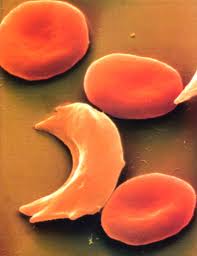 By Tayo Olaleye
"As a friend, I was devastated. It was all too difficult and sad to watch. The pain on my friend's face was REAL and there really wasn't anything I could do to help her. I could only imagine what this trauma was like for her family."
Last week was World Sickle Cell Day and I got involved in a conversation with a friend whose family had been affected by this ailment. Some years back, another friend who had sickle cell had a 'crises', she had complained of aching bones, she had a very high fever and she could barely walk because she was so weak. We rushed her to hospital where was given a high but safe dose of pain killers – morphine and/or codeine. Following that she was given a blood transfusion. As a friend, I was devastated. It was all too difficult and sad to watch. The pain on my friend's face was REAL and there really wasn't anything I could do to help her. I could only imagine what this trauma was like for her family.
Sickle cell was discovered and reported as far back as 1910 by a physician, Dr. James Herrick. It is an inherited genetic disorder that gets its name from the sickled shaped red blood cells (RBCs) in the body caused by the presence of abnormal haemoglobin, Hb S. Haemoglobin is the molecule in RBCs that transport oxygen to the body. Normal RBCs have a disc shape and contain normal haemoglobin, Hb A. Not only do these sickled RBCs block blood flow, they die within 10-20 days and the bone marrow cannot replenish them fast enough. Hence, leading to reduced oxygen to the vital organs in the body, which results in some of the symptoms known to this disorder.
Sickle cell mainly affects people with ancestral history to areas with malaria precedence – Africa, India, the Mediterranean and South America. Therefore, a sickle cell carrier (Hb AS – an AS person) has a higher chance of survival if struck by malaria, particularly in their childhood. It is estimated that 2% of people in Nigeria carry the sickle cell trait. Two years ago, according to the Minister of Health of Nigeria, Professor Chukwu, Nigeria leads the chart in sickle cell endemic countries in the world. Today, that statement still rings true. An estimated 100,000 babies are born today with this disorder every year in Nigeria. This is a lifelong disorder and support is needed for these babies and their families.
In addition to the symptoms mentioned above, swelling of joints, yellowing of skin, visual impairments and in severe cases, stroke may be seen. Usual treatments are pain killers, blood transfusion and supplementary oxygen. Blood transfusion is mostly needed to relieve the pain of sickle cell patients. For centres where you can donate blood, please see http://foronepercent.org/programs.php.
Furthermore, there is an increasing amount of support system in our country for people who suffer from this ailment. One of them is the Sickle Cell Foundation Nigeria a non-governmental organisation that manages a subset of sickle cell clinics and provides genetic counselling to interested individuals. This foundation prides itself on in-house research and can also provide prenatal diagnosis so that support and counselling can be provided to families from the onset. Another amazing and promising breakthrough was the first stem cell transplant in Benin. The patient, the 7 year old Matthew Ndik, received bone marrow cells donated from his brother who did not carry the sickle cell gene. Following a gruesome but successful surgery, Matthew was showed off to the world, early this year, with an AA genotype! This brings hope to all sickle cell patients out there. Although this is an expensive procedure, it should NOT be undermined at all.
Lastly, know your genotype.
Relevant twitter handles: @scaf_nigeria, @sicklecellNg