By 'Dami Ajayi
Marriage, grand as it sounds, was not for me.
But no one will understand, most especially Bridget who flew in her gown from Madrid. The bouquet she holds was hand-picked yesterday morning in Paris and sent to the church so that it could arrive in time for our wedding.
She had thought I was going to break up that day I proposed. We had been dating for about four years, had completed our academic programme that summer. She had accepted a job in America and I was inert, weighing options.
It was in a park in London. We were watching the sun set. I slipped my hands into my pocket and fetched a ring. Her screams alarmed the pecking pigeons and our engagement kiss was decorated with loosened feathers. Confetti.
The priest is reading out our vows. He mentions the Son; I cringe. I am tempted to look at my parents. They will not understand why I have chosen to drag their faith in the mud; why I had chosen to marry a Christian, worse still, why we were getting married in a cathedral. They can't read my facial expression:  is it that of triumph or joy or satisfaction at their acceptance of my marriage? No one can, not even my joyous bride. We were taught how to conceal our emotions in Yemen. And how to make explosives from the crudest of materials.
But no one knows of my short stint in Yemen. All my parents know is that I had become an Islamic faithful after I returned from London. I transformed from the wild party head I was before I met Ishmael to a solemn Muslim.
The vows passed, we inserted rings, danced into a small chamber in the church to sign the our certificates, danced to the cantata the choir serenaded us with, filed out of the church accompanied by our bridal train—little cousins and nieces—and confetti was poured on our heads.
Bridget let go of her Parisian flowers and we rode off in the limo her Nigerian father rented, her American mother wailed and waved
We consummated our marriage that night and she was as patent as a test tube. I hardly cared; my mind was on twelve heavenly virgins. Suffice to say, our honeymoon lacked both honey and moon.
We travelled to the States sooner than I expected: my immigrant papers were courtesy of our marriage certificate. The Immigration officers hardly quizzed a black man like me, especially with my mulatto wife, an American citizen flashing our gold wedding band. They failed to spot the black dot on my forehead, a consequence of hitting my head on the ground at least five times daily in Mecca's direction.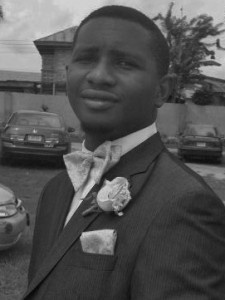 No one noticed when I boarded an interstate plane from Connecticut to New York, less than a year later, leaving behind a pregnant wife. They did not know of Ishmael's call. His exact words, "Confetti, New York."
What they know is what the CNN is telling them and showing them now. That an Islamic Nigerian terrorist blew a plane over the skyscrapers in uptown New York and minced 547 passengers, majority of whom were American citizens, into confetti.
____________
Dami Ajayi is a medical doctor, poet, short story writer, occasional essayist, and ex blogger. His collection of poems was shortlisted for the Melita Hume Prize. He lives in Ilesha, Ife and Lagos.