Maker Faire Africa brought its yearly pan-African innovation fair to Lagos, Nigeria this year. It was three days of exhibitions, workshops, D.I.Y. demonstrations, a public "maker space" and enthusiastic celebration of African ingenuity & creativity.
Produced by Maker Faire Africa with the support of the Rockefeller Foundation and African Innovation Foundation, and the endorsement of Nigeria's Minister of Finance, the event emphasised grass-roots innovation and a D.I.Y. culture as the catalyst for spurring "bottom up", socially responsible invention, and locally sustainable design and manufacturing.
Maker Faire Africa isn't about the Internet and mobile technology industry exclusively. It covers a diverse range of fields such as agriculture, architecture, fashion, film, healthcare, robotics, sanitation, science, textiles, transportation, toys, and more. That is a huge collection.
I was at the Maker Faire Africa 2012 showcase venue (LTV 8, Alausa, Ikeja, Lagos) on the first day and I was able to observe some of the inventions and creations. While I did not give all of the showcase equal attention, I was drawn to the very young folks who were displaying stuff and making things.
I first spoke with some students who were working on a project that will create electricity from fruits.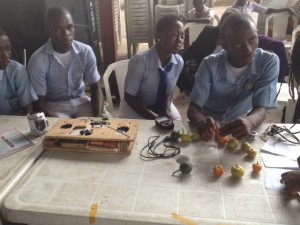 Their English wasn't very fluent, but they had a grasp of what they built and were showcasing. They put together some fruits and connected them to a circuit to generate electricity that can charge phones and power other electrical devices. They explained to me that there's an alkalinity that will be supplied by the fruits and that this is what will eventualy be converted to electricy. I asked them if the electricty to be generated was going to be able to charge my phone and they simply responded by telling me that as long as I can get enough plants–unripe–I will be able to generate enough power for my gadgets. But they told me that the system would work and electricity would be produced continually as long as the fruits are unripe. Once they become ripe and start to rot, I would have to replace them. That means I would have to make another journey to the market. This of course would not be possible without mechanised farming and reduction in transportation cost.
Next, I spoke with another group of students from a public secondary school. They put together a set up that converts sawdust to clean cooking gas. 
They explained to me that, the sawdust can be heated with coal or gas to generate clean cooking gas. The final product burns very slow and lasts longer. I was worried and I asked them why I should use their service if I would still need another source of fuel (gas/coal) to burn the sawdust. That was when they told me that the clean cooking gas produced by the process doesn't burn out as fast as when one uses cooking gas directly.
I also spoke with high school students who created a device that is stuck in a motocycle's (Okada) helmet. It is a safety device. How does it work? The Okada won't start until the rider puts on the helmet. There will be a blinking light coming from the Okada. As soon as the rider puts on the special helmet, the red blinking light stops and the rider can start the Okada. It is easy to imagine how this can be deployed to all Okada riders in Lagos as a safety means.
The last person I spoke with before rushing out (I wished I had more time), was a young 15 year old who put together an impressive display. He built  toys that can be controlled with syringes. I asked him if I could operate it but he replied that he is the only one who knows how to operate it. For him to have built this on his own, he's got some raw talents that can be farmed and groomed. Here's a video of him controlling the toy:
As stated by the organisers of Maker Faire Africa, the aim of this event is; "provide the kind of platform they've been seeking – a productive, positive environment in which to make the things they need, by themselves, for themselves.  Really, the fair is produced by the individuals who show up, and eagerly start making things together, most of whom have never met each other before.  It really speaks to Africa's highly social nature."
This is the third iteration of the event. Those folks who participated are brave. The set up doesn't look like it has the glitz and the glamor of the usual tech and innovation events I have attended across Lagos since I have been hanging out with the Nigerian tech ecosystem, but the young raw talents I saw blew my mind of. When I was as young as they are, we had such talents too, but we did not have anybody to encourage us and showcase our talents. I am proud both of the organisers of Maker Faire and the participants at the Maker Faire 2012 Lagos event.