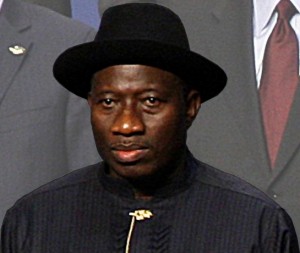 "Our total commitment to good governance, electoral reform and the fight against corruption would be pursued with greater vigour . . . we must enshrine the best standards in our democratic practice . . . similarly, the effort at ensuring the sustenance of peace and development in the Niger Delta as well as the security of life and property around the entire country would be of top most priority.
"I want to reassure all Nigerians that the pledges which we had made to improve the socio-economic situation which we face through improved access to electricity, water, education, health facilities and other social amenities would continue to be given the needed emphasis. The welfare of our teeming workers and the unemployed youths would also be accorded a new impetus".
That was President Goodluck Jonathan, speaking immediately after he was sworn in as President on 6th of May, 2010.
One year later, on the occasion of his swearing-in as President and Commander-in-Chief on May 29, 2011, he enthused, "I thank you all, fellow citizens, for the trust and confidence which you have demonstrated through the power of your vote. I want to assure you that I will do my utmost at all times to continue to deserve your trust.
"Today, our unity is firm, and our purpose is strong, our determination unshakable. Together, we will unite our nation and improve the living standards of all our peoples whether in the North or in the South; in the East or in the West. Our decade of development has begun. The march is on. The day of transformation begins today. We will not allow anyone exploit differences in creed or tongue, to set us one against another.
"I am mindful that I represent the shared aspiration of all our people to forge a united Nigeria: a land of justice, opportunity and plenty. Confident that a people that are truly committed to a noble ideal, cannot be denied the realization of their vision, I assure you that this dream of Nigeria that is so deeply felt by millions, will indeed come to reality.
"Fellow Compatriots, lift your gaze towards the horizon; look ahead and you will see a great future that we can secure with unity, hard work and collective sacrifice. Join me now as we begin the journey of transforming Nigeria.
"I will continue to fight, for your future, because I am one of you; I will continue to fight for improved medical care for all our citizens; I will continue to fight for all citizens to have access to first class education; I will continue to fight for electricity to be available to all our citizens; I will continue to fight for an efficient and affordable public transport system for all our people; I will continue to fight for jobs to be created through productive partnerships; You have trusted me with your mandate, and I will never, never let you down. I know your pain, because I have been there".
However, just six months later, at the peak of the fuel subsidy when Nigerians were suffering debilitating shortages, he said, "Since the announcement, there have been mixed reactions to the policy. Let me seize this opportunity to assure all Nigerians that I feel the pain that you all feel. I personally feel pained to see the sharp increase in transport fares and the prices of goods and services. I share the anguish of all persons who had travelled out of their stations who had to pay more on the return leg of their journeys."
Nevertheless, he insisted there was no going back, so Nigerians fought him to reverse the policy.
In June this year, when asked about assets declaration, he replied, "The issue of public asset declaration is a matter of personal principle. That is the way I see it, and I don't give a damn about it, even if you criticise me from heaven".
And after 30 months in office, during which a staggering N5trn or $31bn was reportedly stolen, with mounting debts showing his government borrowed an average of N3.52bn EVERY DAY since taking office, President Jonathan said, "Let me assure all of you and indeed all Nigerians that 2013 will be better for us than 2012 in all aspects of the nation's history. The New Year shall be better for us in terms of job creation, wealth creation and improved security among others".
"I urge you all to continue to trust in our unwavering commitment to fully achieve the objectives of our agenda for national transformation for the benefit of all Nigerians. No one should doubt that we have the political will and determination to deliver on our promise of positive changes in the living conditions of our people in the shortest possible time."
Expectedly, the president will make another speech to mark the New Year. Predictably, he will talk about corruption, unemployment, insecurity and need for unity. The problem is, there is a very thin line between illusion and delusion, especially if the speaker doesn't know what he's talking about.