"I am able to be the kind of writer that I am"
by Chika Unigwe
The day before Achebe died, I had dinner with amongst others, the writer Caryl Phillips, otherwise known as Caz to friends. Somehow, the dinner conversation turned to Achebe and Caz asked me if I had ever met him. I said I hadn't. Caz promised that the next time we were both in New York at the same time, he would take me to visit Achebe.  When the news of Achebe's death broke the next day, my first thought, I admit, was selfish. I mourned the fact that I'd never get to meet him now. His death had ensured that.
I had always wanted to meet Achebe. I remember the first time I read him. I was in primary school, a 'good' school where the use of 'vernacular' was not allowed and social studies lesson taught us that Mungo park discovered' the River Niger, while our fore-fathers sat around being wild savages. I had read another book , maybe a year or two before I did Things Fall Apart which had a huge impact on me. It was more a pamphlet than a book, a slim book with lots of words I did not understand, but with an unmistakable  message:  the black race was a cursed one. Black skin was the mark God gave Cain when He kicked him out of Eden.  The black man could not hope for salvation. A  grownup had given me the book, and being at an age when I was impressionable, I swallowed its racist ideology and worried for my soul. Until I read Things Fall Apart.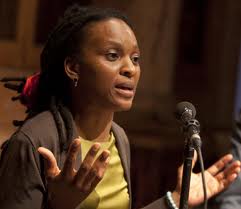 For the first time, I saw a world in which my ancestors were not 'heathen savages' waiting to be colonized and be led to the light. They had a structure. They had norms. they had values. That book taught me that despite what the teachers at school aid, no matter how often one was punished for speaking Igbo , that my  language was not something to be ashamed of. I loved the simplicity and beauty of the prose. It was like reading  Igbo written in English. I learned that history taught in schools was not always accurate, and more importantly, it gave me permission to tell my own story, my own way.
That morning, when I first heard of Achebe's passing, I mourned the fact that I'd never get to fulfill one of the dreams on my bucket list, but I also celebrated his life. Because he lived, I am able to be the kind of writer that I am.
_______________
Chika, winner of the 2012 NLNG Nigerian Prize for Literature, is the author of On Black Sisters' Street and Night Dancer