The moment news broke about the death of Africa's foremost novelist, Chinua Achebe, one of the first feelings that came rushing in after the sadness for the loss of a man so beloved is a personal questioning of what the passing really means. By the time he died at 82, he had published five novels (one of which is the magnum opus Things Fall Apart), four children's books, poetry, short stories, and a number of essays. He was arguably the continent's most famous novelist. But he was gone (and for those who had never met him except through his famous works, he had left far earlier, perhaps after A Man of the People).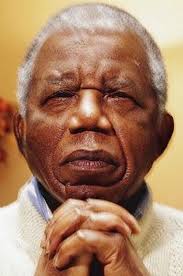 Being in awe of his work and place in African (and world) literature, makes it immediately obvious that the job of describing the implications of his exit was not only bigger than many of us, but futile. He was born into a particular time, and he grew and lived to fulfil roles required of him, with nobility and grace. The heavy weight of his demise was most felt – logically, it seems – by people who knew him more as a man than as a writer (if such delineation can be made), and such the tributes could only have genuinely come from them. What falls to us however, as direct beneficiaries of his exemplary creative heritage, is a chance to reflect and re-calibrate. What does it all mean. anyway?
The ten writers that have attempted to answer the question in this issue of the litmag  form a mosaic from new Nigerian writing, and they come from all around the world: Jamaica, Port Harcourt, Belgium, Ibadan, London, Warri, Benin, Jos, and so on. Their responses are also as varied as their roots, and they are illuminating (although, hard as I try to resist it, most still managed to sneak in a line of tribute, or two.) In these writers as in their words, it is hoped that the new face of writing on this continent can be gradually glimpsed, especially because the following is also true: you will be listening to them for a long time to come.
1. Art Could Have a Political Opinion by Eghosa Imasuen
2. Like a Tide by Jumoke Verissimo
3. Who Will Tell Our Story? by Dami Ajayi
4. The Writer That I Am by Chika Unigwe
5. The Torch Died A While Ago by Ayodele Olofintuade
6. To Become Like Him? by Emmanuel Iduma
7. He Paved the Way by Ayodele Morocco-Clarke
8. A Tree of a Communal Square by Richard Ali
9. I Do Not See a Vacuum by Sylva Nze Ifedigbo
10. It Means Nothing! by A. Igoni Barrett.
Enjoy the offering. We'll see you again in May.
KT (@baroka)
Lagos, Nigeria.