I once attended a conference in Ibadan on the authenticity of Nigerian pidgin as a distinct Nigerian language worthy of both codification and general use. On the one hand, it was a necessary intervention in a country where the use of anything other than the colonial language has gained an unexpected derisive quality in particular circles in the new elite society. On the other hand, it was a superfluous ivory tower postulation of academics who needed only to have looked into past literatures, tv series, and dynamic communities in the South-South some of whom have used the language solely as a mother tongue to see that the language will grow and thrive notwithstanding what anyone does for or against that eventuality.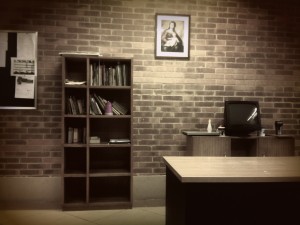 Ken Saro Wiwa's novel Sozaboy is famous for among other things its use of Nigerian pidgin (then called "rotten English). It is arguably the first major attempt to codify spoken pidgin in popular literature. Work by other new Nigerian writers like Eghosa Imasuen have striven to keep the authenticity of Nigerian English, and Nigerian pidgin alive. The Ibadan pidgin conference however deliberated at length on the matter of codification, and had knowledgeable participants argue on the merits and problems of specifying a particular way of writing a new language that is as dynamic as it is adaptable to the region of the country where it is being spoken. One of the things I took away from the conference was how the issue is unlikely to be resolved soon, or by any constituted body, as well as how important it is for the issue to be put to rest one way or the other if pidgin is to survive as a written language.
One of the contributions to this issue of the NT LitMag is a submission of two poems by Edwin Eriata Oribhabor written in Nigerian pidgin. He was a participant in that conference, and his submission had been waiting in line for several months. Today, readers are invited to peer not only into the mind and wit of the writer , but also into the creative dynamics necessary to codify such a rich, problematic, and dynamic language. With more literary contributions in pidgin into the Nigerian literary cannon, there is no telling how even more interesting the landscape is about to become. According to an email he sent to me, "I promote Naija langwej/languej not pidgin English. I will love to have this recorded in this way to keep the message a straight departure from the old/prevailing order." There you have it.
Other contributions to the issue are from Dami Ajayi (with Shagari Street), Carl Terver (with Anthills), Emmanuel Uweru, Okoh (with Saro Wiwa's War). Finally, there is a short interview of writer Nnedi Okorafor about her new book about to be published by Hodder & Stoughton.
Enjoy
Kola Tubosun
Editor
Lekki, Lagos.