On April 9, Nigerian-American writer Nnedi Okorafor announced the acquisition of her new book Lagoon by the publishing house  Hodder & Stoughton. As published on her blog, "at its heart a story about humanity at the crossroads between the past, present, and future, Lagoon touches on political and philosophical issues in the rich tradition of the very best science fiction, and ultimately asks us to consider the things that bind us together – and the things that make us human."
NT LitMag's editor, Kola Tubosun, caught up with the author for a few words on the new project. Here is an excerpt:
___________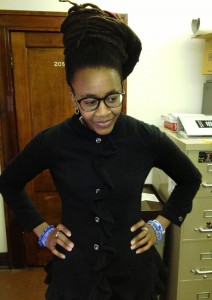 Tell us about the book?
It's about an alien invasion in the city of Lagos and how Lagosians of all walks of life handle it.
Why did you decide to write it?
I started writing it as a screenplay for Nollywood director Tchidi Chikere. He and I were both deeply irritated with the South African science fiction film District 9's abysmal stereotyping of Nigerians. Once I started writing it, it quickly became something other than a response to District 9; it became its own story with its own soul.
How happy were you to have it acquired by Hodder & Stoughton?
I was ecstatic when Hodder and Stoughton made the offer. Lagoon is an ambitious novel. It's biting political satire, creative, literary, it features many different points of view (which is VERY different from the stories I usually I write. I prefer to stay with one character), there's a lot of Pidgin English, and it's got aliens in Lagos. Because of all this, I didn't expect it to be an easy sell, if it sold at all. But Anne Perry (the editor who acquired it) immediately connected with and understood what I was doing in this novel. It was like planets aliening- unlikely, but when it happened, logical and right.
By titling it "Lagoon", one would expect a lot of adventures with water (and maybe flooding). Is that a particular fascination for you?
Oooooh yes, there's a LOT that happens in the water (though much of it is off the coast where the "shop" lands. I was initially going to have it land in the Lagos Lagoon, but I needed deeper water). I was originally going to call it "Lagos". But then I could just HEAR certain Nigerians snarking, "Who is this American Nigerian to have the nerve to name her novel after my city?" I wasn't in the mood for that conversation, so I translated the word "lagos" to the English meaning of it name. "Lagos" means "lagoon" in Portuguese. And yes, there is flooding.
I love and am terrified of the water, particularly the ocean. I go to the ocean to calm down, to reconnect with The Creator, to just be happy. I like swimming, too, of course, haha. And I love ocean life. I'm fascinated that so much of it remains unexplored by human beings. Diluted seawater consisted of nearly the same concentration of elements and minerals as blood plasma. They've got the same amount of sodium, too. Sea water has even been used successfully in blood transfusions in animals. We all came from the water. As is said more than once in the novel, "Water is life".
As someone who has also written for kids, I'm wondering if there is any consideration for them in this one, of if it's a totally adult novel.
This one is purely an adult novel, though I think some of my older teen readers will enjoy it, too (18+).
So I read that it's going to be a three-book deal. Is that a trilogy, or just a chance to get three different books published at a time of your choosing?
It's not a trilogy. There may be a part two, who knows. But that's not my original intent. I don't tend to do sequels; too many stories in my head. I know what the second novel with Hodder & Stoughton will be. That one is linked to WHO FEARS DEATH.
________________
Lagoon will be published in March 2014.