(for Ken Saro Wiwa)
My keen cry to Kenule: I, Fubara, of disjointed
Fishnet and gaping boat, from the land of kernel
Back feeling and staggering heritage.
Of gasping fish and de-flowered flowers,
Of frowning waters and stunted stalks.
I sit on a lonely log; One of the few remaining.
I write on a Dutchman's Dollar paper.
It left the Howling Helicopter.
Black crude: my ink, my thin thighs: my table.
It's a stolen converse Kenule, so, listen.
I know you still hear truth.
Your ink bullets still hover in mid-mission,
Taking stolen rests on shrunken leaves and
Greased waters. The cruel antics of the goggled
General regenerates in bloody resonance,
Feeding the rusty rulers of our land.
We await the revolution of fish and oysters
From long years of petrol-logged breath
And bone splinters from Shell's shell.
Let the cry of prawns and Lobsters
Aid my call to you Kenule, while my throat
Is lubricated by this crude I drink.
Bright glow from Dutch giant metal
Candles steal our nights, blasting insects that dare
Hover. Caked soot sit on my nasal paths.
I breathe with my ears; ears saturated with news of
Inverted justice, of blood soaked loots I loathe.
Hear these words Kenule. And berth those
Ink bullets of fourth estate fame and stencil
Romance. That short romance of eternal frenzy
And gothic engravings of your letters that die,
Not from 'feeble' minds of Generals nor fumes
From the Dutch industrial farts.
"Saro Wiwa's Waiting War" was a nominee entry in the 2010 memorial essay contest for the late activist and writer, Ken Saro Wiwa. The poem was recited at the commemorative vigil of Saro Wiwa in Huston Texas, USA.
____________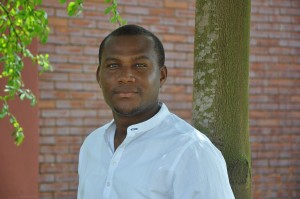 Emmanuel Uweru Okoh is the author of Gardens and Caves, a poetry collection. His works have been published inNEXT, Saraba magazine and Sentinel Nigeria. A few others are ITCH Magazine and Mad Hatters' Review of Iceland. He currently lives in Lagos, Nigeria.