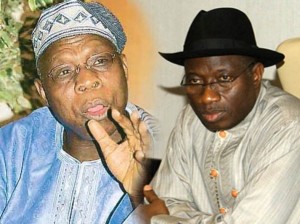 It is easy to underestimate President Goodluck Jonathan. After eight of Olusegun Obasanjo's rambunctious in-your-eyes-and noise style, followed by Umaru Yar'adua's studiedly aloof interregnum, the approachable and quick to smile Jonathan had a humanity many could relate with. And when he regaled Nigerians with his "I had no shoes" speech at the PDP convention, many thought the man was simply too much, as if poverty was to be celebrated.
Jonathan's career before entering the national stage was undistinguished. He was a teacher and civil servant until sheer fate elevated him to deputy governor of Bayelsa. In that capacity, he remained in the shadows of former governor, Diepreye Alamieyeseigha (now chief-gateman at the Villa). When Alamieyeseigha ran afoul of Obasanjo, the latter wasted no time in personally coordinating his arrest in London. When 'Alams' alarmed us with a sex-change abracadabra and landed in Nigeria as a woman, Obasanjo promptly staged his impeachment.
As governor of Bayelsa state, Jonathan was as also ordinary. Despite his touted doctorate degree, he made no lasting impact though the state had the smallest population in Nigeria, but one of the largest budgetary allocations. Where are the schools, roads, hospitals water supply systems that can be linked to his tenure? What are Jonathan's legacies as Bayelsa governor?
But because Nigeria's political system rewards incompetence, this man, almost without believing it soon ended up on a presidential ticket. Whatever happened during that PDP's night of long daggers left even the politically savvy frontrunner, Peter Odili, scratching his head while Nigeria ended up with an untested and unprepared politician who had little notion of the complexities of running a country as intricate as Nigeria.
As vice president, Jonathan also remained in the shadows and displayed what seemed, on the surface at least, strong loyalty to Yar'adua. Even when it became clear that Yar'adua's days were numbered, Jonathan did not show untoward ambition; many simply assumed he would honour the zoning pact and merely see out the remainder of Yar'adua's tenure. To have sold that dummy to the likes of former president Ibrahim Babangida and former vice president Atiku Abubakar was an act of political subtlety that went largely unnoticed at the time.
A seemingly reluctant Jonathan then sought and won the PDP nomination against a perplexed Abubakar; the campaign for the presidency was on. And without probing Jonathan to find out what, if anything, his plans for Nigeria were, many decided to vote for him. Of course, he didn't take anything for granted; vast amounts of cash did the magic of 'converting' traditional rulers, major and minor community leaders and any politician with even the most far-fetched promise of delivering votes. Thousands of youth movement sprang out across the country – well-oiled by government, while ethnic and religious differences were exploited as a matter of policy.
As president, the real Jonathan has emerged. Now he can be himself, his self-effacing strategy having taken him to the top. And what has become clear is that we may be rid of Obasanjo's boisterous style, but little has changed. Even Obasanjo's harshest critics would concede a few points, but Jonathan seems bent on replicating all of Obasanjo's more infamous antics without any of the relative political and economic stability the latter managed. In only in his third year as president, Jonathan seems intent on besting all the wrongs that Obasanjo managed to inflict in eight years.
And so for Obasanjo's Odi and Zaki-Biam, there is Baga; for Alamieyeseigha, Ayo Fayose and Rashid Ladoja, there is Timipre Silver and Rotimi Ameachi may be unfolding; for Obasanjo's court jester Alao Akala, there is Jonathan's Seriake Dickson; for Obasanjo's Barnabas Gemade and Audu Ogbe, there is Vincent Ogbulafor and Okwesileze Nwodo. For Obasanjo's Mr. Fix It, not even the actor has changed: Tony Anenih is still running hither and thither with largely imaginary powers. And just as Obasanjo's EFCC sent a message to Babangida by arresting his son, Mohammed, Jonathan's EFCC sent a message to Sule Lamido, also by arresting his son, Aminu.
Jonathan promised to transform Nigeria, but the only transformation we have seen is his own. And it has not been for the better. The signs are ominous: For the opposition working to unseat him, the worst mistake they can make is to underestimate Jonathan. From all indications, his 2015 campaign will take no prisoners: the expulsion from PDP and subsequent impeachment threat against Amaechi, as well threat to probe Obasanjo is just the initial salvo. Already, some of Jonathan's acolytes, notably, Asari Dokubo and Kingsley Kuku have said things to the effect that "No Jonathan in 2015, no Nigeria".
 The only bit of cheer is that Obasanjo also said, "No third term, no Nigeria", but Nigerians proved him wrong. Nigerians may need to reenact that sense of purpose to rescue the country from a man and party whose continued stay in office only serves to raise poverty, unemployment, divisions and corruption. For now though, every new day seems to bring out the worst aspects of Obasanjo in Jonathan.