by Kola Tubosun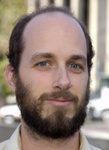 My first interaction with Aaron Bady was through the Caine Prize Carnival (now in its third year) in which bloggers give their opinion on Caine Prize shortlisted stories before the winners are announced. Because of his interest, we have also shared private opinions on particularly prevailing issues in African literary circles, so after his interview with Chimamanda Adichie published in the Boston Review made headlines for the wrong reasons, I thought to ask about it, and expand our conversations to other issues of relevance.
Aaron is a post-doctoral fellow at the University of Texas, Austin. He works on African literature, and is a blogger and editor for the New Inquiry. He can be found on twitter as @zunguzungu.
———–
I was first going to ask what you were doing in Boston (or wherever you met Chimamanda) until I realized that I'd assumed from our work on the Caine Prize carnival that you lived on the continent.
Yeah, no, I live in Oakland; she was in town for her book tour, and Boston Review got in touch with her publishers and set up the interview, in the restaurant of her hotel. I almost felt bad doing it; she seemed just exhausted from traveling, even though she was razor-sharp, and also kept chatting a solid half hour after the official hour that I was allotted was over. At a certain point she started asking me questions about myself, which was a strange experience.
Your interview with her ruffled feathers. Do you think she meant disrespect with regards to Elnathan and her use of  "my boy"?
I certainly didn't take it that way. She seemed genuinely fond and happy for them, a "proud mama" she said. I can see how someone would take that as arrogant or patronizing, or whatever. It was a little odd, I guess. But the reaction seems way out of proportion to me. What do you think?
In Nigerian literature, nothing is ever just what it is at face value. There's a lot going on there. See that when you gave her a chance to talk about her best products, she never brought Elnathan up. She only mentioned him only to denigrate Caine. Sounded fishy.
Well it's true she doesn't exactly brag on him. But I certainly understood that moment in the conversation as being a kind of "even though Elnathan is shortlisted, I still don't like the Caine," the opposite of a general disrespect for prize and writers alike but yeah, way too much energy being expended for this to be just about a single word.
Apparently, Adichie's beef with the Caine is an old one. There is "Jumping Monkey Hill".
That's partly why I asked her. The story that the character in that story writes is, I believe, a story that she herself wrote, elsewhere.
Yea, I would think so. So on the one hand, she's trying to belittle the Caine Prize, and on the other, she's taking credit for Elnathan's progress. She upset everyone in the process. I don't think that's helpful. Not for her workshop. And not for the Caine Prize. What do you think?
To be honest, I think there's a limit to how much weight anyone could put on a single word, and all she said about the prize was that it's given more importance than it deserves; a lot of people have said a lot worse! And I think she's right; it's basically a good thing, but also not the be-all and end-all. In any case, she's entitled to her opinions about the Caine Prize. When it comes to her relationship with other writers, that's up to them; I don't know the backstory, whatever it is.
So what was the main thing  you learnt a new from the interview that you didn't know before? Particularly about race, African interaction with the American space, or about Chimamanda herself?
I think the main thing was realizing that a lot of what can come across as harsh criticism in the book — all the skewering of white American liberals, for example, but also of her African and African-American characters — was something that she saw as closer to mocking self-criticism. She told me that she identified herself with many of the things that the book makes fun of, and admitted, pretty openly, that she didn't know if other people would catch the humor. She said something like "There is such a thing as a failed joke," at one point, though I think I cut it from the interview.
With your experience and interest in African literature, where do you stand on the fight about pitting the Caine Prize against other prizes that reward African writers, on the one hand, and pitting the Caine against Chimamanda's own workshop contest on the other.
I think the Caine prize has a lot of problems, basically, though I do think they're also in a difficult position. For one thing, it has the baggage of being an extremely British institution that is in the business of awarding prizes for African authenticity, and there really isn't a way to do that without imposing an artificial conception of what that is on African writers. But beyond that, I feel like the shortlist and winner are rarely the best short stories from the continent; they're mostly good–and it really isn't a criticism of a writer to say that he or she wrote a "good" short story–but I would also say that they're rarely great. If four Nigerians are going to be on the shortlist, and none of them are named Chimamanda or Igoni, then there might be something wrong with the process by which that list was compiled. I don't pretend to know what that is, of course, because I don't have access to the process, but my guess would be that letting publishers control which stories get nominated results in a lot of great stories not being nominated, because they don't fit some publisher's sense of what is "marketable." And of course, a lot of writers just don't want to have their work nominated at all, for various different reasons. When you add on the particular tastes of the judges, I think the result is that a lot of great work would never even get considered.
Your point about having a Chimamanda or Igoni on every major award shortlist is well taken, but what do you say about the fact that Caine (and other prizes like it) create new Igonis and new Chimamandas every year rather than recycle those that have already made it?
That's a good point, I suppose. But then which is it? Is the prize supposed to help younger, less experienced writers break in, or is the point of it to reward the very best short story? Either of those would be fine. But can you do both at the same time? I'm glad Tope Folarin is getting readers for his novel when it comes out; I'm glad that I'll know to look for it. But I think Igoni Barrett's short story collection is the best thing I've read this year, and it's weird when people like that seem to have fallen through the cracks.
You never did tell me what you thought of Elnathan John's Bayan Layi (I reviewed it here). I think you reviewed three of the Caine stories (Miracle, Foreign Aid, and Whispering Trees). I thought you were playing diplomat. What did you think of the work in isolation, in comparison with the other works on the shortlist, and as a then potential winner of the Caine? 
I'm pretty meh on that particular story. I think it's the weakest story I've seen by him, and definitely the least interesting stylistically of the three that are online. I told him that on twitter, in fact, and I said–which surprised me–that of his 13 short stories, it was his least favorite. I find that fascinating: obviously, if he had the choice of which story to submit (or if the Caine Prize committee were reading all the stories out there), then his work wouldn't be judged according to the story that he likes the least. Bayan Layi was not the best story on the list, in my humble opinion, but I was rooting for him; of all of them, he's the writer I'm most interested in reading more of.
That's an interesting point, especially since it often happens that the barely-shortlisted-but-not-winning-authors in cases like this usually go on to do great things in the future. See Chimamanda, and Chika Unigwe et al.
This is where the Caine Prize people are doing a smart thing by releasing the shortlist 6 weeks before the prize is given; it gives you time to get into the horse-race aspect of it, read all the stories, and pick your favorites. If they only announced the winner, you'd only read the winner.
The author has made sarcastic lemonade (we agree, too much of it) out of the Chimamanda snob.  I haven't read much of his short stories works beyond the Caine story, but it seems that you have. Where do you think he might have a point.
Well, I don't know; I think a lot of these things are so silly that it's also silly to make too much of them. We will have forgotten all of it in a few weeks, I'm sure. That said, my friend Shailja Patel suggested that he was actually lampooning a passage from Half a Yellow Sun, where Ugwu looks at Olanna and sees her as a ripe cashew-fruit; I haven't been able to find my copy of the book to check.
On the Caine Prize in general, care to comment on any change you noticed since the baton passed from Nick Elam to Lizzy Atree?
Not really. 🙂
How did you come about the idea of the Caine Prize Carnival? What have you enjoyed the most or learnt from the years that you've been coordinating it? Do you see it continuing?
I really don't remember; this is the third year I've done it, and it's been a lot of fun, but certainly not in a way I had anticipated. Forcing myself to read the stories closely and write something about them almost always forces you to see something interesting and new in them. I feel like I find a way to like every story, and not in a fake way (even if I still feel like those stories are rarely the best I've read this year). It doesn't take much to keep it going, so maybe it will, but it is also hard work to do that much writing. That's the real reason I didn't blog about the last two stories; regular life intruded. I'm actually still planning on writing on them, when I get time, but in a more capacious way; a review of Elnathan's online stuff more broadly and a review of Chinelo's books of short stories, as a whole. Partly because I want to see how the stories which were selected reflect the larger work of the author.
This season I heard one tweeter suggest that the Caine should recognize the best bloggers during the Carnival. What's your thought on that?
Meh. I think it's good to have criticism be a selfless endeavor, to be in service of the writer, rather than an extension of the critic's personality. I want to use my critical writing to understand a story better, to make it make sense; the last thing I want to do is be judged on how well I do it.
The Carnival has become a force of its own it seems. I remember hearing judges from 2011 referencing the fierce intervention of critic Ikhide Ikheloa on the quality of the shortlisted stories that year, and a perpetuation of what he said "celebrate orthodoxy and mediocrity". Helon Habila called it  "poverty porn". It came from the Carnival. There is something good about having the judges pay attention to what the critical audience is also saying. No?
 Actually, I think Ikhide had already made his feelings known about the Caine Prize before that, but it is gratifying to feel like we're adding to a conversation that's well worth having. But I doubt we're having all that much of an effect on how the judges operate. These conversations and arguments have been going on a long time; Wole Soyinka criticized Heinemann's African Writers Series for rewarding mediocrity decades ago.
Tell me a bit about New Inquiry and about your work there. Teju Cole, I believe, is the only Nigerian/African writer you've featured there. What's the focus of the publication?
Well, Teju Cole is the only African writer who is on the masthead—he writes blogposts occasionally–but we published a wonderful piece by Keguro Macharia called "On Quitting," and this summer we put out a special issue on the Kenya election, called #KenyaRefuses, sort of a compendium of polemic and creative non-fiction. It's online, free, worth checking out. One of the things that's nice about the New Inquiry is that we're very much located in the United States, but being a web publication lets us get writers and readers on a much more global scale. And we try to get out of our own parochialisms as much as we can.
Thank you for your time.
 Glad to do it!
———–
Kola Tubosun is the editor of the NTLitMag. He can be found on twitter as @baroka.