By Kayode Odumboni
SCENE 1
The light falls on Chiamaka packing her belongings which consisted mostly of her clothing. Damilotun remains seated on the mattress that lies on the right corner. The room is barely furnished; there is only a table that is saddled with various volumes of books. Chiamaka finishes with her packing and straightens up. She turns to Damilotun. A few pieces of clothing hang on the wall among which is the uniform kit of the NYSC- a khaki shirt, a crested vest, and the cap.
CHIAMAKA:    You know, I wonder if you're doing this to prove a point or something. I mean, everyone is leaving. What is it that is holding you back?
DAMILOTUN:  Simple. Service! (He pronounces the word 'service', stressing both syllables). I thought we have discussed this….
CHIAMAKA: (She cuts in) Oh Please, don't just give me that balderdash. You know very well….
DAMILOTUN: (He rises up and holds her in his embrace. He places his index finger on her lips). Chi'm, I know all what you have to say. But you don't have to worry. No harm comes to a man in his own home…
CHIAMAKA: This is not your home. (She gently pulls out of his hold). The earlier you realize it, the better for us both.
DAMILOTUN: Chi'm, you know exactly my position on what you just said. I refuse to bind myself to this parochial ethnocentric inclination that I believe has left Nigeria in its present backward state. Look, as long as I'm concerned, I'm not serving this village of Zungeru or this state of Borno. I am here, serving Nigeria, my fatherland.
CHIAMAKA:    Look, this regurgitated sermon on patriotism and nationalism is the last thing I'm ready for now. I have to be in Awka today. I've got family waiting for me.
DAMILOTUN:  And I haven't? (He teases her). I am my parents' only child, you know.
CHIAMAKA:    (She ignores his question). You know, what baffles me most is why on earth you think you can be different. I mean, everybody is going home. Mary, Adigun, Bisoye, Chinedu, everyone in this PPA has said they won't stay during this election period. Even Gafar in Batch B who is from Sokoto told me he would be going to his parents. (Her words are now jerky, laden with emotions, and clearly showing that she is exasperated). This is something everyone is doing. Not even the ZI or LI would question anyone who leaves. Just why do you want to stay back, Lotun?
DAMILOTUN:  The federal government needs corps members to assist with the voting processes. You know that, and I don't need to repeat it.
CHIAMAKA: (She suddenly brightens up). Come to think of it, baby, we don't have to wait till after service to do the introduction. You and your people can come over to Awka during this election period….
DAMILOTUN:  Chi'm, please do not tread that path. You know I am not leaving these environs. Not for this period of elections, at least.
CHIAMAKA:    But what about these reports about the unsafe atmosphere here in the North, especially for corpers who are mostly non-indigenes? You know very well that election times are turbulent times in this country. The history is there. Anything could happen to you. (She's at the brinks of tears now). Lotun, please, go back to Oshogbo. It's safer there. And that way, my mind could be at rest in Awka. Lotun, please do this for the love we share.
DAMILOTUN: No, no, no, no, you aren't going to cry on me now, no? (He cuddles her up in his arms). Chi'm, for the love we share, I promise you I'd be safe. Nothing is going to happen to your knight, damsel. I will be fine. Look, when you come back after the elections, I promise that I will be waiting for you in my shining armour.
CHIAMAKA:    (She giggles and hits him playfully in the chest. She takes a deep sigh and looks up at him). I love you.
DAMILOTUN: But fortunately for me, I love you more. (CHIAMAKA smiles again). Now, baby, you've got to get going if you don't want to pass the night on the road. I'm going to miss you miserably. (He pulls away from her a bit and tugs at her cheeks playfully)
CHIAMAKA: Go away jhor (she said sheepishly, laughing).
The light fades as the duo leave the room, arm in arm, DAMILOTUN carrying the medium travelling case that containsCHIAMAKA's effects).
SCENE 2
FOUR WEEKS LATER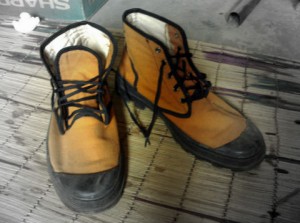 The reception of a general hospital in Maiduguri: CHIAMAKA barges in. She is putting on her full NYSC kit (7/7)- the khaki over her crested vest, all on top of her jungle boot. It is obvious that she has been running. She immediately goes to the receptionist, who is busy filing her nails and chewing gum in an apparently repulsive manner. 
CHIAMAKA:    Excuse me ma'am, I'm looking for a certain Damilotun Ojo. I came from Zungeru village where we are both assigned as our PPA. I was told by some of the villagers that he was one of the casualties during the election crises and has been here on admission ever since.
RECEPTIONIST:  Okay, young lady, catch your breath and….
CHIAMAKA:    (Angrily, she barks) Where is Damilotun? Don't you sit down there and tell me to catch my breath!
RECEPTIONIST:  (Visibly taken aback by the reaction). Haba, Calm down woman, I need to go through the records and…
(A young man in white overall walks in at this time, from an inner office and asks what the matter is).
Oh, Doctor, this corper here says she heard that a colleague of hers has been here on admission….
DOCTOR:         It's alright. (He turns to Chiamaka). You can come with me, young lady.
(Chiamaka followed the doctor to an office adjoining the reception. She sits after the doctor has sat on his own chair).
CHIAMAKA:    Please sir, just allow me see Damilotun.
DOCTOR:         (He touches his brow with his right palm and takes a deep sigh). Young lady, I need you to put yourself together. (Chiamaka shifts nervously on her seat). All the corps members that were attacked by angry supporters of the defeated party sustained terrible injuries. I cannot even remember all the names of those ones brought here. But only one of them survived till yesterday and that is the person you are looking for, Damilotun. He kept muttering something like chim, which none of us could make out. Unfortunately, he too gave up the ghost yesterday. It's a good thing you came because we have not been able to reach any of his relatives. I don't know if you could help us contact any of them…
(Chiamaka's face that had been numb since the doctor mentioned 'gave up the ghost' finally comes to life. A gush of tears that had been held for long burst out in torrents. She does not shout at the top of her voice, only mournful moans escape her. The tears flow ceaselessly as she fixes her gaze on the drawing of the Nigerian Coat of Arms hung on the wall above the head of the doctor).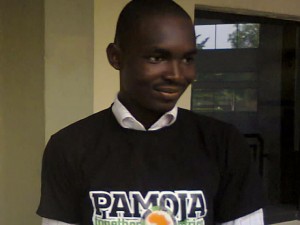 Light fades as the doctor's words gradually tail off.
__________
Kayode Odumboni is a student of English at the University of Lagos. His interest in writing is predicated on his interest in people generally; their lives, their hopes, their disappointments, their motives, their motivations, their dreams and their realities.