by Nnorom Azuonye
BROKEN SCALES DOT DOT DOT.

Ikhide's scale is broken.
My scale is thriving really well and will never break.
God forbid bad thing.
Ikhide is putting on the weight I am losing.
There is a name for it.
Words fail me.
Or I fail words.
Pearl probably knows the word.
I've hung around 50 shades of a colour, y'know,
she knows many words, I think.
Amazing, isn't it?
I am down to 118, not the directory service,
from a frightening 134,
and target 115 in 3 months.
Lose one kee a month. Just one tiny wee kee.
Soon I'll quit "shopping by size"
(That's the title of a gnashing poem of mine by the way)
and resume shopping by style,
like I used to do when I was a heartbreaker.
Lyrics from my new single;
I lost kees eating grass like English sheep.
I miss pounded yam and Egusi soup.
When I want to swallow real food,
Like a real African man should,
It's now pounded oats and okro soup.
Imagine that! Just imagine that, bro.
Forgive me, o foods of my fathers,
I never meant to forsake you,
but today I got this load to dump.
Lord, Citizen, Pa Ikhide can soak it all up.
America can handle it.
Like mind-broken Hamlet shipped to England, remember?
Now let me say this, been meaning to for a while:
I am an Yvonne Mbanefo fan.
I am bloody accountable, I think. I think.
– Nnorom Azuonye
THE SMART DRAW FLOWERS
It is easy to fetch a clean sheet of paper,
the desk drawer has hundreds of those.
Lay it like a keen ear in front of your broken spirit,
upon a gross tabletop; a tabletop that enjoys
a sad tale, its wood eager to witness your woes.
Clear the desk of anything else, in creative frenzy.
Then begin to draw pictures. Silly pictures really;
flowers, more flowers, yet more flowers. Dahlias!
Keep the pictures bright, vibrant, smiling.
You desire a timeout from your imploding heart.
You are one of those screwballs who stay awake
when they should sleep, smashing up keyboards,
or doodling and drooling on innocent sheets of paper,
moaning about this, moaning about that. You judge all.
Everyone else's mind, except yours, is sick.
Granted, the governors and their goons are full of shit,
but you, you, you are smart and full of vision! Yes?
I say, you are crap if all you can do is draw flowers
and beat up a helpless laptop keyboard, brother,
your name has never been on a ballot paper.
So, baboons with big balls throw a wanking ball, slip
on their own produce and fall. They mock you, feet
in the air. Your money is in the baboons' vaults,
and your national honour carpets their toilet floors.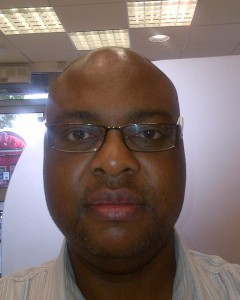 Sleepless, you draw flowers. Change Agent! Ha! Ha! Ha!
______
Nnorom Azuonye is a Methodist Local Preacher, Writer & Publisher. Author of Letter to God & Other Poems, and The Bridge Selection: Poems for the Road, he is the Publishing Director of SPM Publications and Okolosi Books – imprints of Sentinel Writing & Publishing Company Limited. He lives in London, England, with his wife, sons and daughter. Website: www.nnoromazuonye.com