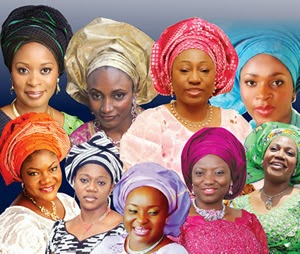 Going by the media frenzy in the last few weeks over the purchase of vehicles worth over half a billion naira by the Minister of Aviation, Stella Oduah, one would think that she had committed genocide, or even worse. As more revelations about the BMWs and limousines came to the open, whole sections of the country seemed possessed by bloodlust, braying for the blood of the embattled princess.
From one botched landing, Oduah's carefully cultivated persona came washed off like badly applied make-up her to which her critics compare her N19 billion airport renovation projects. Suddenly, some members of the unbelievably placid Nigerian populace actually summoned the courage to raise placards and demand for her sack. Even the Peoples Democratic Party (PDP) reportedly disowned her, though as other critics would say, that action may not be unconnected to the fact that the minister did not let them into such serious 'action' at her ministry.
The revelations also gave the House of Representatives an opportunity to shoot some barbs into the well-groomed and painstakingly made-up princess. Of course, her prior relationship with the House was anything but cordial, especially after allegations that her policies were designed to impoverish and diminish the profiles of some airports like the Mallam Aminu Kano International Airport in Kano and to forcefully divert air traffic to her preferred airports in other parts of the country.
It seems that in her climb to the top, Oduah must have stepped on quite a few toes, legs, backs and necks. Previously unknown information about her seemed to emerge from nowhere and from everywhere. Some say she was a major contractor at the Aviation Ministry and therefore specifically selected that ministry, knowing there were some very juicy deals waiting to be done. Others say she walked out her marriage, moved out matrimonial home and changed her surname the moment she was confirmed as minister – despite the fact that her husband is a retired NNPC bigwig and former minister of state for works.
Yet, others say the BMWs and limousines – whether actually bought or merely implied – had strings that reached all the way to her benefactor, our own very Amazonian Dowager, Dr. (in South Korea at least) Mrs. Patience Jonathan. And as Nigerians know, that woman has redefined the meaning of impunity and taken it to new levels. If this is true, as the high level of impunity and disregard for all laid down rules of public procurement suggest, then not only will the minister keep her job, President Goodluck Jonathan may actually apologise to her for setting up the probe committee that subjected her to such public opprobrium.
Those who imagined the minister would resign in embarrassment and hide from public view do not know what it takes to attain and retain public positions in Nigeria. First of all, one must have absolutely no shame and therefore no capacity to be shamed, as former president Olusegun Obasanjo knows too well. Secondly, in the event of any scandal, take a holiday abroad at public expense. Finally, allow the media and the public hounds to exhaust themselves and shout themselves hoarse before volunteering any explanations – with as much arrogance as possible.
Which is why we must give it to the woman: During her appearance at the National Assembly, she might have wiped sweat off her brows more than a few times, but that can be excused, since her beloved BMWs would have more efficient air-conditioning systems than the National Assembly. It also became clear that the cosmetics she uses are definitely of a higher quality and have more enduring properties than her cosmetic renovation of our airports.
That said, and despite the poor ventilation at the NASS chambers that caused the princes undue discomfort, she refused to be intimidated and told us what the permanent secretary in the aviation ministry, her aids and heads of agencies under her ministry did not know: the bullet-proofed cars were not for her use. Perhaps, to show much 'black-belle' the princess has to contend with, Rep Jerry Manwe actually had the effrontery to ask if the cars were meant for messengers and cleaners.
But before we hang Stella Oduah, Nigerians must ask: What is wrong in buying bullet-proofed cars, whether inflated or not? Why should we expect a princess to drive in ordinary vehicles like N20 million Toyota Land Cruisers like ordinary ministers? How else do we expect the princess to service the friendships and contacts that got her the job? Do we not expect to play her part in the battle for 2015, meaning that she must have some real amour at her disposal, whether in cars or in cash; are we bothering her simply because one busybody staff of the ministry exposed the matter?
The sad truth is that if the kind of crude theft and profligacy going on in this government is exposed – from pension and oil thieves to billions paid for jobs not done – Stella Oduah's saga, shocking as it is, may be just the tip of the iceberg.