by Kolade Ajayi
It often returns, astride memories
moment that axed to exes
facing a life to its exits;
and the menace that was penance,
heaved along city corners–
expectantly tuned
but to the silence that sirened to shreds
while the devastation lasts….
It's often the feature
to have this crossroad churned
in such bipolar descent,
for the fulcrum to tilt into itself
as is the case for its fire
to smoke tears out of me
there while I lie cocooned,
reverse in flights,
there where shades I sought in shade
towards the culmination…
Until now I had surfed
this sadness successfully,
a flotsam fed to its fringes,
what was hill is a heel's height
and each stride attempted is a peek
over the shoulders at eager
White Coats hunting for histories.
It is the kink I commute,
and as I do,
where sweat should drop,
tears do.
******
So far so fast,
this life is a life of pi,
a voyage of kinks.
A running in and out of life,
the tugs' continual claims
to foreknowledge,
to lineage asserted at the
mattress that mixed to a soul.
The calling out is what distracts,
that moment of one's unmooring
it is what defuses some bits of the load,
and oftentimes I am left
excreted unchanged, recycled
in the shaky after-paths of recuperation.
******
The moonlight
was insoluble in that night,
and I was drenched in the
darkness of a dream-voice,
I was held in the terror of a tenor…
And he warned
of a prepared Leviathan,
to debride a resolve,
he warned of a balancing out…
And ire was fire
was fir-headed forests
awakened to the fire firm
in the wake of a deluge.
******
Me now like the ground for trusting
me published to feet and phlegm,
me to mouths in eye cornerplaces…
Me on the ground ascend
the Sycamore for Hand–
into woods outpacing the tarmac,
into the insects that blight,
into mud-banks in silence by the shades…
The voice that called down
crash down the clay of presence.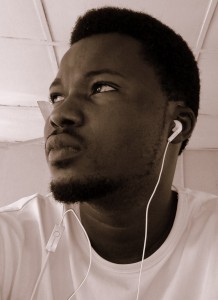 Ball of my witness–
I am the smashed.
Ball of my remembrance–
I am the dust that trust,
the ash of the crash…
 _______________________
Kolade Ajayi was awarded the 2012 PEN Nigeria/Saraba Poetry Prize. His poems have been published or forthcoming in online and print literary magazines. He writes from Ado-Ekiti, Nigeria.