Ivor W. Hartmann is a Zimbabwean writer, editor, publisher, visual artist, and author of Mr. Goop (2010). He is also the founder of StoryTime where a number of short stories were selected for inclusion in an anthology that became African Roar. My short story Behind the Door made it into the first instalment. He answered a few questions from me about the new African Roar 2013.
– Kola Tubosun
________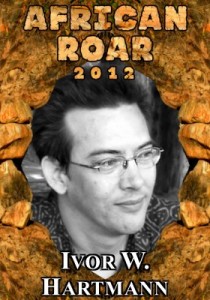 African Roar 2013 is the fourth installment of the African Roar anthology series. First of all, how has it been from the start, and what has the growth process been like?
As the series started off as the best of from the StoryTime magazine, getting going was mostly editing time and a steep publishing learning curve. As the magazine closed in 2012, African Roar 2013 is the last one to draw on the magazine pool, though we also drew on submissions to the anthology only. African Roar 2014 will be solely created from selected submissions to the anthology only. We have also changed to alternative solo editing, this year was Emmanuel Sigauke, next year will be me, and so on.
What major lessons have you learnt from the first to the current edition?
Never underestimate the importance of marketing. With African Roar 2012, for various reasons, we were way behind in our publishing schedule and only got it out in December, so most of the pre-release work was not possible and this was reflected in its sales.
You used to have the StoryTime magazine where many of the stories you chose for the anthologies came from. You closed it down in June 2012. What occasioned that, and where do you get stories from now for the AR anthologies?
As much as I loved the magazine, as sole editor and publisher of a weekly publication it was taking up too much of my time, on average four hours every day for five years. Also some of the initial reasons for starting the magazine, such as the serious dearth of digital African Lit mags in 2007 were no longer of such urgency in 2012, five years had seen many new digital independent African Lit mags enter the scene.

The works for African Roar 2014 and beyond will be drawn solely from submissions to the anthology: http://africanroar.submittable.com/submit
Do you intend to keep coming up with new African Roar anthologies every year? From what I remember, the first one came out in 2010.
It is our intention to publish the annual anthology indefinitely, as long as we get the submissions and can draw at least thirteen works from that subs pool annually to work with.
In your own personal and professional experience, what has it been like writing poetry in today's world? There are new prizes everyday, as well as new stars on the scene bearing new ways of expression. Has there been any challenges you didn't expect?
I don't write much poetry, have only published one poem, and I don't envy any professional writer who is only writing poetry. Whilst I do like reading and writing poetry, it truly is the hardest writing form, a quintessence that requires sometimes years of work for a single poem. So maybe when I'm older I'll write and publish more poetry.
When will African Roar 2013 hit the markets, where can we get it, and what are your expectations?
The ebook edition of African Roar 2013 was released on the 15th of October on Amazon. I have no expectations, I'll leave that to the critics and readers, I just want to publish a quality annual anthology of original works that is open to submissions from all African writers at home and abroad, and that is what we do, every year.
Should we expect a Caine Prize shortlist from anyone of the published stories in the AR2013?
You never know 🙂
Your short story A Mouse Among Men is published in this issue of the LitMag, tell me a little about it.

This story was inspired by exile; in experiencing it myself, and being attuned to its effects in my fellow Zimbabweans. However, even though I wanted to write this story for a long time, it took me even longer to be able to approach as it was just too painful to contemplate with any measure of objectivity that I needed to write about it. Therefore, while the inspiration was there all along, I just couldn't face it personally. That said, when I finally did, not only was it cathartic, but I felt it would help to begin to tell a story for many Zimbabweans in South Africa; who have suffered the ignominy of exile from their homeland and have not always landed on their feet, nor been able to fully adjust.
******
My longer interview with Ivor can be found on the Sentinel Nigeria Blog (2010).
____________
Kola Tubosun is the editor of NTLitMag and can be found on twitter at @baroka.