by Adeola Opeyemi
Close-up entered the market in his usual happy self, singing Fela's Overtake Don Overtake Overtake, flashing brown teeth to the delight of market women. He sat on the floor feet away from pepper sellers and started displaying his wares; empty cans without labels, rags of different colours, a dirty bag and several pieces of paper. No one bothered to chase him off, he was a member of the market. No one can say exactly when Close-up started coming to the market, but he was a regular comer, sitting at the same spot, singing and flashing rotten teeth at market women. Over the years, he had won the heart of these women and they often fed him. He wasn't violent and he was a great singer.
Someone called him from across the street; he hurried up to the caller and returned with a loaf of bread. Some children passed and hailed him, close-up took his time to flash his teeth at them before returning to his bread, painstakingly removing the plastic nylon from it. Another woman called him and gave him a sachet of water. He sat back at his spot and started a heated argument with an unseen partner. Close-up ignored the world, the world ignored him.
All around, women advertised their wares in loud voices and called unto passers-by to come and check their wares.
Fresh pepper…fresh vegetable…fresh fish
A pepper seller called unto a passing woman, another one called the same woman, envy travelled in wordless glances from one seller to the other as the buyer chose to stop at the first seller's store.
The buyer, dressed in well pressed gown and low heels bent to touch the displayed pepper. Close-up abandoned his bread and walked towards her, singing an old highlife song. The woman rose, smiled at close-up, he continued singing. She dipped her hand into her purse and brought out a ten naira note. Close-up took the money and flashed his teeth, she threw her head back and laughed. Close-up turned and walked away, she turned back to the pepper seller.
Suddenly, Close-up was running back, the ten-naira note thrown away, darkened teeth hidden behind sealed mouth. He pushed the woman to the floor, the pepper seller screamed at him. He wasn't listening. He was on her, tearing her gown, hitting her, the woman kept screaming, her scream buried under the market people's screams. Young men came and tried to drag him away from her, he picked a stool and hit them with it. He was back on her before she could stand and run, the young men ran for their lives, others brought out phones and started snapping, snapping away as Close-up slide in and out of her.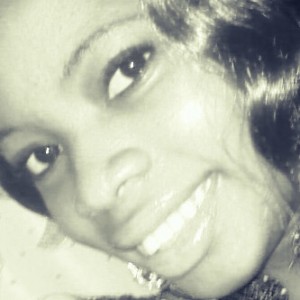 Some men rushed at Close-up, planks and irons in their hands, they hit him continuously. Close-up got up and staggered away from her, blood slithering down his head, semen down his thighs and hers too.
_____
Adeola Opeyemi is a visual artist. She writes from Ile-ife.