In the last couple of days, I have received requests from readers and contributors to revisit the most popular issue we published in 2013. It is an intervention that I've welcome wholeheartedly not just because of the significance of the principal in the life of the literary movement on the continent, but also because as I have looked through the year, this – among many (another one being the passing of Kofi Awonoor, and later Nelson Mandela) – stood out as a great and significant loss, in our cultural, political, and literary landscapes. I speak, of course, of that Issue #17 (April 17, 2013) where we asked 10 upcoming writers to present – in a few words – their impressions of the gaping space that Chinua Achebe (16 November 1930 – 21 March 2013) has left behind with his passing. The issue went on to break the record of daily and weekly readership levels on our site till date.
In this issue, we present the edition again, in full. Begin here.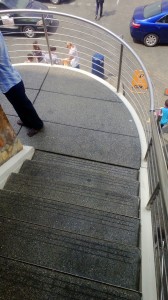 Since the issue went live, one of the contributors migrated from Lagos to New York City, in pursuit of an arts degree. Another moved from Belgium to Georgia and released a new book, a biography of one of Africa's first writers – a freed slave. One took up a job with a leading publishing firm, while teaching creative writing classes along with one of Achebe's famous literary descendants Chimamanda Adichie, while another qualified as a medical doctor, practicing in Lagos. One also released a book of short stories, establishing himself as one of the leading new voices in Nigerian literature. A year has not yet gone by since the passing of the man called the "Father of African Literature" and his literary descendants are already walking in whatever parts of his shoe they find themselves confident enough to try on.
In the later passing of Kofi Awonoor (tragically in his case), and Nelson Mandela (not as much a literary giant as he was a political and moral one) was the final dawning of the reality of our own coming of age, an eventual coming to terms with the challenges of our time and the need to face them within a short window. Each one of the next ten years will bring sad news of this eventuality along with a depletion of many more of our heroes as they ascend into our ancestral loft and lore. Perhaps in our recollection of their time, and our final realization of our individual roles for the current times, we might encounter and create something fine, something permanent, something beautiful, or something transcendent.
In This Issue:
A number of real life people contributed to the success (or otherwise) of the NT LitMag this year. Of the horde, let me thank these few: Ikhide Ikheloa, for conversations; Olumide Abimbola, for friendship; Temie Giwa for patience, love, support, and criticisms; Chika Unigwe, Aaron Bady, Lola Shoneyin, Teju Cole, Nnedi Okorafor, Eghosa Imasuen, Molara Wood, Binyavanga Wainaina for invisible hands; Tade Ipadeola, Tope Folarin, Rotimi Babatunde, Evelyn Olisakewe Ukamaka, Bayo Olupohunda, Ropo Ewenla, Yomi Ogunsanya, Sola Olorunyomi, Jumoke Verissimo, Ayodele Olofintuade, Dami Ajayi, Nkem Ivara, Benson Eluma, Katie Reid, for kinship and readership; and many more whose names I can't recall at the moment, but whose presence or help has been valuable. Thank you.
With this, we wrap the year up with a grudging bow, an acceptance of the best challenge to mortality and to torpor: creative expression.
KT
Ibadan, Nigeria