by Ayodele Olofintuade
A – is for anal sex also known as sodomy(check S) and asexuality. This is the act whereby a penis (check P for meaning) or any other object is inserted into the anus of another person during sexual intercourse. News flash: it is not only gay men who perform anal sex, in actual fact gay men have other creative ways of having sex with one another. So the next time you insert your penis (or any other object) into your wife or girlfriends anus (or your girlfriend or wife is inserting stuff up your anus during sexual intercourse) you'll know exactly what you're doing – sodomy.
Asexuality is when you are devoid of a need to have sex or lack functional sexual organs. No you're not an 'okobo', you are not 'abnormal' you're simply not down with that scene and no, you don't have to envy those who do, it is overrated anyway.
B – is for bi-sexual and bigot. A bi-sexual person is a woman or a man who 'swings' both ways, which means, s/he can have sex with both men and women. So the next time you grab your friend's penis while both of you are laughing over a joke ask yourself 'Didn't I really enjoy that? Am I bisexual?'
A bigot is a person who is obstinately devoted to her/his own opinions and prejudices and regards or treats members of a group (racial, ethnic, or sexual) with hatred and intolerance. So the next time I call you a bigot, you'll understand that I'm not insulting you, I'm just telling you what you are.
C – is for condom and cunnilingus and culture. I know a lot of men don't use condoms because it is 'against our culture and religion' and most importantly 'it doesn't feel the same'. Now imagine your nice little husband who is definitely not a homosexual, but, likes sleeping with men (check M for MSM), this your husband is totally faithful, to you … and his 'friend', unfortunately his best, beer guzzling, football watching, 'friend' has no such scruples, let's just pretend your faithful husband contracts HIV (check H) from this 'non-homosexual' relationship … I love that there are more people living with HIV/AIDS these days and we are trying not to stigmatize one another. I don't know much about syphilis though (check S).
Cunnilingus is using the mouth, especially the tongue, to bring a female to orgasm aka eating pussy. By the way, you can contract syphilis from 'eating pussy'.
Culture is the customary beliefs, social forms and material traits of a racial, religious or a social group. This means there's no single culture, different groups have different cultures, so the next time you mention 'our' culture, you should kindly point out the exact one you're talking about.
D- is for dildo, dick, data and dystopia. Dildo is an object resembling a penis used for sexual stimulation. It is used by both heterosexuals and homosexuals. Can you catch syphilis from a shared dildo? I honestly don't know. But I do know that dick is the slang for penis, it can also be used as an insult in a sentence like 'you're a dickhead.' What does dickhead mean? Check google and if your internet is down, ask your jet-setting pastor.
Data is factual information used as a basis for reasoning, discussion or calculation. It therefore came to me as a shock when someone said that the data issued by Google that Nigeria is one of the top five countries in the world that searches for homosexual pornography, was false. He had no other proof than his beliefs (check bigot).
Dystopia an imaginary place where people lead dehumanized and often fearful lives, but wait, Nigeria is not imaginary, is it?
E – is for ejaculation. Do you suffer from premature ejaculation? Do you know that there is something called female ejaculation?
F – is for fellatio. Which simply means oral stimulation of the penis, is it safer for men who occasionally sleep with other men? Well … you can still contract syphilis.
G – is for god or God or good or gay (which is the opposite of bad e.g. all gay people are bad, all straight people are good). God or god, has featured heavily in this debate, her/his name is invoked almost all the time people mention 'our culture' and 'our religion' forgetting that there are some people who don't believe in god, God or gods they are called atheists. And no because they don't believe in god doesn't mean they believe in the devil.
A gay person is either very merry or a man who likes sleeping with other men. Does this imply that your tendency to sleep with other men, once in a while, means you're gay? Why are you asking me?
H – is for Homosexuality, Homophobia and HIV. Homosexuality is a tendency to direct sexual desire toward another of the same sex. This trait has been found in men, women, dogs, cats and many other animals. A homosexual is a human being and not a sexuality.
Homophobia is an irrational (check I for irrational) fear of, aversion to or discrimination against homosexuality or homosexuals. This means my calling you a homophobe is not an insult … gerrit?
HIV is either of two retroviruses that destroy the immune system which can lead to AIDS (Acquired Immunodeficient Syndrome).
I – is for intersex and irrational. There was a time, when irrational people, invented a word for human beings with DSD (Disorders of Sexual Development), they called them hermaphrodites, well since we are all so 'culturised' and so 'religious' and we abhor anything that demeans other people, I'm happy to inform you that people with this disorder are now called 'intersexuals' which means they have both male and female organs. This disorder is real and it is painful. Are they homosexuals? Why don't you ask the next intersexual you meet.
On a happier note DSD also means double-sided dildo (that way you and your partner can share the fun!).
Irrational is when you are not governed by reason, when you lack understanding, when you lack clarity and coherence. So you now understand why I believe you're being irrational when you say you support the law and you have no coherent reason or cannot clarify why your religious beliefs or culture supports sending people who have done you no harm to prison for no other 'reason' than it is not 'moralistic' and you cannot even define 'moral'.
J – is for jerk, it can also stand for Mr Jekyll and Hyde. People jerk off all the time, jerking off means stimulating your sexual organs, by yourself, in order to achieve ejaculation. So when you become all self-righteous and start quoting the bible at other people, forgetting the part where Jesus said 'he who is without sin should cast the first stone' and I call you a jerk, I am not insulting you, I'm just telling you exactly what you're doing at that point.
The Mr and Ms Jekyll and Hyde are hypocrites, one thing by day, another by night. They are the loudest in condemning homosexual activities and when you ask them how they got so much knowledge about the said activities, they go mute.
K- is for kisses, on the cheeks, the lips or other available parts of the body. Kisses can be that of a lover or a Judas. That 'friend' that will betray you for a pile of gold coins or just for the heck of it.
L – is for lesbians and lovers. Lesbians are women who love other women. Yes, they do exist in Nigeria and they were not made for your sick fantasies. Do I have to explain who a lover is?
M – is for Men who sleep with men (MSM) and masochism.
I am not gay, I just love sleeping with other men. I do it for the money. My babalawo/pastor/imam told me that if I sleep with other men I will become rich overnight. I needed to get into that club, that's the only reason I allowed the chairman to sodomize me.
No more words.
Masochism is simply a love for being abused or dominated. A people who have developed a taste for suffering, people who would rather live in dystopia than fight for their freedom, a people called Nigerians. And yes that includes me, we are all gluttons for punishment.
N- is for naked, name-calling and narcotics. Naked needs no definition, but you needn't be for sexual activities.
Narcotics can be ingested in any form, cocaine, heroin and crack are narcotics. Somebody wrote an article justifying the law by saying that people who abuse narcotics and gamblers have also been criminalized. Another accused the 'gay lobbyists' for bullying their critics into feeling ashamed of themselves and shutting up by calling them names, now that I've explained what bigot, intolerant and homophobe means, I hope our friend will understand that nobody is calling them names, it's just like calling people lesbians and homosexuals simply because they understand the implications of the law and decided to stand against it. I don't think lesbian or homosexual are pejoratives.
O – is for orgasm and oral. Orgasm is intense or paroxysmal excitement. You should try having one during your lifetime.
Oral relates to the use of the mouth, to eat, drink or give pleasure to your partner. Oral is opening your mouth and saying something for or against. Oral does not tolerate sitting on the fence, it is just like putting water in the mouth and refusing to swallow it. Let's pretend ignorance.
P – is for penis, penetration and prejudice. Penis is a male erectile organ of copulation by which urine and semen are discharged from the body; it develops from the same mass of tissue as the clitoris. Now you wonder why we love cutting off female clitoris.
Penetration is simply the act, although it is more enjoyable when it's an art, of entering… (complete the sentence).
Q- is for Queen. A queen can be the wife of a king, a monarch or an effeminate homosexual male. It is often used in a disparaging manner.
R – is for rectum and religion. Rectum is the terminal part of the anus while foreign religion is tearing our country apart. Religion is the service and worship of god, gods, God or the supernatural. So, no, not every Nigerian is a Christian or a Muslim, some still worship the gods of our ancestors, some worship money while some worship no one.
S – is for sexual intercourse and syphilis, it is also for silence. Sexual intercourse can either be between heterosexuals or homosexuals, it can be through anal or vaginal penetration, it can also be oral (check O).
Syphillis is a chronic, contagious and usually venereal disease.
Silence is complicit.
During the holocaust, a lot of people did not say anything for or against the killing of Jews, but they watched their neighbours, lovers, friends and even family members being taken to the ghettos and then concentration camps to be gassed. They wrung their hands helplessly because they do not want to be identified as 'Jew lovers' by the Nazi regime that believed they are racially superior.
Silence means, 'I love my life (image) more than I love you', it means 'I actually support the law but because I know you are my friend and you are a homosexual I won't say anything, I will look the other way when you're being sent off to prison, because really, the law is right and you are wrong.'
T – is for transgender, transsexual, transvestite. Transgender is when you identify with or express a sexual identity different from the one you were assigned to at birth.
Transsexual is a person who strongly identifies with the opposite sex and seeks to live as a member of this sex, especially through transformative surgery.
Transvestite is a person (especially male) who often adopts the behaviour and dress of the opposite sex for purposes of emotional or sexual gratification.
U- is for ukulele, no it's not a sex toy, why is it here? If you ask me, na who I go ask?
V – is for vagina and virgin. A vagina is the canal of a female mammal that leads from the uterus to the external orifice of the genital canal. It is not a 'hole' or just the 'labia'. It is deep (literally and figuratively) like a woman herself.
Virgin is the state of a person who has not had sexual intercourse. I've had oral sex, am I still a virgin? The answer is … are you? Can I be a homosexual and still be a virgin? Oh yes! Being a homosexual is about your feelings, not about your sex.
W – is for women, in all their beautiful differences. The ones wearing Brazilian weaves, the ones wearing their natural kinky hair, women in dreadlocks, women with braided hair, women who were not born that way but know deep within themselves that they are women. Women in high, killer, heels, women in flat sandals, boots, slippers, dress shoes. Women with painted nails and faces, those with naked faces and chipped nails. Market women, women in the corporate world, women in politics. Women who are strong, and those who are weak. Married and unmarried women. Women who want children and those who don't. Women who are fat, women who are thin, women who are just in-between. Traditional women, religious women, irreverent women, bold, audacious women, shy women. Driven women, stay-at-home women. Women in Burqas, women in wimples, women … who are women. Women … who are men.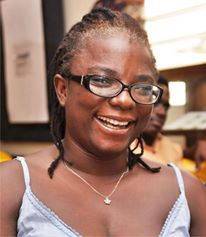 X – for X-rated(like this piece) and X-men(our fantasies).
Y – is for a yearning to be … the fear of being… the loss… the sadness, that yearning to be accepted for simply being you.
Z – is for zebra, neither a horse nor a donkey. What is the usefulness of a Zebra, shall we jail them too?
______________
Ayo is the author of Eno's Story, shortlisted for the NLNG Nigerian Prize for Literature