by Fiyinfoluwa Akinsiku
The late appearance of the morning sun made the day gaunt and Takintayo would always remember it. Not just for its dullness but also because it had come with a harbinger. A strange caw behind his hotel window: black crow, white breast, usual avian hop, unusual avian grin – or so he thought – and the flying away, the lightheadedness, the uneasiness that floated from somewhere in his chest to his body, his skin, as goose bumps. It had all looked surreal, theatrically so, that he stood at the door looking at it – now a faraway black dot against the early morning sky of white cotton wool islands surrounded by blue water.
The sun was a staggering orange hue, blazing, sending out rays of oppression, making bare torsos shimmer with sweats, making dogs sit in shades, their tongues hanging out of their mouths, their brains cooked insensibly. The heat of the hot sun rose in circles, climbing high as a young tendril would, curling round till it grew, longer and longer.
From his room upstairs, he watched the life of Lagos meander by: the girl with the face of an attentive doll stretched her leg across an okada. Her red lipstick, as though she kissed a newly painted wall, had missed an angle of her lips and fallen on a corner of her left cheek. It was nothing like the evenness of Kore's lipstick. The doll was now balanced behind the helmet-wearing okada man and he sped off, the sound of his commercial bike like lolls of intermittent thunder. A vendor was by the road, newspapers stacked on his left hand, holding out with his other hand, two of the national dailies, his fuchsia pink baseball cap, inscribed with Vmobile, it's all about you, almost refusing to give away his identity.
Two headlines,
O9/11 ANNIVERSARY: US VOWS NOT TO BUCKLE UNDER PRESSURE
US HOLDS MEMORIAL SERVICE FOR 09/11 VICTIMS
were on the front pages of the papers.
Men in flapping babariga hawked a pack of wristwatches, necklaces and wristbands. Beggars in wheelbarrows with stumps for legs were wheeled about by scrawny boys. Several men stood at the vendor's station arguing. From the flimsiness of their clothes, he knew they had not yet had their bath. Of course it was Chelsea, Arsenal, who would lift the UEFA Champions League this season and how Jay Jay Okocha's Bolton Wanderers got to the Carling Cup finals. He imagined the stench of armpits and stale sweat and winced. His wife would have called it armpit anointing, in that usual attentive, meticulous manner, in that ability of hers to see minute details. And he would have laughed his usual carefree laughter, slouching and bending with each peal of laughter tumbling out of his mouth. And as if the men at the vendor's knew what he was thinking, they all laughed.
Cars sped along Ogunnusi road; the gridlock had just eased itself out. Another was in the offing. But that would be at the end of work hours. He would be out of Lagos before then. Commuters stood in the shed with a sprawling Ogunnusi Bus Stop written in white. Keke NAPEP joined the mad movement of cars, gliding along the dual carriage road, throwing the passengers against one another whenever the commercial tricycles ran into a pothole. Omole Phase 1 Estate gate was open and the nouveau riche drove at an eternally-grateful pace, the windows of their AC-tight cars wound up, thinking, brooding about God-knows-what. The newspaper vendor was running after a jeep, a stack of newspapers in the fold between his armpit and his palm that held his waist.
Lagos – although brought her own epiphanies, making him wonder where he would have met Kore if not here – still battered him emotionally. She was a monster with exposed fangs and an adulterous woman with untamed lure. Each time he came here, he felt swallowed by the huge stomach of this monstrous city, lost in the sea of people, altered in a way he could not fathom. And when he left, it was with a dimness that made him question himself, waiting for the enticement of the city again. The vendor moved away from the jeep and the owner drove off, leaving him with a triumphant smile curled round his lips.
Takintayo's friend, Lawon was about to drive him to the airport, where he would catch a flight back to Jos. Kore would be waiting. It was not just any day; it was Kore's birthday. So, when R.Kelly's If I could turn back the hands of time played itself in his head over and over again, he felt it was either the heat was frying his brain, making him remember arbitrary things or his mind was just bored and needed rest. He had the love of a beautiful woman who could do anything for him, what was there to turn back the hands of time for? But then, his head stayed on one line,
And blessings are missed in the wink of an eye….
He tried to drown the dissenting voice of that song by humming another song. But it was James Blunt's, 'You're beautiful' that came. He revelled in the first few lines:
My life is brilliant, My love is pure, I saw an angel, Of that I am sure….
You're beautiful, You're beautiful, You're beautiful, it's true….
but winced at the last lines,
And I don't know what to do
'Cause I'll never be with you…
Not understanding what he felt, he thought harder of Kore, desperately expelling every other thought, every other song, pushing and shoving them out, and his heart was light. Later, when he would be lost in confusion, deadened with pain, sifting through emotions, no knowing what to feel and how to feel what, he would realize it was another harbinger, but he had shoved it aside.
Oluwakorede. Korede. Kore. The woman in whose silence he found safety, in whose presence he found warmth. He always told his friends, who insisted that whenever their wives were calm, alarmingly calm, it was trouble. Or, when their wives said nothing was wrong, trouble as dammed river would burst forth.
She was his round peg in a round hole. Kore was his wife, his life; he wondered what he could have done without her. At the end, he did not get anything from Lagos, but he found her. And that was enough. That single pearl was enough.
He was battling with lush joblessness, with a second class upper degree in Physics and a Masters degree in the same field, living with a friend in a room apartment in Ajegunle, submitting dozens upon dozens applications daily in labeled brown envelopes and trying to survive when he met her. Push had come to shove and he joined his friend, Lawon, to organize tutorial classes for secondary school leavers preparing for JAMB and A levels. One of the students, Bose brought her friend, Kore, for the first time. After the lecture, the shy, low-cut wearing, round faced, slim Kore registered and got the tutorial prospectus. He watched her without a sound – for even his heart was quietened within him – the mole beneath her lower lip and in the corner of her nose, hairy arms with their criss-crossing veins, unsure swinging of the magnificent curvature of her hips, the uncertain gentleness in her steps. And he knew the image of her would be a souvenir to hoard, and bring out at later, at a sparse rate, to cuddle. Memories as those should only be used in trickles. Why exhaust them so quickly?
He knew her figure, smiling face, the colour of gleaming mahogany would never leave his retention. There was something about her that caught his fancy, deferred his thoughts, and made him want to look and not get tired. Her every move, delicate step, looked novel each time. She was not the most beautiful he had ever seen – he attended University Of Benin – so his eyes had had a fair share of ravishing beauties. One thing amazed him though, she was Bose's friend and of all the qualities Bose had, loudness, brashness and brazenness stood out the most. How come the two were friends? Bose was the kind of girl, of whom UNIBEN folks said, that girl too tear eye.
Back in Jos, everything was set, or almost set. It was going to be a surprise birthday party. He phoned the car dealer and caterer. The new car would be brought into the compound while Kore made her hair somewhere around British-American Junction. Through the years, nothing had changed. He still felt the same way about her, as that first day.  She still made him feel butterflies… no, the entire zoo, flying round and round his tummy. The knot in his stomach was still there, fastened as tight as ever. He smiled at the thought of how her face would light up: her eyes first in a curvy surprise look, her lips parting in wild laughter, sounding like the rush of many waters, the clink of crystals, exposing her white teeth and red gum. Then he would stretch out his hands for a hug….No, he would not. She would jump on him in ecstasy. She had been without a car all these years, after she sold hers to raise money for his business. And in the presence of all his guests, he would mime a song, Tu Face's African Queen, for her. That was her best song and he was sure she would be thrilled.
When life had given him reasons to be downcast, she had given him reasons to laugh till the hinges of his mouth ached, and his ribs cracked.  And she had given him two beautiful children. What more could he ask for?
It was only a source of worry to him, though that his close family members would not be there. They were too afraid of the incessant crises in Jos to visit. And they had told to move down south. But he could not. All his life's investments, business associates were in Jos, where else was home? Where else could he find cold, so cold, that it soothingly defiled?  Where else could he wear a shirt for five straight days because his sweat glands were shy in the presence of a freezing weather and a cold sun? He had never been a fan of living abroad, so, he loved Jos just the way she was.
Kore's twin sister, Kehinde was coming to the country that day and it was a bigger cause for celebration. His children had gone to the airport to welcome their Auntie Kehinde. He wanted to buy a giant hand-made card, canned drinks, bottles of red wine and some books in the supermarket around Angwan Rogo.  Kore loved to read.  And he was happy his children, particularly his first daughter, Aralola, had been initiated into the occultic and bewitching world of reading.
Along Murtala Mohammed road, an okada tried to enter into the small space between his car and the next car, as though by entering into it, the two cars would part, and like the Red Sea, the commercial bike guy would ride on dry ground. But he was not in the mood to splay out his five fingers and say, sege! There were springs that day from which happiness gushed, somewhere deep within his belly.
In the supermarket, he looked through the section of the biggest cards,  picked his favourite, the one which conveyed the innermost feelings of his heart, and wrote in his calligraphic handwriting:
I'd turn into a boulder and endure 1000 years of harsh sunshine, all I want is that you walk over me, every day of your life.
He was going through the shelf of novels where 'Pacesetters Series' were kept, when the attendant with a graceful Hausa accent called him.
'Oga, froblem dey o.'
Takintayo stopped dead in his tracks when he heard chants of Allahu Akbar from afar. He saw the mixture of pity and fear folded with neat edges in the younger man's eyes. Crisis had begun again. He knew what it meant: very soon, the chants would stop at the entrance of the supermarket, the attendants would be told to bring out the all the infidels, arne from inside his shop to be killed; else the place would be razed.
Takintayo dropped the card and thanked him profusely. In the other parts of the supermarket, people were leaving the things they bought and running out; without waiting to get their monies back. He hoped wife and children would be fine. He must find a way of getting home as soon as possible.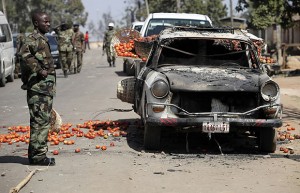 Outside, he was about to enter his car when a group of men ran towards him. Two of them, with cuts, deep gnashes that looked like sites of bloody erosion, on their arms, on their previously white shirts, shouted something at him he could not make out. Takintayo left his car and joined them in the mad race back into the supermarket, hiding behind shelves and counters. Allah Akbar came closer and the guy with the lush Hausa accent spoke Hausa to the people at the entrance in a friendly, coaxing tone. It was after he waved at them and Allahu Akbar disappeared in the distance that Takintayo was able to look at his fellow infidels. The clothes of the cut men told him they were government workers; from the blood-stained-previously-well-starched now rumpled shirt, to the trousers so well ironed that lines of ironing still stood like figure 1 in front. Takintayo could still make out the colour of wet earth on the undersurface of the socks. From the mogbe mo daran, ori iya mi, won si wi funmi o moans of one of the men, Takintayo knew he was Yoruba. The other man spoke his English, with the same inflexion and intonation Igbo was spoken, yet his skin was the colour of soot. It surprised Takintayo, seeing an Igbo man of that hue for the first time in his life. His father called them ajokutamamomi – the Igbo could eat stones without taking a drop of water. His Igbo friends called him ofe mmanu – the Yoruba ate too much oil in their soup.
The third man, with a round cap in the middle of his head, mumbled something.  Later, when CNN would report that the crisis was between the Christian South and Muslim North, Takintayo would realize the man was Muslim, and Yoruba. The lines that crisscrossed the fourth man's face and the angle at which his mouth was inclined, spoke of fervent confusion; he wanted the film director to scream, cut! and say everything happening was only a world of make belief.
Several hours had passed and the other shop attendants, speaking rapid charming Hausa, cleaned the wounds of the groaning men lying sprawled on the floor.  Stylish Hausa accent opened the back door. A bus with the label, for goods only was waiting. They were packed into sacks – six of them – the mouths of the sacks tied, not too tightly. Their sacks were placed behind sacks of semovita and the bus drove away. Takintayo knew the bus swerved several times to avoid, perhaps headless human bodies. He heard people shout for help, heard some shout, Arne! Arne!  Whenever, the bus stopped, and the driver spoke Hausa with some other people, fear would singe his chest. It was only when the driver said, nagode! that he relaxed a bit till the next roadblock. Very soon, he began to feel like an overcooked meat; his flesh would fall off his bones at any moment. His limbs began to ache, he felt like dying. It was next to impossible to straighten his long limbs, to separate his knees from his chest. Soon, liquid seeped into this skin, wetting his buttocks and feet. He loathed the feeling and hoped it was not urine from one of the other men. He did not know what to think of his family. He could only mutter some inaudible words, that could probably be powerful enough to be prayers, and feverishly hoped he would get answers.
The time came when he knew they were no longer in town. The bus no longer swerved as often as it did at the beginning. The driver no longer hailed people. The bus slowed down. Finally, they stopped.
Takintayo dusted his wet buttocks. He was stained with the blood of the nearly dismembered men. They were in a hospital in Akwanga at a time he could not see the lines on his palms, except when they entered the hospital lobby and the neon lights shone so brightly that sharp rays sent spikes to his eyes. He closed his eyes, and opened them again.
'Allah will punish them because he is omniscient; he needs people to show love on his behalf and needs no one to fight for him! He can fight all by himself,' the driver said. Takintayo saw his face for the first time. From the narrowness of his face, to his fitted cheek bones, he was Hausa and Muslim and his dressing confirmed it.
The bespectacled doctor – with an accent that showed he was not sure whether to stick to an American accent or his Calabar accent and a bald shiny scalp – saw the diced men, and asked for a police report first, and some deposit. He wanted to be sure they were not thieves, trying to run away from the police. Without that, he would not do anything. One of the men was now unconscious. Calling the attention of the doctor to it did not change anything, because he looked on, as though disdain was his real facial expression; every other expression was a façade. They spent some time begging him. And it seemed he enjoyed being begged, being worshipped, and his ego being massaged. Anger roused Takintayo's mind, but disappeared as soon as it came. He was too weak, too dazed. Such an emotion required lots of energy. And he had none to fuel anger.
The money was paid.
The fifth man spoke for the first time. 'God will judge all those who chased me from my state, my hometown. The only home, my great grandparents knew all their lives. I leave everything into God's hands.' He was looking at the ceiling, and Takintayo thought he could see God's face glazed on it. His clothes were stained with engine oil – and blood.
They slept on the floor of the hospital till day break.
Back in Jos, fierce—looking gun, wielding soldiers had taken over the streets. A search was conducted on every motorist. The smell of burnt human flesh still hung in the air, like a threat, making the streets cower with fear. This was not the first time crisis was occurring in Jos; but this was the first time he was caught in Angwan Rogo, a hot spot. And he was lucky to be alive. His former neighbour, Baba Rabiu was caught in Angwan Rukuba during the last crisis and he did not survive it.
Shops were destroyed. Bodies littered the streets, burnt beyond recognition. Some other bodies that were not burnt were headless. Some bodies had gashes that reminded him of how meat was cut in the abattoir. Vultures settled nearby. A state of emergency was declared, the state governor suspended and a 7pm to 7am curfew put in place.
He would call someone to drive his car from Angwan Rogo when the uprising settled. His street was quiet. The restaurant at the junction was scattered; the white plastic tables and chairs had been broken to smithereens. Even the car in front was now a black shell. In the distance, thin white smoke arose from a roofless building close to his house, and then he began to jog home. But he knew something was not right because he was not sure where the numbness that began to spread all around his body started from. Jos' cold had begun to sink its raging teeth into his skin, flesh, bone marrow, biting off pieces, eating up the layers of his life's casing.
He stopped in front of his house and stared. His wife's new car was a black shattered mass.  His house was the roofless building he had seen from afar and nothing about it suggested it was the same house he left some hours before. Indeed, it looked like a burnt uncompleted building. So inconceivable his grief, that he could not verbalize it beyond repeating, 'No. No. No. No.' A  refrain to keep the stillness inside him from breaking his heart. A chant to keep him from seeing the shattered pieces of his heart all around, broken beyond repair. Queasiness dripped hot liquid from his boxers down his legs. He touched the car and his palm, his life was creased with soot. He was swallowed in thick vapour because in between him and what he tried to sense, to feel, there was a breach: a break in the continuity of his life, his existence. The hopelessness that came first was resolute, bringing his mind to a standstill, making his legs give way and lowering his body to the ground.  Finally, the sobs came, hurting, slitting and searing his throat.
____________
Fiyinfoluwa Akinsiku trained as a physician. She's currently working on her debut novel.
____
Photo from Jaguda.com