Press Release/Announcement on "GIANTS OF HISTORY" – A book by Lateef Ibirogba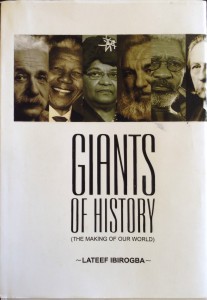 Giants of History is a coffee-table non-fiction book for readers, writers, journalists, students, and other research or history-oriented readers. Published by Sage Publishers in Lagos, it features a profile of 150 "giants" so-called because of their role in shaping the world mostly for the better, and being pioneers that left the world way different from how they met it. The cover features the likes of Albert Einstein (scientist), Nelson Mandela (recently departed former president of South Africa), Ellen Sirleaf (first woman president of Liberia), Karl Max (the brain box of socialism), and Wole Soyinka (Africa's first Nobel Laureate in Literature).
Think of Nigeria, or the world in general, and the kinds of books you read as a child that made the most impact on you. If that list is topped by books about history or about the biographies of great men and women that have lived and died, then this book is for you. There have been similar books like this in the past, notable of which is Sanya Onabamiro's Philosophical Essays (1980) in which the author examines the past through the acts and eyes of great men of history. However, this effort by Lateef Ibirogba approaches the task from a different and original perspective. It profiles the man and women that the author admires, tells the story of their lives in two pages each, and states why each of them deserves to be called a "giant". By limiting each profile to two pages, the book gets enough space to accommodate a number of historical figures. It also gives equal space to each represented "giant" in a way that can be consumed at the time it takes to eat a cookie at the reception desk of a dentist.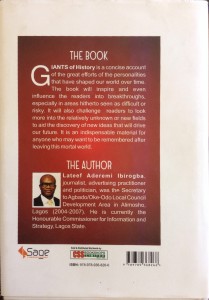 The book is highly recommended for students, particularly in this age when history is no longer mandatory in the secondary school syllabus. It will also be a fantastic addition to the shelves of journalists, doctors, writers, teachers, lawyers, broadcasters, academics, and a whole number of people who are interested in looking at the past with a view to understanding and appreciating the present. A few of the giants profiled are Aristotle, Plato, Marie Curie, The Wright Brothers, Steve Jobs, Wole Soyinka, Chinua Achebe, Nelson Mandela, Babatunde Jose, Madam Tinubu, Johannes Gutenburg, Usman Danfodio, Deborah Sampson, Mary Seacole, Funmilayo Ransome Kuti, among many other known and unknown innovative figures of history.
The author of the book, Lateef Ibirogba was born in October 1960, and has worked as a journalist (with the Punch and Daily Times) and as a publisher, among other endeavours. He is currently the Commissioner for Information in Lagos State. The book, prefaced by the governor of the state, Babatunde Fashola, is set to be launched on Aprill 22nd at the Civic Centre, Victoria Island, Lagos. The book reviewer is Barrister Tade Ipadeola, author and lawyer, and winner of the 2013 Nigerian Prize for Literature.
Read more about the book online here.  It will be available for purchase at popular online bookstores after launch.