Earlier in the week, poet and scholar Niyi Osundare penned an evocative piece of tribute to the departed Colombian writer Garcia Marquez whose work was described as where "the fantastic and the realistic are combined in a richly composed world of imagination" by the Nobel Academy in 1982.  Gabo, as he was fondly called, was born on March 6, 1927, in Colombia, and died on April 17, 2014, in Mexico City. The legacy his name evokes, as Osundare notes, is one of an "intensely political" and "socially committed" individual with a skill for words that made magic "in a language and style that made his narration of that exposure irresistible even to those being exposed." Perhaps nothing else needs be added but that a wide gap now occupies the little space where his human flesh once fit snug to write and expand the imaginations of the world.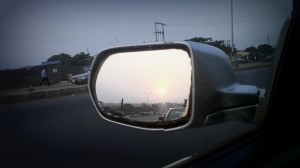 Speaking of magic words, in this issue is a conversation with spoken word poet and artist Bassey Ikpi whose book of creative pieces has just been commissioned by Farafina, the publishing house that brought us Chimamanda Adichie. Along with that conversation which touched on discussions about craft as well as that of the poet's advocacy for mental health education in Nigeria and around the world, Bassey also pens a non-fiction reflection on a typical day in Lagos. Those who are familiar with her work in spoken word poetry will find the interview illuminating, as would those to whom she is a new discovery.Her story is one of resilience, adventure, daredevilry, and risk, all at once.
In other news, the Caine Prize has released a list of five shortlisted stories for the 2014 Caine Prize for African Writing. Two of the shortlisted writers are from Kenya, another hotbed of African writing. Congrats to them! In the next couple of weeks, like we did last year, I shall be reviewing each of the shortlisted stories both for this blog and for Brittle Paper. I hope you join me. Other offerings for this issue are poetry, prose, and flash fiction, served to taste and to perfection. In honour of a departed star, may words continue to fill us, and to move us to imagination: a wider expansion of our capacity for wonder.
IN THIS ISSUE
___
Ajah, Nigeria