by Kola Tubosun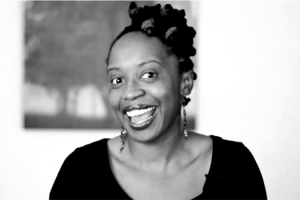 I first came across her work on YouTube, a couple of years ago, where she performed a number of hair-raising poems at the now discontinued DefJam series. Meeting her, I discover that she's much more than a sum of those performances. She is a poet, an activist, a television producer, and much more. She has been in Nigeria now for about nine months and, according to her, doesn't plan to permanently relocate, even though she's every inch an American as she is a Nigerian, and the situation on ground in the country hasn't given her as many reasons to smile as she had initially hoped. Not fast enough, at least. In this fascinating interview/conversation, we talk about her story, her work, her craft, her plans for the future, and her involvement in mental health issues. Meet Bassey Ikpi.
How has it been since you returned to Nigeria? And how long has it been now?
I've been back in Nigeria for almost 9 months now.  It's been an experience.  I have had my fair share of ups and downs.
Tell me a little bit about your background. I "met" you first from YouTube videos of you performing poetry at the DefJam. For a while, I assumed you were American. What did I miss?
You missed quite a bit! On Def Poetry, I performed a poem about my Nigerian/American dichotomy. I was born in Ikom, Cross River State and I moved to the United States shortly after my 4th birthday. My family is from a village not far from Calabar called Ugep. I was raised in the States but I'm a Naija girl. Always have been and always will be.
What were some of your most fascinating experiences in New York when you were there? What was the art scene like, especially for a (spoken) poet like you? And what did you learn?
New York in the early '00s was a magical time. It was amazing. A weekend trip to take a break from school and visit my then boyfriend turned into seven amazing years. That type of thing can't happen now. It's an experience that can't be repeated in many ways. I was so young. I think I was barely 21 and I had a bravado and fearlessness that still exist to an extent but I'm a lot more cautious and worried in my old age.
I can't pinpoint one magical thing that happened. It was all magic. I remember the first night I spent walking around Manhattan with my friends and I looked down and saw the pavement was glittering and shining like there were diamond fragments embedded in the concrete. I just looked down at my feet and saw these sparking stars and I looked up and I saw these sparking stars. I felt like the place was magical and I needed to live here. All my favorite writers and intellectuals had spent some time in New York City and I wanted to experience what they experience to a small extent.  I was there for so long that so many fascinating things happened. My career was a surprise but I'm not sure even if it was the MOST fascinating. I can't qualify those moments. They were all parts of a whole.
The art scene was very supportive. I immediately joined a collected called The Louder Arts Movement.They had open mics every Monday. The Nuyorican Poets Café is the most famous poetry venue in New York if not the world but it was too noisy and crowded. Many people don't know from meeting me that I'm actually quite shy and reserved unless I'm comfortable with the surroundings. I hate crowds and the Nuyorican was always crowded. I mean packed to the literal rafters. People sitting on the panels near the ceiling.  Crazy. The energy was unmatched but it wasn't something I could deal with on a regular basis.
On the flip side, The Louder Arts venue was more like home and it was welcoming. I made some of my very best friends for the duration of my time in New York (and even now) there. I learned a lot about the craft of writing there. I used to rhyme EVERYTHING and I got there and I saw that people were telling these amazing stories and poems without yelling and without rhyming. I challenged myself to write a poem that didn't rely on rhyme and focused on content and I haven't rhymed since. I may do an internal rhyme here or there or even a couplet but I've found that my poems are clearer when I'm not concerned about finding the right rhyme. I think a lot of Nigerian Spoken word artists fall into the trap of finding the rhyme and not completing the thought in the best way or in a way that gets their point across the best.
So, why are you back home? And how long do you intend to stay?
I've been fortunate enough to have had great success in my field in the States. I came home to Nigeria for the first time August 2012 to do some performances and host an event. I realized that there was a lot of possibility here. I know that things are difficult and Nigeria is not perfect but a good friend of mine said, 'Nigeria is a great place for reinvention' and I totally believe that. I saw some opportunities in television. Many people don't know that TV is actually my first love. Before I started performing poetry, I was a presenter on a teen chat show on BET at 15.  I've wanted to develop programming and content since I was 11. It's actually where I got Basseyworld from. It was the name of my future production company. I have the opportunity now to make that a reality so I'm here to get these programmes from idea to reality. It's been a lot of work but our first show is near ready to air we are just waiting on some incidentals.
E no easy o. Nigeria loves to make things difficult! I didn't expect to be here this long without going home and then returning to finish up but you can't leave until everything is set up otherwise you come back and have to start from the beginning. So I will be here until right before my show is set to tape and then air. I have another programme that I need to start taping as a presenter. I intended to stay for about four months tops but it looks like I will be here for exactly one year. But I need to go home. I'm so homesick. I miss my family and just my creature comforts like certain food and shops and my car. This is the longest I've ever been away from home so I'm anxious to just go and relax and get my head together and then come back. From there I will go/come/go/come as they say.  But I will always create a home in Nigeria for myself and my family.  I won't leave Nigerian for more than a few months this time.
I've followed you on twitter since a while ago, and I know you've been active on there. You've also got a book deal recently.  Congratulations!
I'm still in a bit of shock at that. I've been asked to do a book for years. I even have a literary agent in the States but I haven't been writing. Anyone who knows me knows that my brain doesn't work in a linear manner. Everyone wanted a memoir and a straight narrative and that's just not how I write or think. I write in bursts, which is why twitter is such a great medium for me. I can get those short thoughts out.
I actually have you to thank for that. You'd introduced me to Eghosa (Imasuen) at a recent event, and I was shocked that he got it. He said it before I did. 'we want your brain'. They want essay and prose and poetry and short bursts of thought.  They don't want to change anything about how I write or process which as a writer is just beautiful. As someone who has an overcrowded brain, it's one less thing to think about. I'm looking forward to polishing old work and creating new work for the book. And also, I'm beyond honored to share a publishing outfit with Chimamanda Adichie. That is a dream come true. I really admire what she's done as an artist, an activist and person. I hope to emulate that in a small way. Her success is incredible but to maintain integrity as a writer and also wear incredible shoes has long been a dream of mine. LOL
There was this performance of yours that moved me a lot. It was a letter to an unborn kid, or something. And in the video you were visibly pregnant. What was the process of writing that? And have you got the same response to it as I have, which is that it is strong, visceral, and phenomenal?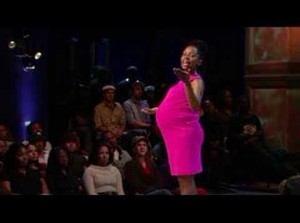 Apology to my Unborn. I actually wrote that a good five or so years before I had my son. It was oddly enough in response to a friend's poem about his being afraid of fatherhood. My poem was a list of why I would NEVER be a mother. Those fears I outlined were basically saying, 'and because of this I'm not sure I can do this.'  The end acknowledges that 'I need your possibility like I need a night worth sleeping for' that is a direct response to the first line which is 'I fear that you will never sleep'. I was questioning myself as a person who suffered from insomnia and depression and hypomania all these things before I was finally diagnosed with bipolar II disorder. So the process of the writing was an apology for bringing a child into this unstable world that I was living in.
When I was pregnant, after being told I couldn't have children, it was even more precarious. I'd made this decision to be a single mother. I had a tumor so there were many complications. In fact, I went to perform directly from the hospital and then performed and returned to the hospital. It was a high risk pregnancy. And I was finally put on house rest. Doctors kept telling me that one or both of us wouldn't make it alive. My tumor was 10 lbs. They told me that he would be severely damaged both physically and mentally. I was alone and scared. So there was a lot going on when I decided to perform that poem. It was very emotional for me. In fact, I haven't watched it all the way through. I may have watched once maybe twice but I run from my performances but that one specifically I'm not interested in watching because it conjures up a very difficult time.
I still have those fears, especially being away from my son now but I raised him in a community of my family. I left New York shortly after he was born and went back to my family house. So he's always known my mother and father and sister and brothers and though he and I have a special relationship, he still is very independent and knows that he can turn to others in my family if I'm not around. He's an amazing child. He's a football prodigy. He's an amazing athlete. He's so smart.  He's funny. He's clever. He's witty. He's thoughtful. He's passionate. He's compassionate. He's got this empathy that astonishes me in the depth of his kindness. He's still a regular little kid. He makes too much nose and he talks too much but he's fearless. All the fears I had for him are assets. He doesn't sleep but he rests. And he has such a joy in the way he tackles life that I learn from. I wouldn't be here if it wasn't for him. I want to build a world for him that he can revel in his individuality. I want him to remain kind and fearless and all those things that disappear as we get older.
As far as the reaction to the poem. It's been the poem that gets the most attention (along with "Homeward", about Nigeria). People really relate to it. I received an email years ago and a father to be asked for permission to tattoo the poem to his back. That was incredibly flattering. I was humbled by it. I'm humbled by how people react to any of my writing. So this is part of that and I'm just very grateful that I'm able to communicate my experiences in a way that translates to others.  The funny thing is that people think that it was staged. I get so many 'were you really pregnant' emails and tweets. As if I would make myself that huge for the fun of it. It's real life, people!
Does he watch the video himself, your son?
He's only seen it once. I think that was the once I watched it all the way through. He was about 4 and I can't remember why we watched it.  He couldn't wrap his brain around the fact that there was a 'before you were born'. My son isn't terribly impressed by me. LOL. He tells his friends that 'my mom is famous. I don't know what she does though.'.  I'm just mommy. I've had to explain to him since I've been away so long but I don't think he gets it. He's more impressed when he sees himself on TV or on the computer. Me being 'fat' doesn't mean anything to him. Probably when he gets older though.
I've watched the "Homeward" video again, and it gives me goose bumps. There is something about the dual heritage of Nigerian/American (or any mixed or displaced) people that greatly fascinates me. On the one hand, there is a part of you that can never leave. On the other, there is a new place that strives to stamp its identity on you to the exclusion of others. The poem presents that complex duality pretty well. It is probably the one I'd watch you perform again on stage here in Nigeria. Any notable responses to it since you did it?
Well, first off, I don't consider myself mixed. I'm Nigerian by birth and heritage and lineage but culturally I'm an American. I was raised in an American culture by Nigerian parents who influenced my life with Nigerian state of mind. It's complex but it's something I'm very clear about. It wasn't until I came to Nigeria that I started referring to myself as American or 'Americana' and that's only because I realize that there are certain things about Nigerian or rather Lagosian culture that I just don't understand because I wasn't' raised here. I don't speak pidgin. I don't know how many faux pas I've committed because I'm not used to the whole 'good evening, suh' or 'good morning, ma' way. I say 'hello' and I do refer to people as aunty when I can remember but these aren't things I grew up with so I have to relearn or choose what I will do and won't do.
As far as the poem, it has surprised me that a poem that I felt was so specific to my life (I speak about very specific incidents and people) has grown and touched other people. I have had people whose background is German or Japanese or Jamaican tell me that they relate to that inability to feel like they fit in either place. I think belonging or wanting to belong is a universal feeling and at the end of the day, that poem is about placement. It's about choosing where you belong even if where you belong is nowhere near where you are. I wrote that poem in a park in the west village of New York City. The line 'east or west this is not my village' was about saying 'I'm in the village' but knowing that thousands of miles away, there was a village that I belonged to.
I was in New York feeling homesick but for some reason it wasn't 'home' Maryland in America it was home Cross River, Calabar, Ugep. That's what I wanted to experience and I think that for American-Nigerians that feeling is something that we have way too often. That response to that poem is pretty much in line with what I do or choose to do when I write. I write for that 'me too'. Every poem or article or essay is a question; Am I the only one that feels this way? And if I'm lucky they answer is 'me too'. And Homeward and another poem Choices are problem two of my most 'me too' poems.
Returning to Nigeria, what were your expectations, and how much of them have been dashed or fulfilled, the good and the bad?
Arrogantly, I was expecting things to go a bit faster. I thought I would be here at the most four months and then back home. I had a false sense of my own importance. Spoken word and poetry means very little to people outside of those circles so the sponsors I thought were going to be knocking down my door did not. I had to do the leg work and meet the right people and speak to the right people.  I'm shocked by how slow things go and how many empty promises people volunteer. That I do not understand. If you can't just say you can't. Don't say you can and then disappear and turn your phone off. I mean really!
The good experiences are that I've met some amazing people. People who have become like family to me especially as I experience homesickness.  Nigerians are very kind and generous and open-hearted. We have this reputation of being cutthroat and devious and cheaters and it's just not true. There are a few bad eggs and I have run into untrustworthy liars but the majority of people are awesome. I'm learning though to be a bit more discerning. There's so much lack here that even good people if they are in lack will take advantage not out of malice just out of need.  I've had my fair share of disappointments both personally and professionally. The personal ones have been the toughest but I've been here too long to pinpoint one of any experience but I've had my share of good and the bad and the bad hasn't been too bad because I'm still here. I would have left long ago if I encountered anything too tough to handle.
The coming book, like you said, will contain poetry, prose, and all in-between. How is the writing process going? Do you feel compelled to write in a certain voice now that you live within a new cultural environment?
Naw. My voice hasn't changed a bit.  I think it has to change with time and age but as far as changing it because of environment I don't think so. I may be careful to use some words over others.  But that's just my daily life. I try to say angry instead of mad. I want people to understand the writing so I will write as myself in my voice but I will allow the editors to work what they need to, to clear things up.  The new cultural environment encourages a censorship that I've never adhered to. I don't really write about sex or sexuality but if I did I wouldn't shy away from it. I'm nervous about how the mental health writing is going to go over because though I think it is a necessity for people to understand, I don't know if it's going to change the perception of all people with mental illness or just the perception of me. That worries me but it won't change how I approach it in my writing.
How did you get into mental health advocacy anyway, and what successes have you had?
While on tour with Def Poetry Jam in 2004, I had a breakdown. I was exhausted and away from home and wasn't eating and sleeping. I was under a lot of pressure. I was doing two concurrent tours so I was working a lot. I think I averaged less than 24 hours a month in terms of time off. It was too much. I've had signs of depression and mania for a large portion of my life. I actually have hypomania which is a series of highs that coincide with racing thoughts, restlessness, reckless spending, impulsivity, etc, but it also had aspects that can be tied to personality such as: talkative, life of the party, rushed and pressured speech… things like that. I was okay with that it was the depression that would sneak up on me from time to time and just wipe me out.
After a difficult time and breaking down in my dressing room, I was sent home and within the week I had a bipolar II diagnosis. I was ashamed at first and told no one but I realized the power and significance of my bit of 'fame' and my voice as a writer, I felt alone and ashamed and weird and I wanted to see if there was at least one other human being who could relate to this. And I started writing and I haven't looked back since. I have been hospitalized twice for depression one 10 years ago and the last time about four years ago. I feel like I have a bit of a handle on it now. I take medication. I'm not seeing a therapist at this time because I'm in Nigeria and it has been difficult but I try to take care. I'm aware of my mood changes and I know when I'm not 'doing well' and I make sure I tell one of my friends so they can help me look out for myself because sometimes I can't see when I need help. I often can but that off-chance that I'm missing something, it's good to have others make sure you're okay.
My success comes in living with and not suffering with a mental illness. My success is getting up every morning no matter how difficult and welcoming the day and living a life of purpose. My success is going to bed knowing that I tried. My success is the Siwe Project, an NGO I started to help people and their loved ones deal with mental illness. My success is my life. I've come dangerously close to not having it. I've lost the will to live several times so the fact that I'm here is triumphant. I still struggle daily. Sometimes it can be unbearable but my motto is 'allow yourself morning'. If you can just get to morning you'll be fine. Sometimes I wake up at 6 a.m after just three hours of sleep and I just think 'I made it. It's morning.' That's success to me. This life is success.
What should we expect from you in the future? I'm hoping that this future will find you here in Nigeria as well as in the States.
Hopefully, my production company Basseyworld Productions will have a few programmes on air as well as consulting and producing on others. I want to create a platform for spoken word poetry to grow in Nigeria. I have a few ideas and I need to do a few other things before I can do that. Nigeria is very big on visibility and making myself visible will help me do that. I would like to bring The Siwe Project to Nigeria. This country is in dire need of mental health awareness. So much ignorance and nonsense about it. I also want to bring our yearly initiative, No Shame Day here as well. Those are things that I'm really about. The entertainment stuff is beautiful and I love it but I also want to use what little bit of notoriety I have to help people live. That sounds trite but it's the truth.  I've been fortunate to have so much help and so many people conspiring to save my life, the only thing I can do is give back. I have no choice.
My future is both here and in The States.  Nigeria is where I'm from. I want to grow old here.  The United States raised me. It made me bold and vocal and empowered. So I can't run from the Americanness of my existence. Plus most of my favorite shoes are still over there. Oh and my family. 😉
Thanks for talking to me.
It's my pleasure. Thank you.
___________
Kola Tubosun is a linguist, editor of the NTLitMag. He can be found at @baroka.
_____
Photo: IsThisAfrica, PunchNg, TheBPK, 360Nobs