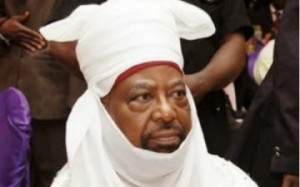 On May 27, 2014, the Emir of Gombe, Alhaji Shehu Abubakar died in a London hospital after a brief illness. When his remains were returned home for burial, neighbouring emirs including those of Askira, Alhaji Abdullahi Ibn Muhammadu Askirama, Uba, Alhaji Ali ibn Ismaila Mamza and Gwoza, Alhaji Idrissa Timta, decided to attend the funeral of their deceased colleague. Unfortunately, they were ambushed by suspected Boko Haram terrorists. The Emir of Gwoza was killed while the others managed to escape.
Before the country could come to terms with that loss, news filtered in on Friday that the Emir of Kano, Alhaji Ado Bayero, who was one of the most influential and revered traditional rulers not just in the north, but the entire Nigeria, had also passed on. The emir had survived an assassination attempt on 19 January 2013. The attack left several of his body guards dead, and some say he never fully recovered as he has been in poor health over the last few months.
For a monarch who reigned for more than 50 years, and who fought and won many battles and survived powerful detractors, Ado Bayero had become an establishment on his own. His capacity to neutralize even the most hot-headed upstarts is legendary, as were his stand for justice, truth and equity. The estimated 2 million plus crowd that attended his burial is the best tribute anyone can pay him. May the souls of our departed emirs – as well as those of their subjects being massacred every day by Boko Haram – rest in peace.
In the last decade or so, some of the most influential and long ruling emirs in northern Nigeria have passed on: the current Sultan of Sokoto, the Shehu of Borno, and the Lamido of Adamawa are all less than 10 years on their thrones. In traditional establishments where change is a slow, often torturous process, death – that eternal leveler of king and commoner – is one of the ways that change occurs. And few doubt that the traditional systems in northern Nigeria must change to adapt to fast changing cultural and political landscape.
The north of today is different from that inherited by the dying set of emirs. A mere generation ago, traditional rulers were widely revered, perhaps because there was relative economic and political stability. However, diminishing economic opportunities, a continuous narrowing of the political space, coupled with pervasive injustice and unprecedented inequality have changed things significantly.
For the first time in recent history, ordinary folks actually attacked their traditional rulers. It began in 2011, following the bitterly divisive presidential elections when angry mobs attacked the palaces of several prominent traditional rulers and other prominent individuals. Their grouse was the suspicion that the traditional rulers connived with, and were induced by the ruling party to facilitate what they saw as systematic rigging of the elections, or merely to turn a blind eye.
A year later in 2012, the Emir of Fika, Alhaji Muhammed Abali Ibn Mohammed Idrisa narrowly escaped an assassination attempt. It happened as the emir, who had just finished his Friday prayers at the Potiskum Central Mosque was standing, when a young man with explosives strapped to his body inched close to him, but was stopped by the emir's police orderly. Realizing that his mission to blow up the traditional ruler had failed, the suspected assassin brought out a gun and tried to shoot the emir instead, when the explosives on him detonated.
Although the emir escaped unhurt, his police orderly and the suicide bomber were reportedly killed in the blast while several people were injured. The attack came barely a month after the Shehu of Borno, Alhaji Abubakar Umar Garbai El-Kanemi also narrowly escaped assassination when a suicide bomber targeted him after Friday prayers at the Maiduguri Central Mosque.
Perhaps due to widespread discontent and insecurity in many parts of the north, the inbred respect for ward and district heads, as well as emirs is diminishing and consequently, the authority and the myths behind the traditional institutions they head.
For those who feared the institutions, a new boldness is in place; for those who had high regards for them, a subtle disdain has emerged and for members of Boko Harm, traditional rulers have become important targets for assassination.
As important beacons of stability, traditional institutions have roles to play in improving the fortunes of Nigeria. Despite their diminishing relevance, they remain mostly powerful and able to influence economic and social policy. But events of the last few years have eaten away the basis of their legitimacy. To win it back, there is need for soul searching and deep introspection. And that precisely, is why this season of royal deaths should usher in a season of royal reforms.