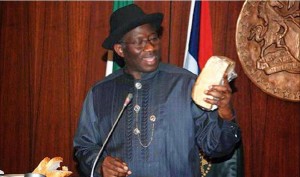 The opposition All Progressives Congress (APC) last weekend concluded its national convention. That development – along with the fact that the ruling People's Democratic Party (PDP) has been in campaign mode all year long, despite INEC's feeble protestations – means that the Nigerian economy and political system is in the grip of a fierce election fever, never mind that the elections proper are still nearly a year away.
And being the consuming passion that politics often is, it is no surprise that all politicians – from old warhorses like Tony Anenih and Bamanga Tukur, to master strategists like Bola Tinubu and Rotimi Ameachi are braced up, nor is it a surprise that intellectuals like Babatunde Fashola and Nasir El-Rufai are revving up and deploying their considerable intellectual firepower.
Similarly, it is no revelation that the tireless Lai Mohammed and the garrulous Olisa Metuh are trying to redefine the boundaries of propaganda, while at a more comical level, one may add that one chatterbox, Ahmed Gulak somehow talked himself into a political gulag, while another, Femi Fani-Kayode is trying to talk himself into a job.
The PDP and APC have different approaches to political engagement. As an amalgamation of disparate groups, and lacking the might of the ruling party to buy its way out of trouble, the APC is mobilizing popular discontent and the reach of its substantial grassroots membership to boost its electoral chances. On the other hand, having a large number of oil-producing states and control of the federal government, the PDP has a more direct and less nuanced approach to politics.
One of the PDP's most calculated strategies is getting opposition politicians to defect, or that failing, allowing them to remain as moles in the opposition then cause damage from within. This approach has been hugely successful on face value, even if some of defecting politicians come with little more than their individual votes – and the clothes on their backs. Being broke after public office is a lonely experience.
Another PDP strategy is to pick economically disadvantaged states and use federal might to keep the governors permanently on the defensive. It has been rumored – without proof – that a deputy governor of one such state was offered 200 million naira, with promises of more to come, to defect to the PDP, though he had no real quarrel or even ideological differences with his boss. But then, who can prove such things?
Following the fracas at the Edo State House of Assembly last week, the state governor, Adams Oshiomole hinted that each defecting legislator was paid fifty million to defect and facilitate his (Oshiomole's) impeachment. There may be something to the N50 million figure, because some members of the House of Representatives who defected to the APC, giving it a short-lived majority, suddenly 're-defected' in a plume of smoke that many suspect was raised by the weight of N50 million landing in their accounts.
Other legislators need just N10 million to do the job, if the reports of the happy-go-lucky life pension governor of Akwa Ibom state, Godswill Akpabio's failed intervention in Adamawa state are true.
And talking about Akpabio; this man knows a thing or two that some former governors did not know. If they did, they would have created even more extravagant pension schemes than Akpabio dreamed up. Incidentally, is there a connection between 'real life' after government house and the sudden realization by some ex-governors that the PDP was now the place to be? Having become used to the lavish lifestyles of governors, some found out, the hard way, that private pockets – matter how deep – cannot compare with the resources of a government that is able to make $20 billion evaporate.
Anyway, rumors about political strategies, defecting legislators and broke ex-governors and ministers-in-waiting is not what will determine my electoral choice in 2015. That decision is already made: Despite my being a stringent critic of President Goodluck Jonathan's ineptitude, indecision, deliberate use of region and religion for political gain, not to talk of his very dodgy exposition on the difference between corruption and stealing, I will vote for him if he stands for election next year. I have two reasons.
First of all, there is the entertainment value of the First Lady. In these difficult times, her capacity to make Nigerians laugh is unmatched; we need plenty of laughter to cope with the tragicomedy to which her husband has reduced governance.
More importantly is the fact that Jonathan is on the verge of a great scientific discovery: If he can make $20 billion vanish without trace, or watch as N2.6 trillion melted into unsubsidized subsidies, he needs time to reverse the experiment. By 2019, he would have found a way to make $200 billion or more, appear by simply waving his hat.
The danger is, given the bewilderment, vacillation and larceny that equate governance today, will Dr. Jonathan still have a functioning laboratory by 2019?