In early 2003 during a trip to the Middle East, I ran into Umar Bello Haliru, an old friend who is a professional based in the region. In the course of our conversation, he told me that war was inevitable, and that it was only a matter of time before the region was plunged into another conflict.
When I asked him why, he replied that for a number of weeks, huge American warships had been observed sailing through the Gulf of Bahrain, and that the US was determined to remove Saddam Hussein and establish a strategic foothold in Iraq.
Less than a month later, US forces launched operation Shock and Awe, unleashing the might of the American military on Iraq. It was supposed to be a short war to topple Saddam, establish strategic military bases and install a political system that would bind Iraq to America's geopolitical and economic interests.
Former US President George W. Bush also hoped that the Iraqi invasion would destroy Saddam's perceived threat to Israel and possibly pave way for a potential attack on Iran, also seen as a threat to the Jewish state.
It didn't quite turn out as planned.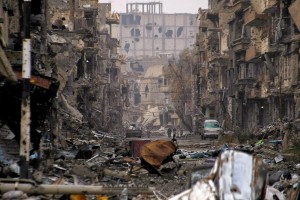 The Iraqis, who were supposed to welcome American troops as liberators, instead saw them as imperialist occupiers. However, weakened by years of western sanctions, the demoralized Iraqi troops could only offer token resistance as the superior US forces achieved victory.
In reality, war was only just beginning: By the time the US finally withdrew at the end of 2011, American death toll was 4,485 and more than 100,000 Iraqis had been killed. The war cost America about $3 trillion.
That singular act of mindless, thoughtless and needless aggression by one of the most incompetent and tactless persons ever to occupy the White House is substantially responsible for the breakdown of established order, spread of terrorism, civil wars, ethnic and religious strife and the unfolding chaos in the Middle East today.
The American invasion turned out to be a ruinous blunder by Bush and his war-mongering cabal of Vice President Dick Cheney, Secretary of State, Colin Powel, Secretary of Defence, Donald Rumsfeld, and Bush's permanent sidekick, former British Prime Minister, Tony Blair.
The script was simple; the Iraqi government was to pay the entire cost of the invasion, agree to permanent US military basis in the country and give preferential oil licenses to US and allied businesses.
If America thought it had found a puppet when former Prime Minister Nouri al-Maliki took over the reins of power, the truth soon became obvious. Al-Maliki was reading from another script. If anything, he turned out to be just as dictatorial, power-hungry, despotic and intolerant as Sadam.
By the time he was forced out of office a few weeks ago, he had done so much damage to the political and socio-economic fabric of Iraq – including a deliberate policy of alienating minority groups – that the country was worse than it had ever been under Saddam.
Western hypocrisy in Libya, Syria Egypt, Palestine and elsewhere has further complicated the situation.
For instance, if Muammar Ghaddafi was bad news, is the new Libya without him better off today? What are the democratic credentials of Abdel Fattah el-Sisi who ordered mass murder to become president of Egypt? What is the rationale for supporting insurgency in Syria simply because the west does not like Bashar Al-Assad?
From Syria to Yemen, From Morocco to Sudan, from Egypt to Oman, from Libya to Lebanon, the entire Arab world is in a state of war. The only countries that seem relatively untouched are the Gulf countries, but there are subterranean tensions. Saudi Arabia may be buying peace with its massive wealth, but there is a limit to how far that strategy can go. It is not be accident that a sizeable number of IS militants are Saudis.
As things are, who can really decipher who is fighting who, and what the reasons for the wars within wars are?
The tragedy of the Arab World War is their blindness to the fact that the same western powers that sowed the roots of the various conflicts are the only beneficiaries of the wars – selling arms and technology for Arab to kill Arab on the ground, while casually selecting and killing additional targets with missiles, drones and jet fighters – without as much as setting their boots on the ground.
The futility of the entire situation lies in the fact that after millions of people might have been killed, women violated, children abused, more millions rendered homeless, communities uprooted, borders desecrated and a whole generation wasted, nothing would have changed.
In the end, Sunnis would still be Sunnis, Shias would still be Shias, Kurds would still be Kurds, Christians would still be Christians, Copts would still be Copts, Houthis would still be Houthis and Yazidis would still be Yazidis.