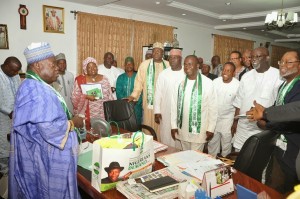 In sane societies, serving in public offices either by election or appointment is often synonymous with loss of income, diminished economic opportunities and in some cases, extended struggles to meet financial obligations. Not surprisingly, occupants of top positions in those societies regularly resign from public office for private sector jobs.
At another level, anyone who has worked with, or has had a professional relationship with a civil society organisation would know that except for a few, most of them are constantly grappling with inadequate resourcing in terms of funding and personnel.
In Nigeria however, the opposite is the case in both instances. Indeed, elective or appointed public positions represent tickets to untold wealth and financial security for the individual and their progeny. And not to be left out, some 'civil society' activists are becoming billionaires.
Perhaps, it is something they learned from militants: Just look at the financial status of Asari Dokubo, 'Otunba' Gani Adams, Fredrick Fashehun, Kingsley Kuku, Ateke Tom, Victor Ebikabowei (alias Boy Loaf) and many others who are paid billions by the government through one comical contraption or the other for practically any laughable service they can submit bills for.
Accepted, most militants have limited education and have access to, or actually control armed groups and would not hesitate to unleash violence and mayhem to prove a point. By contrast, Nigeria's billionaire activists do not carry arms or threaten anarchy. All they need is a high level of education, preferably a doctorate degree and a level of visibility.
They may be lawyers, actors, musicians, doctors, retired (and not too retired) military officers, civil servants, ministers of the federal republic, academics or journalists. Failed or aspiring politicians and financially bankrupt intellectuals fit the description perfectly.
Instead of carrying guns and grenades and operating in the creeks or the underworld, billionaire activists carry books on philosophy, critical thought, politics, media and theology. Instead of grenades, they carry iPads, tablets, Kindles and other gadgets. Instead of leaky boats and paddles, they own private jets, or first class tickets to top class destinations in the world; instead of assassins, they hire smooth-talking professionals.
Welcome to the world of the Transformation Ambassadors of Nigeria (TAN). This must pass as the most well endowed 'civil society' group in the entire world: Anyone who has paid the cost of a full page newspaper advert or public notice, or placed a one minute announcement on national TV will understand what I mean. TAN is so well resourced that it runs several colour adverts in several newspapers as a matter of course.
Similarly, our airwaves are inundated with messages that cost hundreds of millions of naira. Their activities are covered live on local and international channels. TAN hires the largest public spaces it can find for its rallies; governors, ministers, DGs and other key government officials grace their gatherings.
The emergence of TAN is no accident: In the run up to the 2011 presidential elections, several thousand groups materialized almost overnight to plead, beg, cajole and threaten mass suicide if Jonathan didn't run for president, as if he needed any convincing.
After the elections, the key members of those groups and anyone remotely associated with their activities became billionaires and millionaires. True, a few of them have sold the Range Rovers that became a must have, and many more have been thrown out of the hotels they used as residences, but for the majority, poverty is a distant memory.
Learning from that experience, TAN decided that what a batch of barely educated conscripts could do, a band of well educated and enlightened people could do better. And they have proved it.
Instead of the rag-tag approach that characterized the 2011 campaign, TAN is so well organized and well funded it puts America's Super PACs to shame. And they seemed to have succeeded: The begging, pleading and threats have stopped since Jonathan now has the right of first refusal to the PDP ticket. Once he accepts the ticket, another phase of TAN's billion dollar programme would be unveiled.
It does not matter that despite Jonathan's promises of fresh air and transformation in 2011, Nigeria has ended up with the most ill-prepared president at the most ill-opportune moment. It does not matter than the president is clearly leading the country to economic and political abyss, or that he has no sense of history. The billions are too sweet.
So, who wants to become a billionaire activist?
Block your nostrils to hold off the stench; choke your conscience; threaten fire and brimstone and insult everybody who dares to oppose or even disagree with Jonathan. Declare with a straight face that he is Nelson Mandela, Lee Kuan Yew, Martin Luther King, Jr. and Barack Obama rolled into one, and that only he can save Nigeria.
Finally, you must balance the tricky proposition of being simultaneously in the good books of Patience Jonathan and Diezani Alison-Madueke. That is what you need to become a billionaire activist. It is a proven formula.