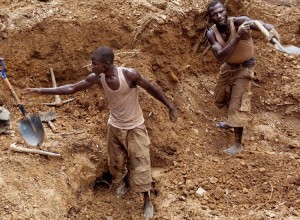 The Peoples Republic of China may still be officially a communist state, but the antics of Chinese nationals and companies, especially in Africa are reminiscent of the European buccaneers that 'discovered' the New World and Africa centuries ago. Indeed, conventional wisdom suggests that if you see many Chinese flocking anywhere, then there is money to be made.
For that reason, my curiosity was raised when I boarded a flight from Abuja to Sokoto and noticed that about half of the passengers were Chinese. I had to check to be sure I hadn't boarded a flight to Shanghai or Hong Kong. The rickety old plane and miserly onboard service assured me that I was indeed on a local flight.
If I was surprised by the number of Chinese on the flight, I was alarmed by their numbers in my hotel and how at home they were. If the scene was Lagos, Abuja, Port Harcourt where Chinese construction firms and engineers challenging the hegemony of Julius Berger and other western companies, it would not be surprising. But Sokoto? What were they doing there?
Later that night, I got a bigger shock; several groups of people, one after the other, were flocking to meet with the Chinese. If it had been a local politician meeting with various groups of supporters, that would fit perfectly into the growing political activity in Nigeria; if it were public officials meeting to discuss state matters, it would also fit into the narrative; and if it had been a local wholesaler meeting with retailers on business strategies, it might have been comprehensible. But it was none of those.
So what are Chinese doing in Sokoto in such numbers and what were the meetings about? Gold. This precious metal has an allure that pulls people, almost hypnotically to where it is found. The quest for the fabled el-Dorado and the great gold rushes in America and several parts of the world validate this fact.
Nigerians may have heard of the crude gold mining activities in parts of Zamfara state and the resultant lead poisoning that killed hundreds of people, mostly children and also left the environment around the gold mines too toxic for habitation. We may also have heard of local farmers digging up their farms in search of gold. What is not so clear is who buys the raw gold and how it is evacuated from Zamfara and exported.
That is where the Chinese come in. They are flocking to Nigeria in search of opportunities, and the unregulated mining industry is one where the action seems to be. I understand that the groups of people meeting with the Chinese gold traders were the middlemen who go into villages where gold is mined and buy nuggets for resale to the Chinese.
I have no idea how the prices are fixed and who get paid what, but it is clear that the miners, who take all the risks get the least, while the Chinese merchants who take the least risk benefit the most.
No one knows how much gold Nigeria has or produces. I have heard sources estimate that Zamfara state alone has as much gold as South Africa which has been exporting gold for hundreds of years and whose economy is substantially fueled by its gold industry. If the gold deposits in Zamfara are anywhere close to that estimate, then the Chinese hordes are only just beginning to arrive.
In these days of high unemployment and government neglect, it is virtually impossible to stop villagers from digging up their land in search of the precious metal. The lamentable thing is that since the deaths and devastation caused by lead, arsenic and other hazardous substances used in the mines, not much has been done to improve mining conditions and educating villagers on the dangers of their mining techniques.
Similarly, though it took international aid agencies to detect the danger posed by lead and assist with some cleaning up, the chief recipients of the illegal mining boom – the Chinese – remained at a distance while the cleaning little up was going on.
And that is the danger, though it should surprise no one.
Anyone familiar with the environmental price China is paying for its unprecedented industrialization would not expect the Chinese to show any concern about what happens to our own environment. After all, in parts of China, some rivers are so polluted that their water cannot be used for anything, much less human and animal consumption due to the high levels of toxins and industrial effluents dumped in them.
The Federal Ministry of Mines and Solid minerals, the Federal Ministry of Environment and the Zamfara State Government must all wake up to their responsibilities. It is imperative to improve the regulatory environment in Nigeria's solid mineral sector. It got so bad that Ghana had to deport nearly 5,000 Chinese nationals in 2013 for illegal gold mining activity.
Gold may glitter, but the consequences of unregulated mining and unchecked environmental degradation are very dark indeed.