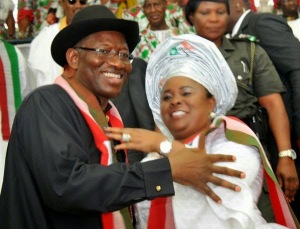 Sitting through any speech by President Goodluck Jonathan can be an agonizing, even traumatizing experience. No matter how hard he tries or practices, this former university lecturer cannot simply deliver a speech with any sort of conviction. Perhaps that should not be surprising, considering that he probably doesn't believe much of the hogwash he spews out.
To avoid that distressing experience, I didn't bother to watch the charade that marked the president's declaration for reelection, just hours after over 50 students were brutally massacred in Yobe state.  Even the minute's silence in their memories rang hollow with the echo of hypocrisy. If Jonathan and his government believed a tenth of that supposedly 'historic' speech, then Nigeria is in much deeper trouble than anyone realizes.
It would be a waste of space to talk about President Jonathan's most glaring failure: his inability to secure the lives and property of Nigerians. Under his watch, nearly 20, 000 Nigerians have been killed by Boko Haram in five years and millions of Nigerians displaced. A substantial part of Nigeria's sovereign territory has been lost to the terrorist group and for the first time in history, Nigerians are now refugees in Cameroon, Chad and Niger.
President Jonathan's colossal letdowns in three randomly areas would illustrate why time is better invested sleeping, rather than sitting through the torture of listening to him. For instance, what did he say about power, unemployment and the rule of law?
In 2010, Jonathan thundered, "If I'm voted into power, within the next four years, the issue of power will become a thing of the past. Four years is enough for anyone in power to make a significant improvement and if I can't improve on power within this period, it then means I cannot do anything…."
After four years, and so-called 'fundamental reforms' of the power sector (and hundreds of billions of naira), Nigerians only receive an average of four to six hours of electricity each day – on very good days. Today, Nigerians spend nearly N800 billion annually to fuel their home generators. What do banks, telecoms companies and even governments spend on importing diesel and petrol to generate electricity? Is there a greater evidence of failure?
On the issue of unemployment, the president claimed that his administration was creating an "enabling environment for job creation in different sectors of the economy including the MSME sector, agriculture, housing and manufacturing have yielded results.
"Between the third quarter of 2012, when we started tracking jobs created and the end of 2013, 1.9 million jobs were created. To deepen our success in this area, I have created a Presidential Jobs Creation Board headed by the Vice President with the mandate to create at least two million jobs a year".
Four years ago, Jonathan set aside N50 billion for 'job creation'. Where is the money and where are the jobs?Where are the beneficiaries of the 1.9 million jobs 'tracked up till the end of 2013?' If he thinks it is an achievement that his government created less than 2 million jobs in two or three years when Nigeria needs to create at least 4 million new jobs annually, just to stem the tide of joblessness, then it is clear that there is no hope for our millions of unemployed.
For a country where only an estimated 22 million, out of a population of 172 million earn any form of income, creating a mere two million jobs, even if they can be verified, is a particularly underwhelming 'achievement'.
Garnishing his failures on power and unemployment are mild, compared to what he went ahead to say next: "While serving our people, I will always ensure the rule of law. I do not intimidate, I expand the democratic space. I give voice to the voiceless and uphold the weak, for the nation belongs to us all. Fellow Nigerians, as we build our democracy, leaders must show temperance at all times. That is a virtue, one which I treasure, and will always uphold".
Is this the same president that unconstitutionally suspended a president of the Court of Appeal, Justice Ayo Salami? Is this the same man that also unconstitutionally suspended a governor of the Central Bank, Sanusi Lamido Sanusi?
Where was the rule of law when $20 billion (N3.4 trillion) vanished into thin air from the Nigerian National Petroleum Corporation? Was it the rule of law that made off with $15 billion (N2.6 trillion) in the name of fuel subsidy?
All of Jonathan's follies and foibles aside, what caught my attention was not the level of disconnect his speech portrayed, but the praise singers supporting his bid: David Mark, Godswill Akpabio, Jerry Gana, Bode George, Peter Esele, Ken Nnamani, Haliru Mohammed, Peter Odili, Attahiru Bafarawa and others of that ilk.
If Jonathan assumes that these people genuinely speak on behalf of Nigerians or have any electoral value, then his return to Otuoke – whether Dame Patience goes with him or not – may be closer than we all imagined.