by Joy Isi Bewaji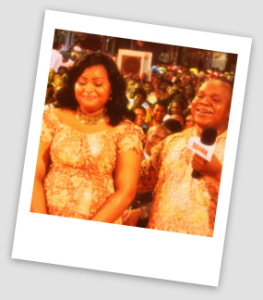 July in Lagos is hot and sticky. A month of moping frustration and the sun licking at the last gloss of Vaseline on your skin, yet no work in sight. But we thank the Lord that we can wake up to an empty day; some did not wake up at all.
That is what I try to tell my wife every time she opens her mouth to complain about lack- that God must be praised even in lack. No meat in soup means that one day meat will come; no money for school fees means that one day our children, all eight of them, will become millionaires because God is not sleeping on the throne. He can see that we are suffering and that I have not had any work for months. What to do? Thank the Lord some more.
Have you ever wondered why a rich man has only one child- a girl even? Is it not God's way of showing his supremacy over human beings? One child with plenty money; the father dies and the child throws her father's name away like an old purse and latches on to a husband's name. The dead man's entire legacy goes to another man.
But look at me, poor yet blessed with eight children. Is that not worthy of praises; that I am not poor after all, as my manhood is active to produce plenty offspring?
I tell my wife these things. Just be happy that you are a mother of many children, like Sarah- mother of many nations. It is God's will that He blesses us so, it is God that will know how to feed them.
As for me I have carried out His will- I have born the children; let Him be praised for He is a doing God.
I grumble not, not even while I am sitting under the sun waiting for a car to pull over and ask for a plumber. Sometimes I wait for weeks, other times I get lucky and a woman in a fancy car will roll down her tinted window and point an acrylic finger at the labourers sitting by the road, asking for a plumber.
An affluent housewife with a wealth of mammary glands, doing nothing but living under the weight and discomfort of her husband's potbelly and stiff organ; she will give birth to one child and use the next six years jumping from one pastor to the other, taking necessary detours to babalawo's shrines to deposit the grey hair of her mother-in-law; just in case her troubles are internal.
With red lipstick splashed like oil from egusi soup on a hungry child's mouth, she will call out for what she needs. A plumber she requires, a plumber I am. It is God's doing.
One time, the plumbing tip-toed into a fancy bed and continued its service. Just once. She was bored and tired and complained about her husband's extensive businesses and how she needs to fight to win his affection over business meetings and conferences.
Did she not start by saying I had strong manly arms, and then asked if I would like a bottle of water? A bottle means "welcome to my home". Normally they would tell us to bend down at the backyard to drink from a tap.
It was a sin, but still I thanked the Lord. He knew it would happen, He allowed it to. And the five thousand naira afterwards that fed my family for two weeks was still His supreme doing.
Work is good. Lack is good too. They are all God's purpose for man. Let Him be praised.
That was exactly what I was trying to tell my wife when Busayo came to our house and said I was responsible for her pregnancy?
These things are of the Lord. For I was minding my business, chewing groundnuts one sunny afternoon when her buttocks accosted me. I am a man, will God not be offended if I do not show my virility at this moment that has been pre-ordained before the earth was formed? That God knew on this day- the 17th of July, Busayo will walk passed my shed and my virility made virile by the Holy Ghost will be charged to do what it was created for.
I explain these things but my wife never listens. She is stubborn, controlled by the devil. All her shouting and crying; the big spoon that she hit on my head, her blouse on the floor, breasts jumping up and down like a big frightened fish about to be killed with a sharp knife, crying to neighbours, are all to the glory of the devil. If she was a submissive wife, she will understand that God intended our lives for this moment.
But I do not let her madness affect my faith. Busayo is expecting twins; I shall have 10 children- just like Baba Aduga, the mechanic. What to do? Marry Busayo and continue praising the Lord.
Marriage and pregnancy is a good thing. Let God be praised.
One day, the prayers will bring forth fruits beyond just hungry little mouths. For God is not deaf.
When I was a small boy, my father would tell me that for everything that happens, God must be praised.
When relatives would come to settle quarrel in our house, mummy's rant were always strangled under the praises of the Lord.
Daddy's death, crushed under a trailer of salt, was to the praises of the Lord too. God's will, yes. That He needs him in heaven quickly for other things, away from two wives and eleven children.
As a man, I admit that I am responsible for Busayo's big stomach. Indeed, I told her to lift up her skirt and I entered into her kingdom, for that I praise God because I am not a coward, and if I were not a sinner then His Lordship over me is of no essence.
Busayo gave birth to the children one evening while I was praising God at a beer parlour for the work that He is yet to bless me with. My brother, Sule, rushed to the bar and said my mother has carried my wife to the hospital. God be praised.
I rose from the chair and followed, thanking God all the way to the hospital where I met my new babies and a nurse waving a paper at me.
It was the bill, with plenty zeros. Is it not to push and born? Why all this money? But I praised God nonetheless.
I managed to collect money from far and wide- relatives I have only heard of but never seen. I praise God when we were able to gather the money into the hands of the doctor.
My home is, by the grace of God, in the middle of a road with a gutter in front of it. Our transformer was stolen over a year ago. When it rains, the content in the gutter glides into our rooms. Before the transformer was stolen, the gutters brought with it electric disaster. The wires from NEPA that dangled like big penises always found their way into the pool of wet rubbish; one step in and you die like a man struck by Holy Ghost fire. Tremble to your death, like an attack of epilsepy. So you see, it was a good thing that the thieves stole the transformer. Praises, God.
God is not man, we should always remember that. His ways are not our ways. Tomorrow you will hear that a big man's child died of pneumonia or any of that oyinbo diseases. My children, from the age of three months, wear only pant all day. The rain comes and the sun shines, they are well.
They pick their nose, dig fingers into the anus and lick it. Do they fall sick? No. Has catarrh killed them yet? No. Lice have not chewed their brains, neither has mosquitoes sucked all their blood. And you say I should not thank the Lord? He knows what He is doing. Look at the rich man and his one child suffering from, what-is-it-called-again, down syndrome. Something that my pastor will lay his hand on and deliver the child of the demon inside of him, these rich people spend nonsense money to cure simple matter and find fanciful names for their diseases.
A disease is a disease.
But God in his mercy saves the poor who are truly the rich- rich in health and rich in plenty children. Hallelujah!
So when the fights begin in my house, do I not tell these two women to shut up and instead use their mouths to the praises of the Lord? What is difficult in this matter- that a man is not impotent and he is able to bring as many children into the world as his manhood allows? I can never understand why a thing like that should be hard for women to understand.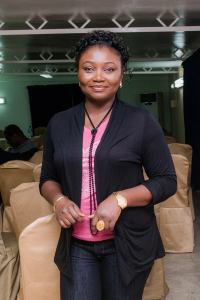 They say women have smaller brains. It is true. A woman fights another woman for the sins of a man. What a laugh; is it not? Is that why there were fewer women in the Bible doing great things? Naturally, their brain is small. God made it so because you cannot be blessed with big buttocks and big breasts and have the power to run a man's life with that honey pot in between your thighs and yet be blessed with superior thinking. What edge would the man have?
God is not partial.
So as I sit through another day, under the sun, slapping the sting of its scorch, I am waiting for a miracle- preferably an acrylic one with a husband who is too busy to do the right plumbing. I am waiting to use either my hands or my manhood to make some money for my wives and children- to the glory of God.
__________
Joy Isi Bewaji's Literary Concert #ThisArtIsEnough will be happening this Saturday Dec 6, 3pm at Terra Kulture. Entry is free. She is author of Eko Dialogue, a collection of short stories that has been interpreted on stage by The Crowne Troupe of Nigeria, and a new one What Pain May Bring, now out in the bookshops.
__________
Photo from https://www.tbjfansuk.wordpress.com