What I will say is simple: The President means well for this country and he is working well for this country. Anybody who means well for this country should support the President to make sure that Nigeria survives as a united country".
That was former military president, General Ibrahim Badamasi Babangida, speaking on December 27 last year, after a meeting with President Goodluck Jonathan in Minna.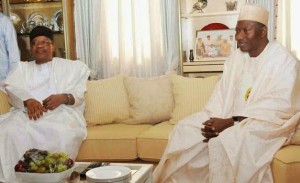 General Babangida has played a prominent role in the history of Nigeria; from his exploits during the Civil War; his role in foiling the Dimka coup in 1976; his Janus-like deception of former president Shehu Shagari shortly before the latter's overthrow; the installation and ouster of General Buhari and his own eight eventful years in power were key points in Nigeria's history.
When Babangida, popularly known as IBB, overthrew Buhari in 1985, Nigerians some jubilated because of what they perceived as the Buhari regime's high-handedness. The jubilation didn't last long though, as the true colour of the new regime soon became evident. Even today, the jury is still out, but the broad consensus seems to be that his attempt to impress the western powers led to fundamental blunders in the management of our economy.
Apart from devaluing the naira, IBB is perceived to have institutionalized corruption in Nigeria. He basically reduced governance to the distribution and redistribution of public offices to acolytes, and was master of the game of 'government by settlement' many insist that he emasculated the armed forces to ensure regime survival – a price we are still paying.
As president, despite not being a producer or exporter of anything besides oil, IBB accepted western recommended policies and conditions that nearly crippled the Nigerian economy and plunged millions into poverty. He effectively destroyed our education, particularly the university system and killed our agricultural exports with his scrapping, rather than reform of the commodities board.
If a passing historian were to summarize IBB's eight tumultuous years in office, it would be in two phrases: SAP and June 12 because his most important economic policy was the Structural Adjustment Programme (SAP) that handed the steering of our economic progress to imperial powers and foreign manipulation. Politically, his most memorable action was the annulment of the freest and fairest election in Nigeria's history on June 12, 1993.
However, even with his catastrophic economic management, IBB would have had a kind mention in history if he hadn't annulled the June 12, 1993 elections after the longest and most tortuous transition in the history of democracy.
If he had allowed Nigerians' overwhelming choice of a Muslim-Muslim ticket to stand, we might have also elected a Christian-Christian ticket when faced with such a choice. Alas, IBB chose to dump that defining moment in the dustbin of history and return Nigeria to religious and ethnic politics.
Even after 'stepping aside', it was clear that IBB had a desire, almost obsession, to return to power. It was that dream that made him push for Obasanjo to be made president in 1999, thinking that the latter would return the favour in 2003 or 2007 and even in 2011. In every instance, Obasanjo edged him out of the contest. The final nail on the coffin of his political ambition was hammered in by the wily Atiku Abubakar who emerged the candidate of a group of self-appointed 'wise men' in 2010.
As often happens, life can sometimes play tricks on everyone. Who would have imagined that the same Buhari than IBB replaced amid jubilation would now become the most popular man in Nigeria today? It must be a painful spectacle for IBB to see the growing popularity of Buhari, 30 years after he overthrew and imprisoned him.
Incidentally, all the lies and deliberate distortion of Buhari's essence are falling apart. Today, Buhari has the best chance of becoming the first Nigerian opposition leader to unseat an incumbent president and party – and to do so without the support of vested elite groups in Nigeria. What IBB's wealth and 'strategic' planning failed to deliver, Buhari's dearth and openness seems about to deliver.
So when IBB says President Jonathan "means well for this country and he is working well for this country. Anybody who means well for this country should support the President to make sure that Nigeria survives as a united country", what does he mean? That Nigerians should support a government that cannot provide security or basic infrastructure, or one that uses religious and ethnic divides to further its political interests?
IBB, more than anyone else should understand that the narrative has changed. His quest for self-survival should not hold the rest of the country hostage to poor governance. The political space has grown beyond the days when a few people sit down to determine who leads Nigeria.
If he wanted to be a true statesman, IBB should have told Jonathan to hold free and fair elections, and also respect the outcome. That, more than anything else, is what would ensure that Nigeria survives as a united country.