For the next couple of weeks, the NTLitMag will feature interviews with the authors of newly published novels on the Cassava Republic's Ankara Romance imprint. The interviews will be conducted by LitMag contributor Ayodele Olofintuade (author of Eno's Story, shortlisted for the Nigerian Prize for Literature).  The first interview in this series is here.
For this second interview, Ayodele speaks with Amina Thula who grew up with a dream of being a historian or an archaeologist. The dream fell away during her last year of high school. Although she loves reading, never once did she think she would be a writer. Her first job was in a marketing and communications company. She stayed in the communications field and this is where she discovered her talent for writing.
She currently lives in Cape Town, South Africa where she is completing her BA Philosophy, Politics and Economics degree. During the course of her life she has met many wonderful people who are the inspiration behind her writing.
The Elevator Kiss, published by Ankara Press, is her first novel.
___________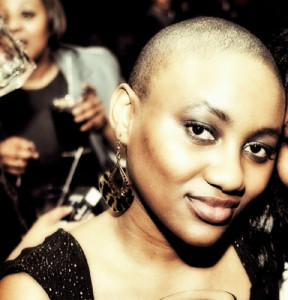 AEO: You appear to be a very elusive person. I couldn't find any information about you on the internet. Are you one of those very private, almost reclusive writers?
AT: Yes I am. I'm a very reserved person. I love my privacy and I keep a very small group of friends. You won't find me on the internet because I'm not on social media. My friends had to beg me for years to join Whatsapp which I did only last year, but even then only a select few have that phone number.
AEO: How long have you been writing?
AT: Elevator Kiss is my first novel. I initially wrote it for a friend and had no intention of publishing.
AEO: You say your first novel… Does that mean you've not had other writing experiences
AT: Not writing fiction. I'm in the communications field so I do write for a living. I write mean proposals and communication material!
AEO: How different is your experience writing fiction and proposals?
AT: Besides content it's not really different, it's all about understanding your audience and writing in a manner they will understand. I work in the public sector so I communicate with a diverse array of people from villagers to academics and sometimes politicians. If you focus on your audience you shouldn't have a problem capturing their attention.
AEO: Now to your story the main characters started kissing almost as soon as they met. Would you say this is a common occurrence in real life? Especially the sparks flying bit.
AT: With love, chemistry and attraction anything is possible! A few years ago my friends went clubbing and this handsome (he really really is tall and handsome) walked up to one of my friends and kissed her, two weeks later she told us she had moved in with him, within the same year they were engaged! That's what makes love exciting and scary – it's unpredictable and can come at you at any time.
So maybe not common, as in it happens every two seconds kind of thing, but things such as instant attraction and sparks certainly do happen in real life and most married couples will tell you they knew from the first moment or first date that they had met their mate.
AEO: When I read your book I really liked how you were not only able to blend south Africa's diversity seamlessly into the story I also liked how your characters were so perfectly flawed… how did you go about developing your characters?
AT:  Maybe it's because all the characters are inspired by actual people except for Thuli who inspired by a soapie character (laughs).
From a young age, I've always been fascinated by human nature and tend to study people and their motivations so that also helped. I wanted the story to be real and to reflect real life and real people. When I read, for example, an American story I don't really care about relating to the characters because I view myself as an observer but if you tell me a story is South African I want to see myself, my friends and my family reflected in it.
AEO: I get the sense that you read a lot, can you mention a few of your favorites?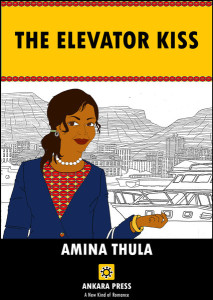 AT: I'm trying to, I look out for them but I don't know many. I know you are probably expecting some of the literary grand masters but I read for leisure, I don't do literary master pieces. I love Miriam Shumba. Her writing is uncomplicated, her characters real… I'm a South African who has never been to Zimbabwe but when I read That Which Has Horns I could feel the sun she was talking about, I understood all her characters, I could even relate them to people I know. I also enjoyed Chimamanda Ngozie, Kola Boof and Ben Okri.
AEO: Recently, Ben Okri, one of the literary giants in Africa wrote a piece in which he accused African writers of always writing about the ills on the continent, something intellectuals have tagged 'poverty porn' would you say this is true?
AT: YES! (I like Ben too by the way now I know why – we think alike (laughs), but YES, I completely agree with him.
Obviously no one is denying the social ills they are glaringly obvious but there are so many GOOD things about Africa and Africans. We have so much going for us. The unfortunate thing is that this (I realise it may have not been the intention) has been detrimental to Africa and lessened our value in the global sphere.
We look like we have absolutely no contribution, except be a burden, when we have contributed so much. I absolutely hate how African culture tends to be painted, if one actually takes the time to learn our culture it is mind blowing how advanced our ancestors were with regards to some things.
Without the modern knowledge or technology they already possessed a wealth of knowledge that even Western science has proven right. 'Poverty porn' has clouded our history and blanketed many achievements Africans have under their belts as it concentrates on the negative only.
For example, in SA the focus is always on apartheid. Apartheid was bad and people did suffer but apartheid was not 400 years old as many people seem to think. Apartheid was inspired by World War II. In actual fact, up until then, the Bantu people were free, they could vote and even had a seat in parliament. There have always been wealthy and educated blacks.
I'm not saying apartheid should be forgotten but we should also celebrate the fact that our ancestors managed to protect themselves for 400 years and when we lost our land we managed to get it back within 50 years.
We cannot forget our kings who fought bravely for us or the warriors such as the Xhosa warriors who completely annihilated a British army that was double their size at the time when England was the most powerful nation. These men only carrying spears completely defeated canons, dogs and gun power. We can achieve both the celebration and remembrance by changing our perspectives or how we tell our stories. Moving to modern times we have not remained stagnant. We are as knowledgeable, well-travelled, read, funny, and as intelligent as people on any other continent.
____
End